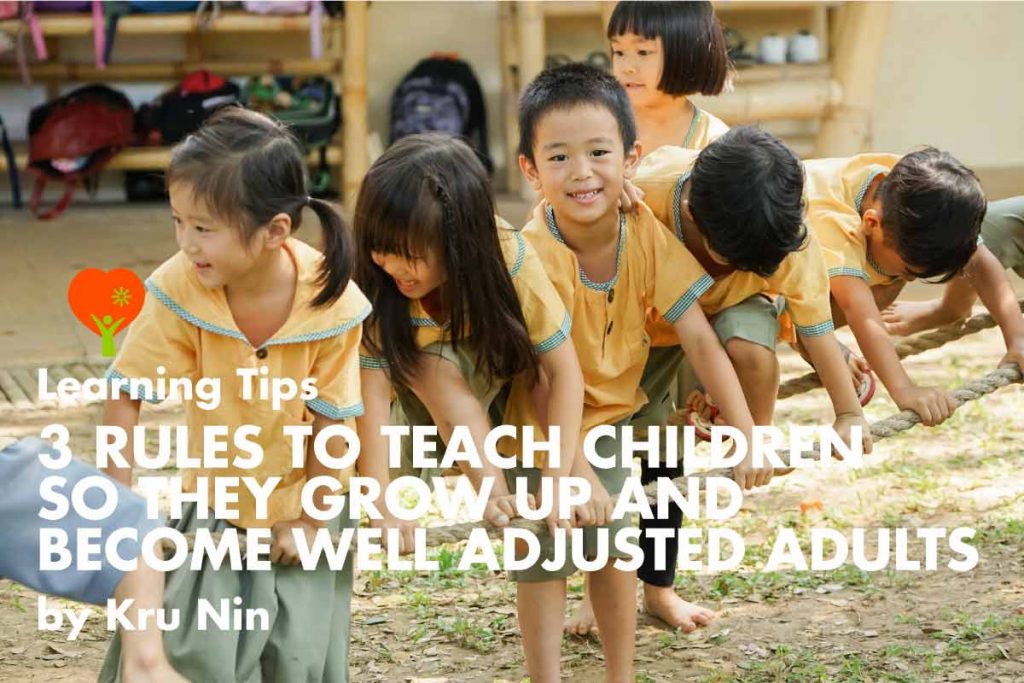 There are 3 major rules for children, which cover almost all ways of life. As teachers and parents, we have to break the big rules into smaller rules for the children to use each day. They are:
Be useful and productive. At home, this could mean things like helping to clean the house, helping to keep the table clean, cooking dinner, preparing breakfast and packing their bags.
Be kind and polite. Parents may want to ask children about how they think they can express kindness and who they can express to. Can we be kind to non-living things? We can explain to them that cleaning and taking care of buildings is considered a kind act. In addition to this, parents could set up work for their children so they see their value. Accomplishing a task helps build confidence. By letting them involved in household chores when they're young, children are more likely to continue doing so when they become teenagers.
Being smart is to act smart. Acting smart is a choice. It is a smart thing to do to spend time, each day, trying to find better ways to do things and to do the right thing. As adults, we can create opportunities for children to practice analysing situations and make choices. This could be as simple as asking a child to look at a map and choose the best route to get to a certain location or choosing food that will help the whole family eat a healthy diet, etc.
Children learn from our modelling so it's good to remember the importance for children to see us acting with kindness, being useful and making smart decisions.
เกร็ดการเรียนรู้จากครูนิน: หลักการสามประการเพื่อปลูกฝังให้เด็กเติบโตเป็นผู้ใหญ่ที่มีคุณภาพ
หลักการ ๓ ประการที่ครูนินจะเล่าให้ฟังนี้เป็นสิ่งที่นำไปใช้ได้ครอบคลุมแทบทุกด้านของชีวิต โดยผู้ปกครองสามารถแบ่งหลักการใหญ่นี้ออกเป็นข้อย่อยๆ เพื่อให้เด็กๆ ปฏิบัติในชีวิตประจำวันได้ค่ะ
๑. ปฏิบัติตนให้เป็นประโยชน์ (Be useful and productive) เช่น ช่วยทำความสะอาดบ้าน เช็ดโต๊ะ ทำอาหาร เตรียมอาหารเช้าและจัดกระเป๋าไปโรงเรียน
๒. มีจิตใจดีและสุภาพ (Be kind and polite) ผู้ปกครองอาจพูดคุยกับเด็กว่าเขาจะแสดงความใจดีกับอะไรและอย่างไรได้บ้าง? ใจดีกับสิ่งที่ไม่มีชีวิตได้ไหม? ผู้ปกครองสามารถอธิบายได้ว่าการทำความสะอาดและดูแลความเรียบร้อยของอาคารก็ถือเป็นการแสดงจิตใจดี
นอกจากนี้ ผู้ปกครองควรฝึกให้เด็กๆ ได้ทำงานบ้าง เพราะการทำงานจะทำให้เขาเห็นคุณค่าของตนเอง เสริมสร้างความมั่นใจให้เด็กๆ รู้สึกว่า "หนูทำได้" หากเขาได้ฝึกทำอะไรต่างๆ ด้วยตนเองตั้งแต่เด็กย่อมมีแนวโน้มที่เขาจะทำต่อไปเมื่อเขาโตขึ้น
๓. มีสติปัญญาและไหวพริบ (Be smart) ฉลาดในการใช้ชีวิตประจำวัน คิดหาวิธีการทำสิ่งต่างๆ ให้ออกมาดีกว่าเดิม เมื่อเด็กเติบโตขึ้นเขาสามารถนำความฉลาดเลือกนี้ไปใช้กับเรื่องต่างๆ เช่น เมื่อดูแผนที่แล้วสามารถเลือกเส้นทางที่ดีที่สุดเพื่อให้ถึงจุดหมาย หรือเลือกซื้ออาหารที่ดีต่อสุขภาพ เป็นต้น
เราเองในฐานะผู้ใหญ่ก็สามารถทบทวนตนเองตามหลัก ๓ ประการนี้ได้นะคะ เพื่อเป็นตัวอย่างให้กับเด็กๆ