Meet our talented Early Years teachers.
We read over 250 applications each year before carefully selecting candidates for any new teaching positions. All teachers receive 2 weeks of rigorous training before they start and benefit from around 70 hours of ongoing professional development support throughout the school year.
Teachers must be qualified and experienced, but most of all they must be ready to be role models to our students. We know we ultimately teach through modelling and expect all teachers to fully embrace the values of the school and develop personal attributes in line with the school's 12 Wise Habits.
At Panyaden, we value passion, personality, commitment.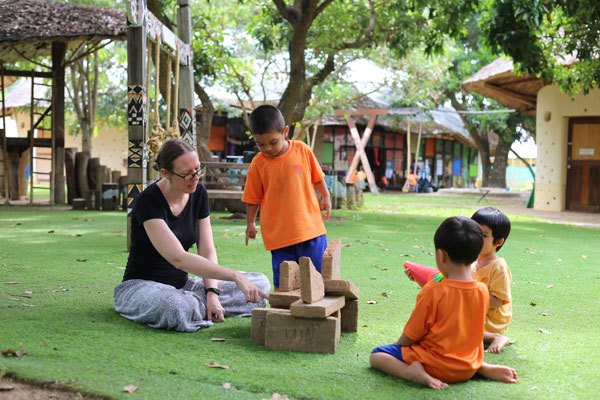 Wanlaya Loetphornphisit (Kru Mint)
Nursery Fireflies Homeroom Teacher
Kru Mint has been teaching for over 12 years now. She holds a Bachelor of Education, from Chiang Mai Rajabhat University. In her free time, she likes travelling with her family and photography. She also loves cooking, painting and gardening. Kru Mint joined Panyaden because of the environment, which she believes will provide the best education for children.
Parimol Chutimakorn (Kru Nora)
Nursery Fireflies Teacher Assistant
Kru Nora studied Industrial Design at KMITL in Bangkok, Thailand. After graduating she moved to the United States to study Psychology. She is highly experienced in working with adults with intellectual disabilities. She is fluent in both Thai and English and also studied American Sign Language at a pre-intermediate level. In her free time, she likes making pottery and listening to music.
Jeerawan Panma (Kru Aae)
K1 Caterpillars Homeroom Teacher
Kru Aae has been teaching at Panyaden for the past seven years. This will be her 7th year as a Homeroom teacher for K1 and she love it! She graduated from Maejo University with a major in Ecotourism and has since discovered her passion for early childhood education. She is always mindful and cheerful when working with children. Kru Aae loves to be outdoors doing fun activities.
Vanessa Amor Marcos (Kru Vanessa)
K1 Caterpillars Homeroom Teacher
Kru Vanessa graduated from the University of the Philippines with a B.A. in Elementary Education with a focus on Special Education. After four years working as a Montessori teacher in the Philippines, she accepted an international teaching position in Myanmar and then in Vietnam. Kru Vanessa has taught kindergarten, first and second grades during her career. Her favourite level though, is preschool because she finds the little kids naturally curious and fun. Whenever she can, she loves to travel, swim and play ukulele.
Yupapan Nikhom (Kru Murn)
K1 Caterpillars Teacher Assistant
Kru Murn holds a Master Degree in International Graduate Studies Human Resource Development from Burapha University and Bachelor's Degree in Economics. She is looking forward to teach and guide Panyaden children this year. She loves our school environment and our Buddhist oriented curriculum. Her two sons have been studying with us at Panyaden for years and her family is very happy. In her free time, she likes traveling with her family, practicing meditation and cooking especially Korean food.
Sureerat Prayoonwong (Kru Tookta)
K1 Butterflies Homeroom Teacher
Kru Tookta holds a Bachelor of Science from Chiang Mai University and a Bachelor of Education, majoring in Education and Communication Technology from Sukhothai Thammathirat University. She loves singing, reading, teaching and being happy with children!
Nanticha Chutikul (Kru Gift)
K1 Butterflies Teacher Assistant
Kru Gift is originally from Chiang Rai. She graduated from Maejo University majoring in Food Sciences and technology in her Bachelor Degree. Then she moved to Sydney, Australia to do the Professional Accounting as a Master Degree. She used to be a volunteer in the local library where she reads stories to young children which makes she realise that she really loves being and working with young children. In her free time, she enjoys swimming, meditating and cooking. She joined Panyaden because she likes the environment and architecture of our school and she is very happy to be here.
Christine Centofante (Kru CJ)
K2 Busy Ants Homeroom Teacher
Kru CJ is from Arizona, U.S.A., home of the Grand Canyon and saguaro cactus. She holds a Bachelor of Arts in English and Creative Writing and is an AMS certified, early childhood, Montessori teacher. Before moving to Thailand, Kru CJ worked closely with the Montessori philosophy for over nine years and sees her role as fostering the growth of the whole child.
Tassanee Naksin (Kru Jeab)
K2 Busy Ants Homeroom Teacher
Kru Jeab has more than ten years of experience working with kindergarten children. She graduated with a Bachelor's degree in Mass Communication from Ramkhamhaeng University. She has been with Panyaden since we opened in 2011. For Kru Jeab, the most important thing is to enjoy working and to spread happiness to people everywhere, especially children.
Surasri Srisuk (Kru Yui)
K2 Busy Ants Teacher Assistant
Kru Yui received her bachelor's degree in Teaching Chinese as a Foreign Language from the Beijing Language and Culture University in 2010. She has been a Year 1 Chinese support teacher in Bangkok for 6 years. She enjoys working with children and this year is her first at Panyaden. Kru Yui loves the environment here and would love to learn more about our green ethos!
Anthony Biddlecombe (Kru Anthony)
K2 Honey Bees Homeroom Teacher
Kru Anthony comes all the way from the tiny Isle of Wight in the south of England. A graduate in psychology from the University of Sussex in Brighton, and holder of a Post Graduate Certificate in Education (PGCE), he has been teaching kindergarten in Chiang Mai for over 5 years. He discovered his passion for teaching when he worked as a swimming teacher, gaining over 10 years' experience. Anthony enjoys swimming, hiking, SCUBA diving, sunsets and being in nature.
Kamonwan Krachaiwong (Kru Kwan)
K2 Honey Bees Homeroom Teacher
Kru Kwan graduated from Chiang Mai University, majoring in English, and is currently continuing her studies there with a master's degree in psychology. Before joining Panyaden, she worked for 2 years as an activities organiser at a child development center in Chiang Mai. Kru Kwan loves reading, exercising and simply spending time with herself!