Our Administration Team and Coordinators give valuable support to our Executive Leadership Team through their commitment to the school's mission and values.
Marisa Visuthakul (Kru Tualek)
Quality Assurance Manager
Kru Tualek is one of the Panyaden Pioneer Team since 2011, she brings over 7 years' experience of client project management in the advertising and communications sectors. As a Quality Assurance Manager, her role is to coordinate, oversee and implement plans to ensure the successful achievement of all organisational outcomes relative to accreditation and standards of educational organisation in Thailand. Kru Tualek graduated with a Bachelor degree in Mass Communication from Kasetsart University and a Master's of Strategic Marketing Communications from the University of Greenwich, UK.
Panee Assawaprapa (Kru Peach)
Admission & Parent Relations Manager
Kru Peach joined Panyaden in 2017 after over 10 years working in the marketing, customer relations and admission fields for various corporations and educational institutions. She holds a Bachelor of Social Science degree from Ritsumeikan Asia Pacific University (Japan) and a Master's in Business Administration (International Programme) from Payap University. As Panyaden's Admissions and Parent Relations Manager, Kru Peach says that her favourite part of the day is talking with families about Panyaden's unique approach to education and helping families join our school community.
Ellisa Schlotzhauer (Kru Ellisa)
Primary Vice Principal
Kru Ellisa began her career in education in 2006. She has experience working in a variety of teaching roles with students of all ages ranging from six years old to the university level. She holds a Bachelor Degree in Science from the University of Toronto, a Bachelor Degree in Education, and a Master's Degree in Leadership and School Administration. Kru Ellisa joined the Panyaden team in 2017 as a Year 4 homeroom teacher and Maths coordinator, following 8 years teaching in South Korea. She is excited to transition into her new role as Vice-Principal of our Primary school.
Dr. Rachael Stevens (Kru Rachael)
Early Years Phase Leader
Kru Rachael is the Early Years Phase Leader and a teacher in our K1 Butterflies class. She is dedicated to creating play-based learning opportunities for our young students and holds a PGCE (Lower Primary) where she specialised in Early Years education. Kru Rachael is passionate about incorporating mindfulness and a Buddhist approach into her classroom and holds a Masters in Buddhist Studies and a Doctorate in Tibetan Buddhism.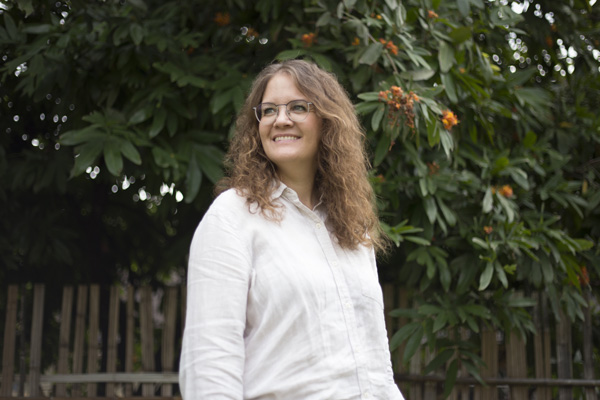 Christine Vithayathil (Kru Christine V)
EAL Coordinator & Middle School Coordinator
Kru Christine originally comes from a small and beautiful village in the Austrian Alps. She holds teaching qualifications from Austria, as well as the UK. In addition to this, she holds a Masters in English Literature and various certificates in English language teaching. After several years of teaching in Austria and the UK, she ventured into the big wide world of teaching in international schools.
Podchanart Manipuntee (Kru R)
Thai Head Teacher
Kru R recently joined Panyaden as Thai Head Teacher. She brings over ten years of experience working as a Middle & High School Thai Teacher and as Thai Department Leader in one of the best known international schools in Chiang Mai. Her previous roles have focused on mentoring and; coaching Thai teachers to improve their teaching skills to create a positive learning experience and fostering a love of learning in children.
Leah Johnston (Kru Leah)
English Coordinator
Kru Leah holds a Bachelor's degree in teaching from Roehampton University in London. She has 13 years' experience of teaching from K1 to Year 5, in a number of different primary schools across London, specialising in Design and Technology. She has worked with head teachers in London schools to implement Assessment for Learning across all Year groups. Kru Leah enjoys hiking and fitness in her spare time. She also loves the snow and has learned to snowboard in the last few years, a hobby which may be harder to maintain in Thailand!
Phatcharaphorn Kwanthong (Kru Pond)
Buddhist Education Coordinator
Kru Pond has 14 years of teaching experience in Thailand and internationally at kindergarten, primary, vocational education and university levels. She holds both Bachelor's and Master's degrees from Chiang Mai University. Kru Pond strongly believes in the importance of developing the social and emotional abilities of children in order to build their self-confidence, self-discipline and capacity to care for themselves, others and the environment.

Denison Lane (Kru Denny)
Buddhist Education Coordinator
Kru Denny joins us from his hometown of Sonoma, California, where he has taught 9th grade for the past 3 years. He received his bachelor's degree in English Literature and teaching degree from Sonoma State University, where he focused on literacy for English Learners. He enjoys reading, hiking, swimming, cycling, and playing games with friends and family, especially his daughter Maury, a Year 4 student here at Panyaden.
Sascha Mathieson (Kru Sascha)
Integrated Learning Coordinator
Kru Sascha began her career in education as a teaching assistant, specialising in supporting children with Foetal Alcohol Syndrome and Aspergers.
Sascha qualified with a postgraduate in primary school education from Dundee University. She has worked in several schools in the UK, and has taught a range of pupils from 2 years old to 14 years old.
Aumporn Panthong (Kru Ta)
Sustainability Coordinator
Kru Ta has been teaching kindergarten and primary students for more than 15 years. He holds a Bachelor of Science in Primary Education Management, majoring in sports, from Srinakharinwirot University. Kru Ta is passionate about exploring different teaching methods and integrating a Buddhist approach. He believes this will improve both himself and his students. His goal is to help his students enjoy learning. Kru Ta moved his family from Bangkok to Chiang Mai to work at Panyaden.