Our Administration Team and Coordinators give valuable support to our Executive Leadership Team through their commitment to the school's mission and values.
Marisa Visuthakul (Kru Tualek)
Quality Assurance Manager
Kru Tualek is one of the Panyaden Pioneer Team since 2011, she brings over 7 years' experience of client project management in the advertising and communications sectors. As a Quality Assurance Manager, her role is to coordinate, oversee and implement plans to ensure the successful achievement of all organisational outcomes relative to accreditation and standards of educational organisation in Thailand. Kru Tualek graduated with a Bachelor degree in Mass Communication from Kasetsart University and a Master's of Strategic Marketing Communications from the University of Greenwich, UK.
Panee Assawaprapa (Kru Peach)
Admissions & Parent Relations Manager
Kru Peach joined Panyaden in 2017 after over 10 years working in the marketing, customer relations and admission fields for various corporations and educational institutions. She holds a Bachelor of Social Science degree from Ritsumeikan Asia Pacific University (Japan) and a Master's in Business Administration (International Programme) from Payap University. As Panyaden's Admissions and Parent Relations Manager, Kru Peach says that her favourite part of the day is talking with families about Panyaden's unique approach to education and helping families join our school community.
Dr. Rachael Stevens (Kru Rachael)
Vice Principal (Early Years and Year 1)
Kru Rachael holds a PGCE (Lower Primary) where she specialised in Early Years education. Her passion for Lower Primary education is rooted in her belief that providing play-based learning opportunities for our youngest students, both indoors and out, allows them to learn more about themselves, explore their own interests and achieve their next steps, setting them up develop their love of learning for life. Kru Rachael is dedicated to incorporating mindfulness and a Buddhist approach into her classrooms and holds a Doctorate in Tibetan Buddhism from the University of Oxford and a Masters in Buddhist Studies (SOAS).
Ellisa Schlotzhauer (Kru Ellisa)
Primary Vice Principal (Primary Year 2- Year 6)
Kru Ellisa began her career in education in 2006. She has experience working in a variety of teaching roles with students of all ages ranging from six years old to the university level. She holds a Bachelor Degree in Science from the University of Toronto, a Bachelor Degree in Education, and a Master's Degree in Leadership and School Administration. Kru Ellisa joined the Panyaden team in 2017 as a Year 4 homeroom teacher and Maths coordinator, following 8 years teaching in South Korea.

Podchanart Manipuntee (Kru R)
Thai Head Teacher
Kru R recently joined Panyaden as Thai Head Teacher. She brings over ten years of experience working as a Middle & High School Thai Teacher and as Thai Department Leader in one of the best known international schools in Chiang Mai. Her previous roles have focused on mentoring and; coaching Thai teachers to improve their teaching skills to create a positive learning experience and fostering a love of learning in children.
Kayleigh Summerbell (Kru Kayleigh)
WASC Coordinator
Kru Kayleigh is from London, England. Kru Kayleigh holds a Bachelor's degree in Sports and coaching with early childhood studies and a PGCE where she specialised in Early Years education. Kru Kayleigh is passionate about play based learning and teaching early phonics to support children with early reading and writing.

Dr. Meaghan Wilson (Kru Meaghan)
Athletics Director and WASC Coordinator
Kru Meaghan is from Minnesota, USA. She received her bachelor's degree from Northwest Missouri State University where she was a heptathlete and played volleyball. She received her master's degree in Kinesiology from Fresno Pacific University and her Doctorate in Education with concentrations in Organizational Leadership and Curriculum and Teaching from Nova Southeastern University. She has been teaching at an international school in Shenzhen, China for the past 11 years. This is her second overseas position. She arrived with her three rescue dogs and is very much looking forward to becoming part of the Panyaden family.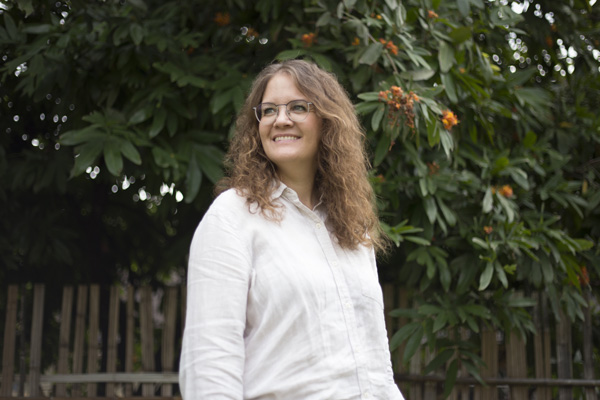 Christine Vithayathil (Kru Christine V)
Student Support Services Coordinator & Middle School Coordinator
Kru Christine originally comes from a small and beautiful village in the Austrian Alps. She holds teaching qualifications from Austria, as well as the UK. In addition to this, she holds a Masters in English Literature and various certificates in English language teaching. After several years of teaching in Austria and the UK, she ventured into the big wide world of teaching in international schools.

Charles Tetreault (Kru Charles)
High School and IB Coordinator
Kru Charles was born and raised in Halifax, Canada. He has been an IBDP educator for ten years, and a teacher for twenty years. Prior to Panyaden, Charles worked at Shekou International School in Shenzhen, China, and Colegio Internacional de Caracas in Caracas, Venezuela. He holds a bachelor's degree in history and political science from McGill University in Montreal, Canada and a master's degree in social studies education from Hunter College in New York City. Kru Charles is joined by his wife, Kru Susan, who will support the Primary as an EAL Teacher, and his daughters Penny (5) and Lucy (3). In his spare time he enjoys sports, travel, and tabletop role-playing games.
Krystal Waltho (Kru Krystal)
Integrated Learning Coordinator
Kru Krystal graduated with a Drama honours degree from Aberystwyth University. She has been an innovation leader in London schools for 5 years and is currently studying a masters degree in education and leadership. She believes that the performing arts are integral to developing the individual as well as building a cohesive and happy community. She is looking forward to directing many performances at Panyaden. In her spare time she likes to play football, watch documentaries and visit the theatre.
Janjira Stevenson (Kru Jan)
Integrated Learning Coordinator
Kru Jan has a Bachelor's degree in microbiology from Khon Kaen University, Thailand. After graduation, she worked in different roles but became inspired by teacher friends to become one herself. This led to a Bachelor of Education from the University of Winnipeg, Canada.
In her free time, Kru Jan likes reading Thai and English books and watching interesting documentaries to gain more knowledge. She believes that self-development should never end, no matter how old you are!
Jiranat Sriphet (Kru Dokmai)
Thai Coordinator (Primary)
Kru Dokmai has a Bachelor's degree in Education (Early childhood Education with honours) and a Master's degree in Education (Developmental Psychology), both from Chulalongkorn University. She was one of the founding teachers of Panyaden International School after 10 years of working as a primary level Thai teacher and coordinator at an international school in Bangkok.
Ashley Owens (Kru Ashley)
English Coordinator (Primary)
Kru Ashley is originally from a small town in Georgia, U.S.A. She taught English Language Learners of all ages in Morocco for 2 years before getting her Masters in Teaching from Relay Graduate School of Education in New Orleans, Louisiana, U.S.A. During her time in New Orleans, Kru Ashley taught Reading, Social Studies, and Science. She is passionate about making learning equitable, engaging, and student-centered. In her free time, she enjoys travel, gastronomy, and art
Katelyn Warner (Kru Kate)
English Coordinator (Primary)
Kru Kat graduated from Georgia State University with a degree in Elementary Education. Over the past 11 years, she has worked in public and private schools in the United States and China, helping children cultivate their interests and stimulating their natural desires to learn new information. Her main goal as an educator is to make learning exciting, engaging, and effective. In her free time, she enjoys camping, reading, kayaking, doing yoga, and singing.
Phatcharaphorn Kwanthong (Kru Pond)
Buddhist Education Coordinator
Kru Pond has 15 years of teaching experience in Thailand and internationally at kindergarten, primary, vocational education and university levels. She holds both Bachelor's and Master's degrees from Chiang Mai University. Kru Pond strongly believes in the importance of developing the social and emotional abilities of children in order to build their self-confidence, self-discipline and capacity to care for themselves, others and the environment.

Denison Lane (Kru Denny)
Buddhist Education Coordinator
Kru Denny joins us from his hometown of Sonoma, California, where he has taught 9th grade for the past 3 years. He received his bachelor's degree in English Literature and teaching degree from Sonoma State University, where he focused on literacy for English Learners. He enjoys reading, hiking, swimming, cycling, and playing games with friends and family, especially his daughter Maury, a Year 7 student here at Panyaden.
Aumporn Panthong (Kru Ta)
Sustainability Coordinator
Kru Ta has been teaching kindergarten and primary students for more than 16 years. He holds a Bachelor of Science in Primary Education Management, majoring in sports, from Srinakharinwirot University. Kru Ta is passionate about exploring different teaching methods and integrating a Buddhist approach. He believes this will improve both himself and his students. His goal is to help his students enjoy learning. Kru Ta moved his family from Bangkok to Chiang Mai to work at Panyaden.
Bongkot Theppiman (Kru Ying)
Manners Coordinator
Kru Ying graduated with honours from Chiang Mai University and worked as a Thai language and culture teacher at an international school in Chiang Mai and an English teacher in her hometown, Kamphaeng Phet before joining Panyaden five years ago. She is passionate about working with children and believes that the focus of education should be to teach children a sense of responsibility towards themselves, their community and the environment. Kru Ying is a trained Zumba dance instructor – you might even catch her teaching at one of the fitness centres in town!