Meet our talented Specialist teachers.
We read over 250 applications each year before carefully selecting candidates for any new teaching positions. All teachers receive 2 weeks of rigorous training before they start and benefit from around 70 hours of ongoing professional development support throughout the school year.
Teachers must be qualified and experienced, but most of all they must be ready to be role models to our students. We know we ultimately teach through modelling and expect all teachers to fully embrace the values of the school and develop personal attributes in line with the school's 12 Wise Habits.
At Panyaden, we value passion, personality, commitment.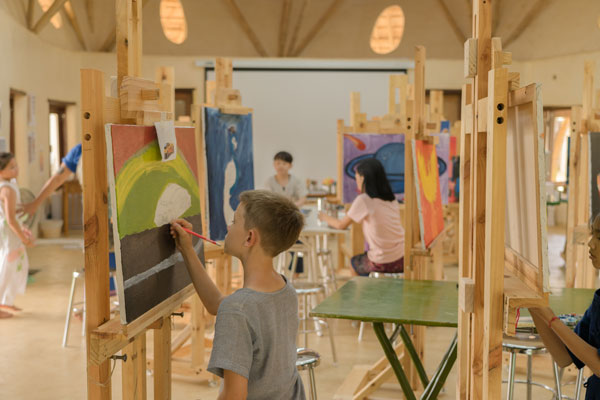 Christine Vithayathil (Kru Christine V)
Middle School & EAL Coordinator
Kru Christine originally comes from a small and beautiful village in the Austrian Alps. She holds teaching qualifications from Austria, as well as the UK. In addition to this, she holds a Masters in English Literature and various certificates in English language teaching. After several years of teaching in Austria and the UK, she ventured into the big wide world of teaching in international schools.
Katerina Sofia Antonieta (Kru Katie)
EAL Teacher
Katie is an EAL specialist who has a passion for languages. For her undergraduate degree, she studied French and Latin at the University of St Andrews, and for postgrad she studied TESOL (Teaching English to Students of Other Languages) at UCL. She has worked as a teacher for 4 years in Suzhou, China, both in primary and secondary school. This is her first year teaching at Panyaden, so she is quite excited! In her free time, she enjoys photography and art, and loves visiting museums.
Alysa Lueondee (Kru Alysa)
EAL Teacher
Kru Alysa is from Chicago, Iillinois. She has a Master's degree in Education with an emphasis on teaching students with English as a second language. She has over 12 years of teaching experience which includes two years as a volunteer and ten years teaching in the United Statues. She moved to Chiang Mai with her husband and two children in order to give her children an authentic learning experience at Panyaden. Her interest includes music, hiking, and spending time with her children.
Patthawan Assawaprapa (Kru Pat)
Thai as Second Language (TSL) Teacher
Kru Pat graduated from Chulalongkorn University with a Bachelor's degree in Communication Arts (major in Speech Communication). She has worked at international schools supporting Preschool, Year 1 and Year 2 classes. In her free time, she likes cooking with her family and reading. Kru Pat believes a teacher's role is to create an environment that makes children curious to learn. At Panyaden, she is looking forward to encouraging enthusiastic young learners who love to learn.
Tiwaporn Yeamyuttapoom (Kru Namphung)
Thai as Second Language (TSL) Teacher
Kru Namphung graduated with honours from Chiang mai University with a Bachelor's degree in Sociology and Anthropology. She has worked at Research Institute for Health Sciences Chiang Mai University. In her free time, she likes gardening and bakery with her mom. Kru Namphung believes that each child can learn in an environment that is engaging and supportive.
Karuna Ruamthammarak (Kru Or)
Arts Teacher
Graduating with honours in Fine Arts from Chiang Mai University, Kru Or is studying for a graduate teaching diploma at Far Eastern University. Panyaden's Art teacher for 6 years, she is lively and funny and every day you will see groups of children enjoying art with laughter. With experience as a primary school art teacher, and having run many art workshops for children during the weekends, she is clearly a passionate artist in every facet of her life.
Pattarasin Chuppava (Kru Pat)
Arts Teacher Assistant
Kru Pat holds a Bachelor of Fine Arts and a Master of Art and Culture Management from Chiang Mai University. She has more than 5 years' experience teaching art to students in various settings. In her free time she likes art, travelling and music. Kru Pat loves being with children and is passionate about teaching her students new skills in art.
Teeraphan Naksin (Kru Tee)
Performing Arts Teacher
Kru Tee graduated with a Political Science degree from Ramkhamhaeng University. Because of his passion for music and children, he changed direction to become a music teacher and now has more than 10 years' experience in teaching music. Kru Tee is living his life according to the Buddha's teaching and aims to teach children to understand and lead the Buddhist way of life.
Sasipa Nuntasomboon (Kru Grace)
Performing Arts Teacher Assistant
Kru Grace graduated from Silpakorn University with a bachelor's degree in Music Performance (Violin) and recently graduated from Chulalongkorn University with a Master's Degree in Music Education. She trained by participating in "Where Love Is Deep" seminar with Ms. Wan Tsai Chen Suzuki Teacher Trainer, Dalcroze Inspired Movement, ORFF Schulwerk to develop herself in order to become a better teacher.
Sathaporn Sriphet (Kru Noy)
Physical Education & Life Skills Teacher
Kru Noy is head of PE and Life Skills. He joined us from an international school in Bangkok where he worked for 10 years as a primary level PE teacher. He has both Bachelor's and Master's degrees in Physical Education. He is very active and in his free time he enjoys gardening, photography and cycling.
Nopparuj Outaitaveep (Kru Mike)
Physical Education & Life Skills Teacher Assistant
Kru Mike graduated with a Bachelor of Science degree in Software Development and a Master of Science in Counselling Psychology from Chiang Mai University. Kru Mike worked in education and children's behavioural adaptation using psychological principles and theories. Before joining Panyaden, he worked as a child behavioural psychologist at a private child development centre and taught adventure activities to help improve and increase children's development by learning activities at First Step Child Development Centre.
Kritush Chainon (Kru Ocean)
Librarian
Kru Ocean has a lifelong love of reading and writing who discovered the joys of sharing books while volunteering at a local library. Graduating from Chiang Mai University with a Bachelor's degree in Mass Communications, Kru Ocean has worked at a Child and Youth Development Camp and has almost 10 years' experience as a writer, columnist and blogger. His goal is promote literacy and a love of reading in young people.