Meet our talented Specialist teachers.
We read over 250 applications each year before carefully selecting candidates for any new teaching positions. All teachers receive 2 weeks of rigorous training before they start and benefit from around 70 hours of ongoing professional development support throughout the school year.
Teachers must be qualified and experienced, but most of all they must be ready to be role models to our students. We know we ultimately teach through modelling and expect all teachers to fully embrace the values of the school and develop personal attributes in line with the school's 12 Wise Habits.
At Panyaden, we value passion, personality, commitment.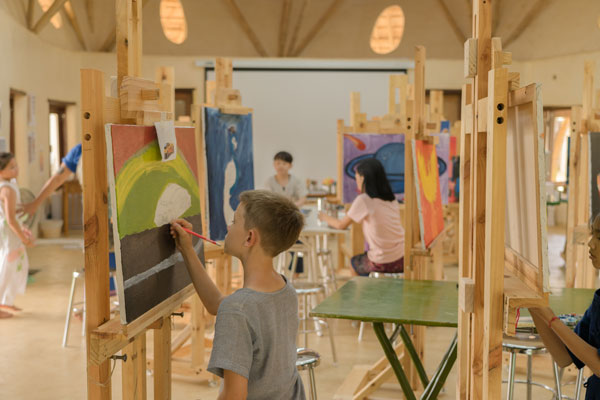 Katerina Sofia Antonieta (Kru Katie)
EAL Teacher
Katie is an EAL specialist who has a passion for languages. For her undergraduate degree, she studied French and Latin at the University of St Andrews, and for postgrad she studied TESOL (Teaching English to Students of Other Languages) at UCL. She has worked as a teacher for 4 years in Suzhou, China, both in primary and secondary school. This is her first year teaching at Panyaden, so she is quite excited! In her free time, she enjoys photography and art, and loves visiting museums.
Alysa Lueondee (Kru Alysa)
EAL Teacher
Kru Alysa is from Chicago, Iillinois. She has a Master's degree in Education with an emphasis on teaching students with English as a second language. She has over 12 years of teaching experience which includes two years as a volunteer and ten years teaching in the United Statues. She moved to Chiang Mai with her husband and two children in order to give her children an authentic learning experience at Panyaden. Her interest includes music, hiking, and spending time with her children.
Krystal Waltho ( Kru Krystal)
Performing Arts Teacher
Kru Krystal graduated with a Drama honours degree from Aberystwyth University. She has been an innovation leader in London schools for 5 years and is currently studying a masters degree in education and leadership. She believes that the performing arts are integral to developing the individual as well as building a cohesive and happy community. She is looking forward to directing many performances at Panyaden. In her spare time she likes to play football, watch documentaries and visit the theatre.
Elizabeth Binyon (Kru Elizabeth)
EAL Teacher
Kru Elizabeth is from Portland, Oregon, USA and holds a Master of Education, a Bachelor of Fine Arts degree, plus an ESOL Endorsement and a Cambridge Certificate in Teaching English as a Foreign Language. With 22 years of experience in teaching Primary School and English as a Second Language, Kru Elizabeth has taught in the U.S., Japan, Colombia, and her favourite – Thailand. She taught Years 5 and 6 at Panyaden for eight years and now is back teaching EAL. Kru Elizabeth is passionate about education and believes that every child can learn in an environment that is engaging and supportive. She enjoys yoga, art, travelling, gardening, learning languages, reading, surfing, and hiking with her dog.
Patthawan Assawaprapa (Kru Pat)
TAL Teacher
Kru Pat graduated from Chulalongkorn University with a Bachelor's degree in Communication Arts (major in Speech Communication). She has worked at international schools supporting Preschool, Year 1 and Year 2 classes. In her free time, she likes cooking with her family and reading. Kru Pat believes a teacher's role is to create an environment that makes children curious to learn. At Panyaden, she is looking forward to encouraging enthusiastic young learners who love to learn.
Pensri Boonnithee (Kru Pia)
TAL Teacher
Kru Pia has a Bachelor of Arts in English from Ramkhamhaeng University. She worked as a Teacher's Assistant at an international school in Bangkok for 7 years before joining Panyaden. She loves working with children and believes in their natural curiosity and abilities to learn new things. Guiding and supporting children in their learning journey is an extremely rewarding job for Kru Pia.
Tiwaporn Yeamyuttapoom (Kru Namphung)
TSL
Kru Namphung graduated with honours from Chiang mai University with a Bachelor's degree in Sociology and Anthropology. She has worked at Research Institute for Health Sciences Chiang Mai University. In her free time, she likes gardening and bakery with her mom. Kru Namphung believes that each child can learn in an environment that is engaging and supportive.
Jodi Chee (Kru Jodi)
Primary School Counselor
Kru Jodi brings a lifetime of cross-cultural experience to Panyaden. She was born and raised in Indonesia, completed schooling in North America, and worked in China and Cambodia as both an elementary teacher and counselor. She has worked with students and parents from a multitude of nationalities and backgrounds, and has led training and workshops on issues that are particularly relevant to international students. She loves to see children develop their whole selves, and provides a safe and welcoming space for them. She is passionate about supporting families to grow, nurture and value each individual member.

.
Premkiran Chawla (Kru Prem)
Primary Learning Support Teacher
Kru Prem began her career as an English teacher. She then found her passion for working in learning support. She obtained a master's degree from Flinders University, Australia. Since then she has taught in a variety of educational settings in Thailand and in Australia. She believes children learn best when they are secure, confident, and supported. She strives to build meaningful relationships with students and tries to make their learning experience meaningful both within and outside of school.

Parimol Chutimakorn ( Kru Nora)
Primary Learning Support Teacher Assistant
Kru Nora studied Industrial Design at KMITL in Bangkok, Thailand. After graduating she moved to the United States to study Psychology. She is highly experienced in working with adults with intellectual disabilities. She is fluent in both Thai and English and also studied American Sign Language at a pre-intermediate level. In her free time, she likes making pottery and listening to music.
Karuna Ruamthammarak (Kru Or)
Arts Teacher
Graduating with honours in Fine Arts from Chiang Mai University, Kru Or is studying for a graduate teaching diploma at Far Eastern University. Panyaden's Art teacher for 6 years, she is lively and funny and every day you will see groups of children enjoying art with laughter. With experience as a primary school art teacher, and having run many art workshops for children during the weekends, she is clearly a passionate artist in every facet of her life.
Pattarasin Chuppava (Kru Pat)
Arts Teacher Assistant
Kru Pat holds a Bachelor of Fine Arts and a Master of Art and Culture Management from Chiang Mai University. She has more than 5 years' experience teaching art to students in various settings. In her free time she likes art, travelling and music. Kru Pat loves being with children and is passionate about teaching her students new skills in art.
Teeraphan Naksin (Kru Tee)
Performing Arts Teacher
Kru Tee graduated with a Political Science degree from Ramkhamhaeng University. Because of his passion for music and children, he changed direction to become a music teacher and now has more than 10 years' experience in teaching music. Kru Tee is living his life according to the Buddha's teaching and aims to teach children to understand and lead the Buddhist way of life.
Sasipa Nuntasomboon (Kru Grace)
Performing Arts Teacher Assistant
Kru Grace graduated from Silpakorn University with a bachelor's degree in Music Performance (Violin) and recently graduated from Chulalongkorn University with a Master's Degree in Music Education. She trained by participating in "Where Love Is Deep" seminar with Ms. Wan Tsai Chen Suzuki Teacher Trainer, Dalcroze Inspired Movement, ORFF Schulwerk to develop herself in order to become a better teacher.

Sathaporn Sriphet (Kru Noy)
Physical Education & Life Skills Teacher
Kru Noy is head of PE and Life Skills. He joined us from an international school in Bangkok where he worked for 10 years as a primary level PE teacher. He has both Bachelor's and Master's degrees in Physical Education. He is very active and in his free time he enjoys gardening, photography and cycling.
Chitsanupong Sukyossri (Kru Champ)
Physical Education Teacher Assistant
Kru Champ graduated from Thailand National Sports University, Chiang Mai campus with a bachelor's degree in Physical Education. He was a futsal player on the Chiang Mai team from 2015 to 2019 and remains very active. In his free time, he enjoys playing football, reading about sports to improve his skills and knowledge, and listening to sports news.
Jenna Hansen ( Kru Jenna)
Middle School /High School Learning Support
Kru Jenna left the travel industry to find more fulfilling work as a Learning Support Teacher in New York City. She has a Master in Education in teaching students with disabilities from Pace University. She taught 6 years in the Bronx, NY, supporting students with additional needs in the primary and middle years. She then went on to earn her administration graduate certificate from the College of St. Rose and spent the last 3 years as an Assistant Principal in a specialized school for students with learning support needs.

Nicole Thornton (Kru Nicole)
Librarian
Kru Nicole has a Graduate Diploma in Library and Information Studies, as well as a Bachelor of Science, majoring in Physics, a Graduate Diploma in Horticulture and is working towards a Bachelor of Electrical and Electronics Engineering. She brings to Panyaden 10 years of experience in Australian libraries and a love of all things science and nature. Having lived with her family, including her 2 girls, in Chiang Mai for 3 years Kru Nicole is excited to bring her passion for libraries to Panyaden.
Teeraporn Arunkanjanaroj (Kru Tee)
Librarian
Kru Teeraporn: Kru Tee graduated from Sukkhothai Thammathiraj Open University in General Management. She received her Teaching Professional Certificate from Rajabhat Suan Dusit University and Chinese Language Proficiency Certificate from Beijing Language and Culture University. She has worked as a school secretary and as a Chinese language teacher at St. Stephen's International school in Bangkok for 7 years.
David Arthurs (Kru Dave)
Events and Activities Coordinator
Kru Dave left school with no idea of what job he would do in the future, only certain that he definitely wasn't going to be a teacher. After trying his hand at every profession available, he became an EAL teacher and finally discovered the thing he was passionate about. He got properly qualified and then taught Language and Literature in a Chiang Mai international school for the next 12 years.