Meet our talented Primary Years teachers.
We read over 250 applications each year before carefully selecting candidates for any new teaching positions. All teachers receive 2 weeks of rigorous training before they start and benefit from around 70 hours of ongoing professional development support throughout the school year.
Teachers must be qualified and experienced, but most of all they must be ready to be role models to our students. We know we ultimately teach through modelling and expect all teachers to fully embrace the values of the school and develop personal attributes in line with the school's 12 Wise Habits.
At Panyaden, we value passion, personality, commitment.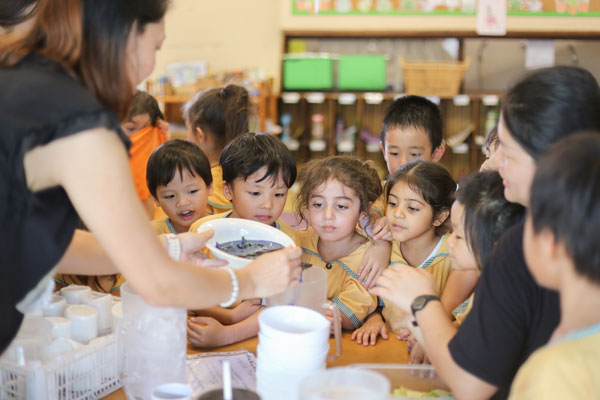 Mayuree Jaijaroensakundee (Kru Gai)
Y1 Ladybirds Teacher Assistant
Kru Gai graduated from Huachiew Chalermprakiet University with a major in Chinese. She has five years' experience working with kindergarten children at an international school in Bangkok and this is her third year at Panyaden. Kru Gai loves cooking, reading and travelling.
Teeraporn Arunkanjanaroj (Kru Tee)
Y1 Dragonflies Homeroom Teacher
Kru Tee holds a Bachelor degree in General Management, a Teaching Certificate from Rajabhat Suan Dusit University and a Certificate of Proficiency in Mandarin from Beijing. She has many years of teaching experience including at an international school for 7 years where she was both Mandarin teacher and school secretary. She has also been an English Programme Coordinator as well as homeschooling her son.

Kayleigh Summerbell (Kru Kayleigh)
Y1 Dragonflies Homeroom Teacher
Kru Kayleigh is from London, England. Kru Kayleigh holds a Bachelor's degree in Sports and coaching with early childhood studies and a PGCE where she specialised in Early Years education. Kru Kayleigh is passionate about play based learning and teaching early phonics to support children with early reading and writing.
Kamonwan Kamdee (Kru Mai)
Y1 Dragonflies Teacher Assistant
Kru Mai graduated from Rajabhat Chiang Mai University with 1st honours Bachelor of Business English. She worked as an international translator at Chiang Mai Ram hospital for over 10 years and also worked at Susan's House Kindergarten for 8 years. She a mother of 2 sons and loves Thai desserts, cooking, kids crafts, reading and singing.
Brianne Paige Martin (Kru Bri)
Y2 Grasshoppers Homeroom Teacher
Kru Bri is from Toronto, Canada and has a Honours Bachelor of Arts and Science degree from Lakehead University, as well as a Bachelor of Education degree. She has developed a passion for teaching through her extensive work with children, both in an academic, and athletic setting. Outside of school, she enjoys coaching youth soccer, playing sports, traveling, and enjoying nature. Kru Bri is very excited to share her active learning approach in such a beautiful atmosphere at Panyaden school!
Tamisa Wiboonkiat (Kru Jang)
Y2 Grasshoppers Homeroom Teacher
Kru Jang holds a Bachelor degree in English from Khon Kaen University and a Master Degree in Education from Sukhothai Thammathiraj University. She has 20 years experience teaching in English and bilingual programs in a private school in Chiang Mai. In the last 4 years at that school, she worked as a Head of English Program. Besides, for the last couple years she went to further her study in EAL course in Melbourne, Australia.
Weeranut Srion (Kru Om)
Y2 Grasshoppers Teacher Assistant
Kru Om will be our support teacher in Year 2 this year. She graduated in Mass Communication from Chiang Mai University. She has 10 years of experience working in international schools. At Panyaden, Kru Om has been working as an Academic Secretary for 4 years. This year will be her 2nd year working as a support teacher. Kru Om is passionate about Panyaden philosophy and fascinated by watching children grow and develop. In her free time she likes traveling, gardening, listening to music and spend time with her daughter, Pak, who will be in Year 4 at Panyaden this year.
Ashley Te' Amber (Kru Ashley)
Y2 Cicadas Homeroom Teacher
Kru Ashley grew up in a family that traveled often, and naturally developed a love of languages and cultures when she was just a child. This enthusiasm and curiosity of the world around her led me to pursue International Studies in undergrad which allowed me the opportunity to teach English in Morocco for two years.
Aumporn Panthong (Kru Ta)
Y2 Cicadas Homeroom Teacher
Kru Ta has been teaching kindergarten and primary students for more than 15 years. He holds a Bachelor of Science in Primary Education Management, majoring in sports, from Srinakharinwirot University. Kru Ta is passionate about exploring different teaching methods and integrating a Buddhist approach. He believes this will improve both himself and his students. His goal is to help his students enjoy learning. Kru Ta moved his family from Bangkok to Chiang Mai to work at Panyaden.
Sasiwimon Muangnen (Kru Mair)
Y2 Cicadas Teacher Assistant
Kru Mair is a fun-loving and dedicated educator who loves reading, watching movies, and traveling. She holds a Bachelor of Education degree from Chiang Mai University, majoring in French. She joined the Panyaden family many years ago and after taking a few years off to start a family of her own, she has come back to join us. This is her second year in Y2 Cicadas and she nurtures the children's sense of humour, creativity, and fosters independence.
Leah Johnston (Kru Leah)
Y3 Manta Rays Homeroom Teacher
Kru Leah holds a Bachelor's degree in teaching from Roehampton University in London. She has 13 years' experience of teaching from K1 to Year 5, in a number of different primary schools across London, specialising in Design and Technology. She has worked with head teachers in London schools to implement Assessment for Learning across all Year groups. Kru Leah enjoys hiking and fitness in her spare time. She also loves the snow and has learned to snowboard in the last few years, a hobby which may be harder to maintain in Thailand!
Araya Wanintip (Kru Jacky)
Y3 Manta Rays Homeroom Teacher
Kru Jacky has a Bachelor's degree (Hons) and Master's degree in Early Childhood Education from Chulalongkorn University. Since studying in high school, the early years has always been her first choice. Her passion lies in teaching language to young learners and also teaching English as a foreign language. Kru Jacky has worked as an English teacher, homeroom teacher, curriculum developer, and the head of an academic department at a Thai school for five year.

Napaponpa Puangwanna (Kru Im)
Y3 Manta Rays Teacher Assistant
Kru Im has a Bachelor's degree in Science from Chiang Mai University. Since studying in high school, Her passion lies in teaching to young learners and take care children. Kru Im has worked as a science teacher at a Thai school. She also has four years of experience at a Kowittomrong Chiang Mai school. In her free time, Kru Im take photo and exercise.
Katelyn Demirese (Kru Kat)
Y3 Sea Turtles Homeroom Teacher
Kru Kat graduated from Georgia State University with a degree in Elementary Education. Over the past 10 years, she has worked in public and private schools in the United States and China, helping children cultivate their interests and stimulating their natural desires to learn new information. Her main goal as an educator is to make learning exciting, engaging, and effective. In her free time, she enjoys camping, reading, kayaking, doing yoga, and singing.
Phatcharaphorn Kwanthong (Kru Pond)
Y3 Sea Turtles Homeroom Teacher
Kru Pond has 14 years of teaching experience in Thailand and internationally at kindergarten, primary, vocational education and university levels. She holds both Bachelor's and Master's degrees from Chiang Mai University. Kru Pond strongly believes in the importance of developing the social and emotional abilities of children in order to build their self-confidence, self-discipline and capacity to care for themselves, others and the environment.

Varinthon Wadkeaw (Kru Pat)
Y3 Sea Turtles Teacher Assistant
Originally from Bangkok, Kru Pat graduated from Chulalongkorn University with a master's degree in Arts and Cultural Management. Her previous job was a full-time lecturer at Assumption University, Bangkok. Having 2 daughters that are attending Panyaden. Kru Pat is happy to become another member of Panyaden family as well. Kru Pat loves arts, reading and doing creative activities with children.
Cora Moss (Kru Cora)
Y4 Homeroom Teacher
Kru Cora is from North Wales, she gained her BA in Fine Art at the University of Chester, where she was given the opportunity to volunteer as an EAL teacher in South Africa. This inspired her to return home and complete her PGCE. In 2016, she moved to Bangkok and taught Art with IA & Community Service at a top international school. She enjoys art, reading, hiking and kayaking and is very happy to have joined the Panyaden community.
Natsasipha Manosoi (Kru Nin)
Y4 Homeroom Teacher
Kru Nin is thrilled to say this is her 13th year teaching Thai in both Thai schools and international schools. She grew up in Chiangmai and Maehongson. She graduated with a Bachelor of Art in Thai Language from Chiangmai University in 2004 and began her teaching career in a language school for 1 year, after which she taught in Thai middle school and high school for 5 years.
Nattaya Holsakool (Kru Oh)
Y4 Teacher Assistant
Kru Oh is originally from Lobuli. She holds a Bachelor's degree and Master's degree in Fine Arts, majoring in painting, from faculty of Fine Art Chiang Mai University. Prior to joining Panyaden, she has worked as an art teacher for 16 years, both in Bangkok and Chiang Mai. Her passion is spending time and sharing happy moments with the children.
George Andrew Robinson (Kru George)
Y5 Homeroom Teacher
Kru George is a teacher from the UK. He initially worked as a TEFL teacher in Suzhou, China, before gaining his PGCE from Nottingham University. He went on to spend 4 years in a bilingual school in China before joining us here in Thailand. Kru George is excited to settle in to life at Panyaden and can't wait to help his students to be the best they can be.

Piti-An Jamoosri (Kru Thoey)
Y5 Homeroom Teacher
Kru Thoey has a Bachelor of Arts degree with an emphasis in Thai Language, and a Master's degree in Education with a specialisation in teaching Thai language, both from Chiang Mai University. This year is her second year at Panyaden. She loves teaching and enjoys learning from her students. Prior to working here, she taught at an international school for 10 years and was Thai lecturer at Chiang Mai University for 4 years.


Nundapatr Mongkolsitchoth (Kru Kookkai)
Y5 Teacher Assistant
Kru Kookkai graduated from Thammasat University with a degree in Social Work. She loves working with both children and elderly people. Before she joined Panyaden she worked in a child development centre, and also created activities for children in a tour agency. She is a fan of sports and likes to play table tennis, badminton, and football. In her free time, she watches movies and reads. If she has a chance, her and her friends like to volunteer to help develop children and the community.
Timothy Mercer (Kru Timber)
Y6 Homeroom Teacher
Timothy Mercer, nicknamed Timber, joined Panyaden after 7 years of teaching English and Drama in Chiang Mai. A graduate in education from Youngstown State University, Ohio, Kru Timber also spent 8 years teaching on a tiny island country in the Central Pacific called the Republic of Kiribati. A fan of cycling and running, he loves the family atmosphere and mix of cultures at Panyaden.
Janjura Stevenson (Kru Jan)
Y6 Homeroom Teacher
Kru Jan has a Bachelor's degree in microbiology from Khon Kaen University, Thailand. After graduation, she worked in different roles but became inspired by teacher friends to become one herself. This led to a Bachelor of Education from the University of Winnipeg, Canada.

Natha Tepparak (Kru Aua)
Y6 Teacher Assistant
Kru Aua graduated with a Bachelor's degree in Business Administration. Before joining Panyaden, she worked for more than 6 years in a Language and International School. In her spare time, she really enjoys spending time with her daughter and son.
Duangporn Srisupha-o-Larn (Kru Eedd)
Teacher Assistant Supervisor
Kru Eedd graduated from Ramkamhang University where she majored in advertising and public relations. She spent 4 years working towards preserving local forests and developing the handicraft industry with local hill tribe groups for the Chiang Mai Development Foundation. She loves being with children, making art and doing needlework together. In her free time she enjoys spending time in the garden.