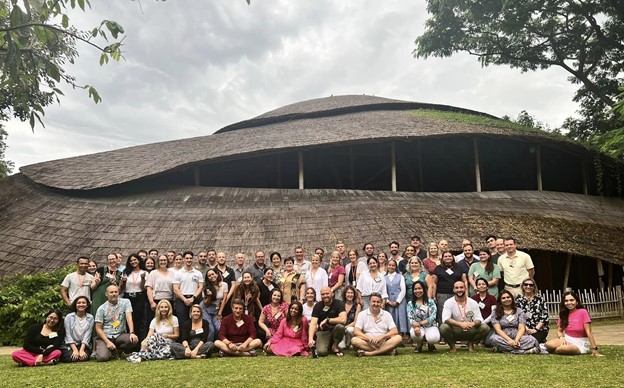 We're thrilled to have hosted the EARCOS weekend workshop: "Advancing Service Learning," with Cathryn Berger Kaye, bringing together 70 dedicated educators from 25 schools across 8 countries for a two-day exploration of Service Learning.
In our ever-changing world, it's crucial to equip our students with the skills they need to make a meaningful impact. Service learning shows them the way, allowing their ideas to turn into real solutions. These two days were filled with activities that sparked curiosity, encouraged discovery, and promoted growth, all while integrating important issues into our academic discussions.
A big thank you to our workshop leader, the world-renowned Cathryn Berger Kaye, whose presence made this event truly special. Together, we explored various strategies for effective teaching, seamlessly incorporating service learning into our curriculum, emphasizing the value of reflection and finding engaging ways to involve our students.
We sincerely appreciate every participant and everyone at Panyaden who made this remarkable event possible!
About Cathryn Berger Kaye:

Cathryn Berger Kaye is a visionary advocate for empowering young people as global citizens. In addition to working with schools across the globe, Cathryn has worked closely with the International Baccalaureate Organization (IBO) co-authoring the CAS Guide for the Diploma Programme. She has also developed a series of social and emotional learning experiences for K-12 advisory programme, promoting well-being. These initiatives highlight the importance of meaningful conversations and connections in providing youth with a safe space to be known by both adults and peers. Her expertise and passion are invaluable to us. Learn more about her transformative journey at www.cbkassociates.com.
About EARCOS:

The East Asia Regional Council of Schools brings international schools in East Asia together, fostering collaboration, professional growth, and enriching opportunities for member schools. This enhances educational standards and builds a sense of community. Explore EARCOS further at https://www.earcos.org/.
Panyaden International School is open for admissions for the academic 2023-24 and 2024-25. To learn more about Panyaden International School or to book a private school tour, please contact our admissions team at:
• Call: +66 53 441 460
• Email: admissions@panyaden.ac.th
• Website: https://www.panyaden.ac.th