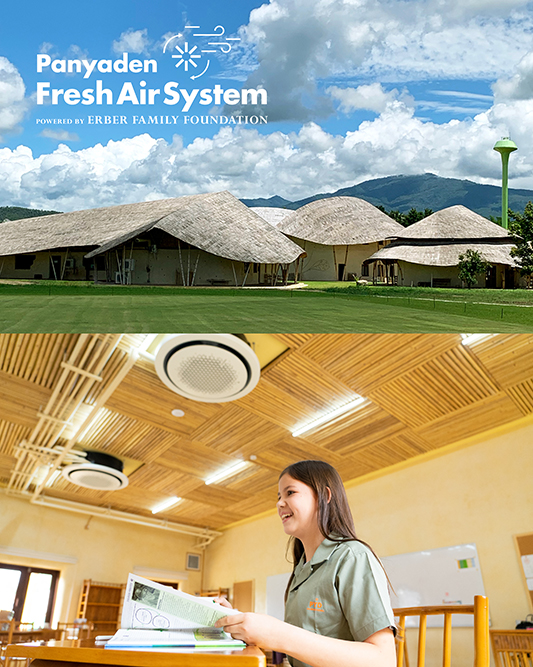 Fresh air plays a crucial role in our well-being, significantly because fresh air generally has higher levels of oxygen. The more oxygen you breathe, the greater the amount of serotonin (the happy hormone) your body produces and the happier you will be. This results in greater brain function, improved concentration skills, and provides our students with more energy.

The importance of the Panyaden Fresh Air System initiated by Prof. Erich Erber in 2019, was to create a haze-free classroom condition for the well-being of all Panyaden students and staff members. This innovative system is a pre-cooled and purified air system that uses sustainable environmental engineering. It is the first of its kind in this region.

The Panyaden Fresh Air System provides:
1. a zero haze and PM2.5 free environment indoors
2. a minimal carbon footprint
3. a positive pressure in the classrooms (which helps eliminate high levels of CO2, contaminants, or viruses in the air)

Over the next two academic years, with Prof. Erich Erber's vision and continued support, Panyaden International School aims to install the Fresh Air System in all classrooms. Our sincere gratitude and appreciation to Prof. Erich Erber, founder of Erber Family Foundation (Thailand) and SAN Group for his commitment to creating a better life and future for this planet and our children!