Panyaden's Special Soup Recipe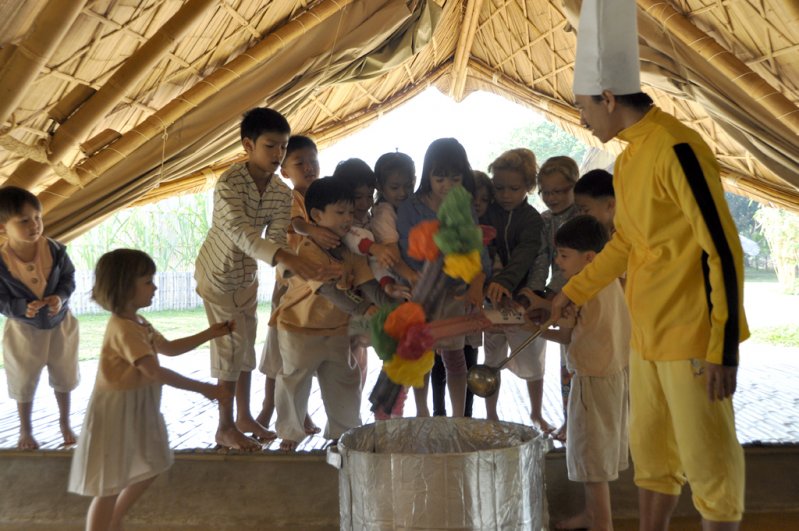 Add a dash of Mattannuta ('knowing the right amount', มัตตัญญุตา) and a sprinkling of Chanta ('desiring knowledge, truth and goodness', ฉันทะ) to the broth in our Kung Fu Chef's large shiny soup pot. Stir in a tablespoonful of Awihimsa ('not harming', อวิหิงสา) to taste. With the help of your fellow cooks, throw in a few long stems of Wiriya ('persevering', วิริยะ) along with 5 ounces of Khanti ('being patient and tolerant', ขันติ). Stir slowly in one direction with a large ladle.
Well done! We now have to add in 4 cups of Sati (สติ). This is another special ingredient that means 'being mindful and alert' as demonstrated by Kru Michel who acted as a student who realizes he has to be mindful and not to forget to remove his shoes when entering the assembly hall and put them to the side so they would not block the entrance.
A final ingredient for the soup today is Samathi (สมาธิ) or 'being calm and focused'. Here Kru Michel and Kru Noy acted as students who concentrated on paying respects carefully and quietly to Buddha by sitting correctly, holding hands up in the middle of their chest (doing the 'wai') and then gently bringing their hands down on the floor. They had to repeat this 3 times but Michel being easily distracted lost Samathi and bowed 4 times instead!
In the coming weeks, our Chef will introduce more ingredients that need to be added to his special recipe. In the meantime, be mindful and remember to practice the Kung Fu moves our skilful Chef has taught us.