"The Fake Seeds"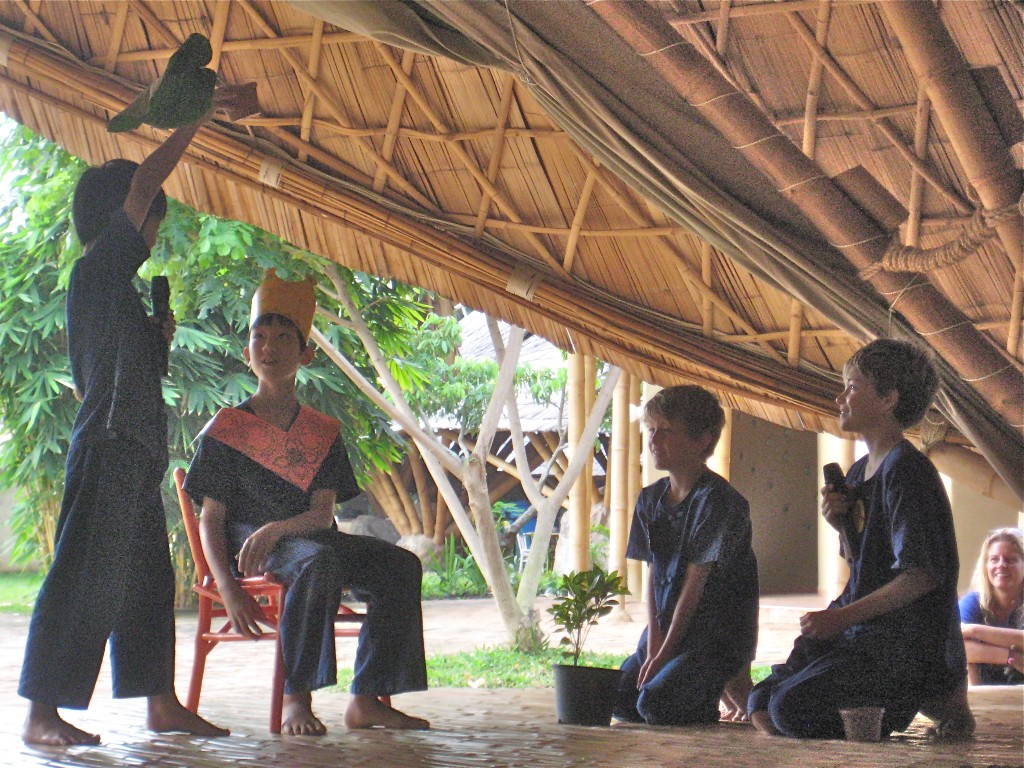 To illustrate the importance of wise habit, Sacca (สัจจะ) or being truthful, our P4-6 students performed a story about a king who sets a task to find out who will inherit his throne. The story is from a book on the 12 wise habits by Venerable Ajahn Jayasaro, '12 Ways to Happiness'. Students Elodie and Kate from P4 were our bilingual narrators.
"Once upon a time there was a King (played by Nick from P6) who lived in a palace. He had only daughters and no son. So he decided to hold a nationwide a contest to see who was worthy to marry his daughter and become King. He gave 3 eligible men a seed each to grow and told them to come back in a year.
The 3 men tried and tried but could not make their seeds grow. When the year was up they came to show the King what they had achieved. The first man (played by Jack, P4) came back with a big plant. The second (Hugo, P4) also came back with a plant but a more beautiful and luscious one. Both had cheated by buying their plants from elsewhere. The last man (played by Oliver, P5), however, came back with the same seed. ''Mine did not grow,'' he told the King.
The King revealed that he given them fake seeds which would not grow. Unlike the other two, the third man had been truthful by coming back with the same seed. The King happily announced to everyone in his kingdom that this was the man worthy of his crown."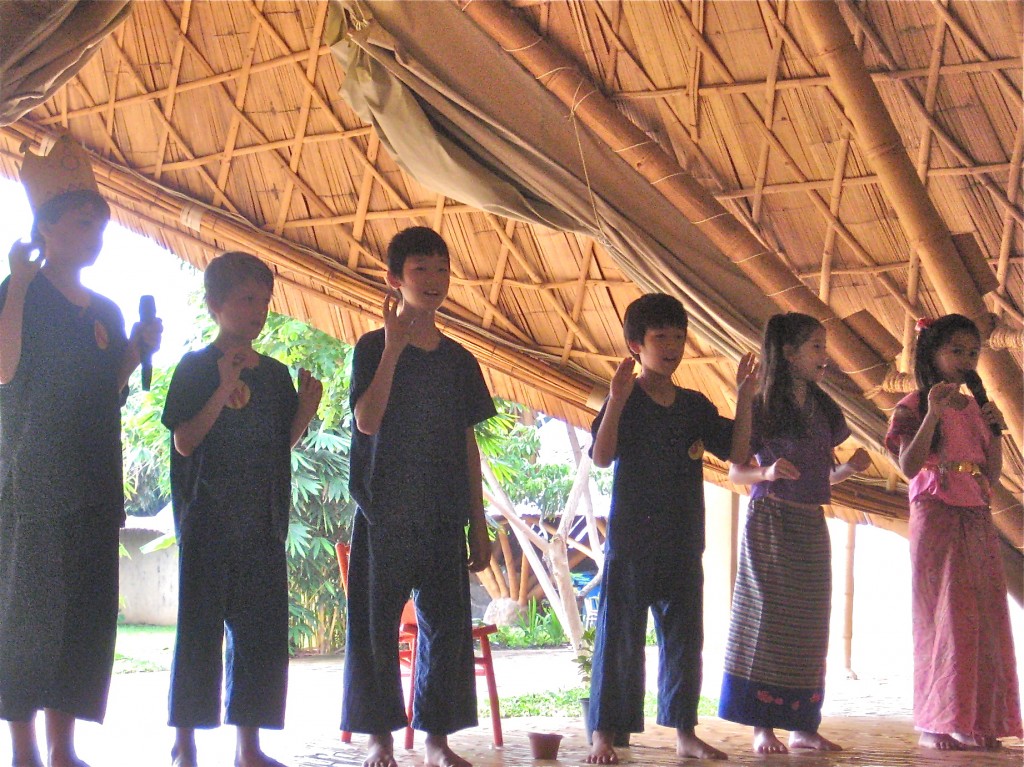 "โหลหนึ่ง ก็ถึง"
กาลครั้งหนึ่งนานมาแล้ว มีพระราชาองค์หนึ่ง มีพระธิดาแต่ไม่มีพระโอรส พระราชาจึงต้องหาเพื่อสืบทอดราชสมบัติและปกครองประเทศต่อไป ท่านจึงคิดหาอุบายโดยเรียกชายหนุ่มเข้าไปในวังและแจกเมล็ดพันธุ์พืชคนละเมล็ดให้เอาไปปลูก ท่านสั่งว่าปีหน้าครบ 1 ปีให้เอามาดูว่าปลูกได้อะไรบ้าง ขนาดเท่าใดบ้าง ชายสามคนก็นำเอาเมล็ดไปปลูกที่บ้าน  หนึ่งปีผ่านไปชายคนที่หนึ่งกลับมาพร้อมกับต้นไม้ต้นใหญ่ และคนที่สองกลับมาพร้อมกับต้นไม้สมบูรณ์สวยงาม ส่วนชายคนสุดท้ายมีแค่เพียงเมล็ดพียงอย่างเดียว ไม่มีอะไรงอกเงย พระราชามองชายคนที่สามแล้วชี้ว่าคนนี้แหละที่จะให้เป็นทายาทเพื่อเป็นพระราชาต่อไป เพราะเมล็ดที่แจกไปนั้นเป็นเมล็ดที่ไม่สามารถขยายพันธู์ได้ ชายคนนี้มีความซื่อสัตย์ ควรค่าแก่การสืบทอดราชสมบัติ