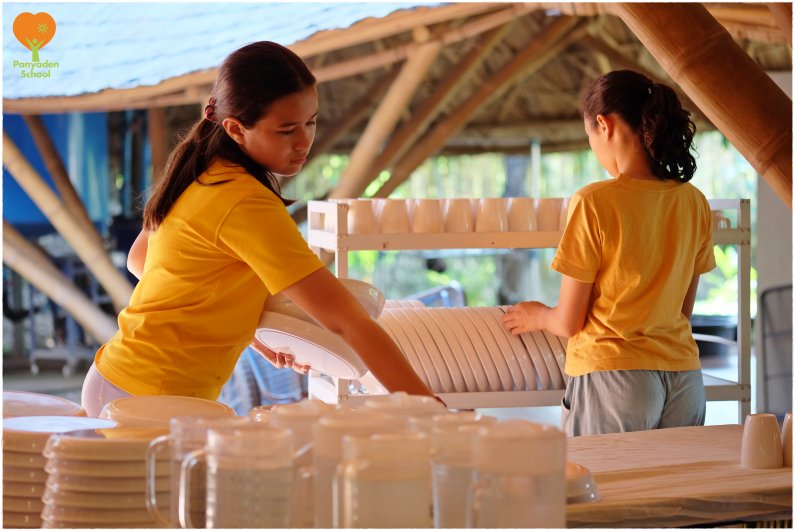 Why household chores are good for your kids
By Neil Amas, School Director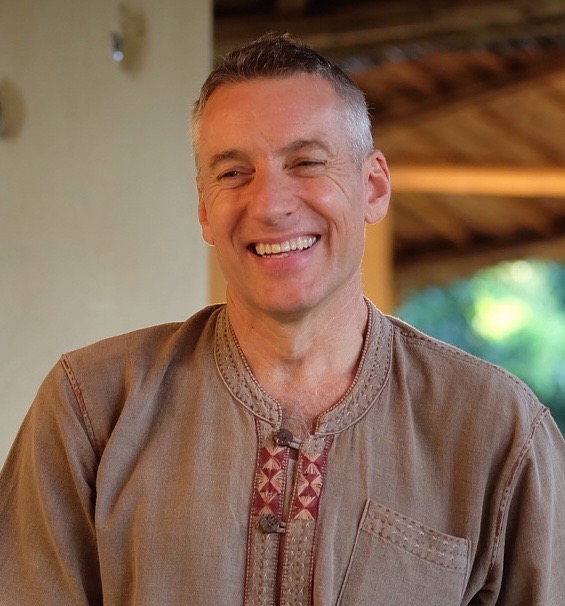 I read recently that 82% of today's parents did regular household chores when they were young, but only 28% expect the same of their children1. Not wanting to be part of that 28%, I decided during the last school break that it was time my kids did more to help around the house. The ensuing battle was almost epic…. and is still being fought! But new research shows it is worth pursuing because the benefits to your child's wellbeing are significant.
"Parents today want their kids spending time on things that can bring them success, but ironically, we've stopped doing one thing that's actually been a proven predictor of success – and that's household chores," says author and developmental psychologist, Richard Rende2.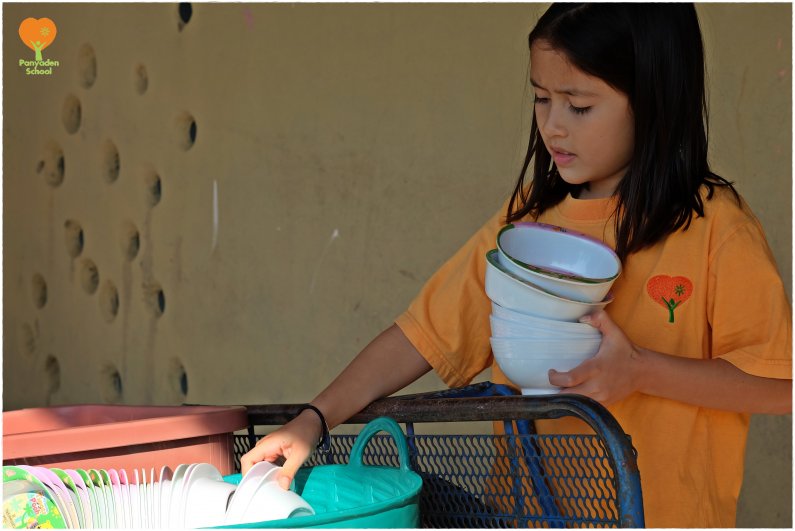 No doubt the growing tendency to fill our children's free time with play dates, outings, entertainment and after-school clubs has contributed to the dwindling emphasis on household chores. But research by Dr. Marty Rossmann of the University of Minnesota found that young adults who began chores at ages 3 and 4 were more likely to have good relationships with family and friends, to achieve academic and early career success and to be self-sufficient, compared with those who didn't have chores. Dr. Rossmann believes that household chores help children build a lasting sense of mastery, responsibility and self-reliance3.
Learning to be kind and helpful at home builds empathy and leads to happiness. Venerable Ajahn Jayasaro points out that generosity is the cornerstone for cultivating a sense of wellbeing for oneself and between people. That is why Caga (being generous) is one of the school's 12 Wise Habits. It is a catalyst for family togetherness because, as Ajahn Jayasaro notes, "few things enhance the sense of connection between family members as group acts of generosity".
The theory is all well and good, of course, but many parents know that the actual practice of getting our children to do – let alone enjoy – household chores is another matter! With gentle but firm perseverance, though, it can be done. While my own kids remain reluctant and resistant at times, I have seen a growing acceptance as the routine becomes embedded and I have even noticed some singing along the way!
Here are some tips that may help get your kids to the washing-up bowl.
Make a chores schedule. A schedule of chores made by the child himself which he can tick off each day, creates a sense of personal accomplishment as well as serving as a visible reminder of what need to be done.
Are extra piano lessons necessary? Instead of scheduling another after-school club or a weekend of visits to the cinema or water park, give priority and due importance to household chores. Then your child will get the same message.
Start small. Add fun. You are more likely to get children involved if the tasks are manageable at the start and build up to bigger ones. Add tasks that your child might find fun, like learning how to use the washing machine.
Avoid rewards and punishments. We know that promising an ice cream or pocket money for completing a task does not develop intrinsic motivation. In fact, research suggests external rewards lower inner motivation. Similarly, saying: 'Of course we can go to the park, just as soon as you finish your chores' is better than 'If you don't do your chores, you're not going to the park'. The first indicates that there is a natural consequence of not completing something on time. The second is presented as a threat or punishment which is likely to lead to resentment and doing one's chores begrudgingly.
Benefits to all. Caga and empathy are more likely to be developed if chores benefit the whole family (like doing the family laundry or feeding the dog), not just oneself (like tidying one's bedroom). Describing tasks as our chores instead of your chores further puts the focus on taking care of others.
Let your child know he is a being a helper rather than helping. Research shows that young children are more motivated by the idea of creating a positive identity – being known as someone who helps4.
Add choice. Involving children in choosing the tasks makes them more likely to buy in.
Don't make chores into 'chores'! If you yourself complain about doing the dishes or the pile of laundry that needs to be done, so will your children. Modelling a positive attitude towards household work is probably the best encouragement you can give.
Be consistent and stick to the time frame. If you don't monitor the chores schedule or follow up every time tasks haven't been done, your child will soon understand that she only has to do chores some of the time. Make sure that the chore is done within a time frame previously agreed with your child and that whatever was supposed to happen next – such as going outside to play – cannot happen until the chore is done.
It's OK to help too! If your child is trying but really struggling it's OK to say, "Well, it looks difficult for you today. Let me give you a hand to get it done before we go out". Model such a behaviour and, who knows, our child might reciprocate one day and help us when we find it difficult to do ours!
—————
ทำไมงานบ้านจึงมีประโยชน์ต่อเด็กๆ
โดย นีล เอมัส School Director
Download Thai version here.
——————————————————————————————————————————————————————————–
1See Why Children Need to Do Chores by Jennifer Wallace in the Wall Street Journal
2Ibid
3Ibid
4Ibid