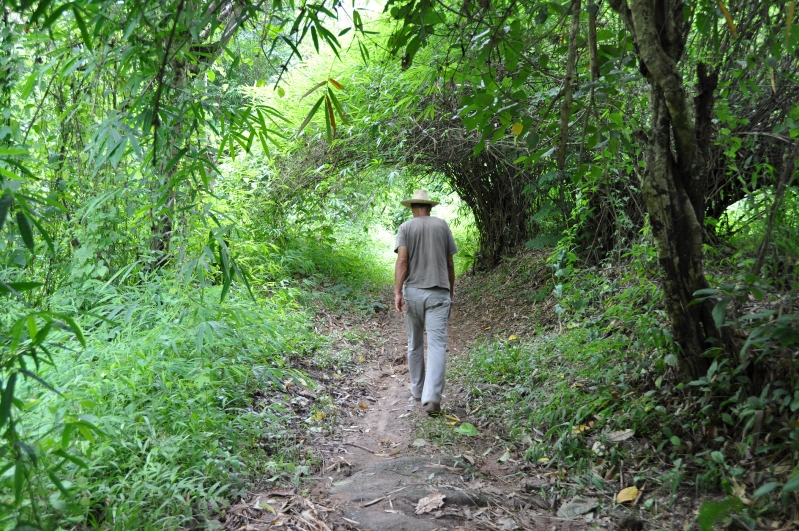 Ecological footprint, carbon footprint, reduce your carbon emissions. Yes, you've heard it all before: about how we should reduce our various 'footprints' because we are hurting the environment, how each individual step can tip the ecological scale.
They are all true but hear me out before you roll your eyes at yet another 'green' lecture. Reducing your 'carbon footprint' is not about following a trend, conforming to a marketable buzzword, earning credits or about shouting out what you are doing to the whole world. It is simply about taking steps to balance out what you take from nature and your environment, and how you can respectfully return that favour.
In The Beginning. William Rees first used the phrase 'ecological footprint' in 1992 to describe the weight of what we take from the land and its ability to continue providing those resources. He talked about the "total area of land that is required to sustain its urban region" (Environment and Urbanization, https://eau.sagepub.com/content/4/2/121). This area is the land's 'ecological footprint'.
Somewhere along the line, the phrase became 'carbon footprint' which is a subset of the ecological footprint. It specifically refers to measuring the amount of carbon dioxide and other greenhouse gases we release (in a year) to sustain our daily activities and how this weighs on our environment.
Calculating the size of our carbon footprint is a tool that tells us which steps of our activities discharge a large amount of greenhouse gases (GHG) so that we can find ways to reduce that emission.

Primary Footprint. This is a measure of our direct emissions of carbon dioxide (CO2) and GHG from the burning of fossil fuels including domestic energy consumption and transportation (e.g. cars and buses). We have direct control of these.
Secondary Footprint. This measures the indirect CO2 and GHG emissions (embedded carbon) from the whole life cycle of products (manufacture, material & product transportation, installation etc) such as electricity and household appliances that we use in daily life. We may not have direct control of these.
Panyaden School's Footprint. Panyaden School is diligently committed to keeping both its primary and secondary footprints small by reducing its greenhouse gas emissions. Together with Chiangmai Life Construction (CLC) and Utility Business Alliances (UBA), this green school is first assessing how much CO2 is produced from the time the first piece of bamboo (or any building material) is trucked to the construction factory to the end of the construction of each sala or building.
For example,
1 ton of clay has 0.0029 tons* of embedded carbon (tCO2 or tons of carbon dioxide released to make a kilogram of clay) + carbon emissions from transporting this clay to the construction site = x ton of CO2 (size of footprint).
By contrast, the process of making concrete generates a lot more carbon dioxide. 1 ton of concrete emits approximately 0.7 to 1 ton of embedded CO2. Add this to the transportation emissions and you understand why the ecological footprint of clay is only a fraction of this.
After this initial round of calculations, the School also plans to collect and analyze data including staff and school activities, the type/number of pieces of furniture used along with the amount of electricity spent for its operations.
While collecting the necessary construction data, the School is also actively trying to keep its CO2 emissions low. This is part of its responsibility to the community and to the environment. It also aims to educate its schoolchildren about environmental management such as how to reduce and recycle waste and how to conserve electricity.
Keeping It Low. What are the steps Panyaden School is taking to minimize and offset its carbon emissions?
1 Building Materials. The School maintains a small carbon footprint by choosing to build its infrastructures with natural materials like bamboo, stone and earth. Cement, concrete and steel rods are only used for foundations and support where appropriate.
When the structures' rammed earth and adobe walls are demolished at the end of their life cycle, the earth will be returned to the soil and can be recycled again and again. This may be a long time coming but it is necessary to plan ahead and minimize any negative consequences of our current actions on the future of the natural world, our future.
2 Energy and electricity use. Panyaden's decision to use natural building materials also goes a long way in conserving electricity. The rammed earth walls and floors, free-form adobe walls and bamboo structures are great for ventilation. The earth walls are excellent at absorbing heat during the day and keeping the rooms cool. There is no need for air-conditioning except in rooms that have computers.
3 Transportation. Carbon footprint data include modes of transportation and the distance between the source of supply and the construction site; how many trips and how much diesel and/or petrol are used. As an approximation, 100 litres of diesel produces about 312 kg* of CO2. Shorter and fewer trips via trucks = less diesel burned = less carbon released.
Efficient planning is needed to minimize travel and where possible, materials like earth are 'harvested' from the school grounds or sourced locally in Chiang Mai. The construction factory, CLC, is also located only about 2.7 km from the School – another saving on the amount and cost of fuel expended to transport building materials to the site.
4 Waste generation. Any waste on the construction site is recycled where possible. Leftover bamboo, for example, can be re-used as wooden nails (dowels), water mugs and scaffolds. Ground water from the site itself is pumped via simple pipes and used for various building work processes.
The teachers will also educate the children to be mindful about food and water usage. Any waste will be treated and recycled with low-energy waste management devices like the Food Waste Digester and Wastewater Treatment Plant.
Food waste: UBA estimates that 450 children and teachers (1 meal a day) may produce about 70 to 80kg of organic waste. The Food Waste Digester installed outside the kitchen/dining hall will recycle the waste into biogas (a renewable energy from organic mass) for cooking. The remaining solid waste from the Digester will be used as organic fertilizer (see post on the FWD).
Wastewater: Each person at the School may generate approximately 60 litres of wastewater per day. This liquid waste can be easily treated by the Wastewater Treatment Plant and safely drained into the natural waterways (see post on the WWT Plant). Per litre of wastewater that has been properly treated emits only 0.0012 kg of CO2 .
5 Plants. Aside from aesthetics, planting bamboo and other trees around the school is a great way to absorb carbon dioxide from the atmosphere and to release oxygen into the atmosphere.
6 Staff/school activities and transportation. Simple but efficient methods of further reducing its carbon footprint will be encouraged when the school is in full operation. These include recycling office and classroom paper, newspapers, drink containers, unplugging appliances when not using them, turning out lights when leaving a room and carpooling.
Cause And Effect. Panyaden School is mindful that every decision it makes will have an impact on its staff, its schoolchildren, the community and the environment. With this knowledge comes the need and the capacity to act responsibly.
Learning about the size of its carbon footprint is another way to help the School do what it can to manage all its resources and activities in sensible and respectful ways that ease and offset some of the burden we place daily on nature to absorb our carbon emissions. This alleviation is a step towards nurturing a healthy balance and harmony with the environment in which we live.
*Thai Greenhouse Gas Organization (TGO) Guidelines
Acknowledgment:
With thanks to K. Alisa (UBA)
Other sources:
https://timeforchange.org
https://www.footprintnetwork.org
https://greenliving.lovetoknow.com
https://www.carbonfootprintconstruction.co.uk