Small Hands, Big Heart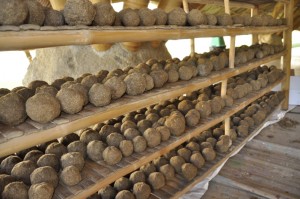 Our students, staff and a few of our parents went down on their hands and knees on Monday to make EM (Effective Micro-organism) balls that will be sent to help flood victims decontaminate dirty floodwater.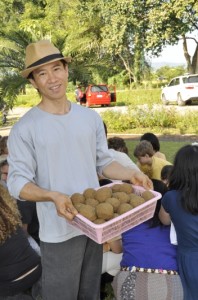 The activity was led by our Science teacher, Kru Ota who showed us how to mix and lump together sand, rice bran, tapioca flour, molasses, fermented foods, water and EM-D solution* into innocuous little mud balls. The mixture of micro-organisms in these mud balls can rid polluted floodwater of any foul odours caused by a build-up of unwanted fat, protein, starch and 'bad' bacteria, thus improving its quality.
Our EM Balls project is only small. We have just 43 pairs of small hands, plus a few bigger ones provided by teachers and parents. It was a hot day but everyone put in their share to meet our goal of a thousand EM balls that will be delivered to an aid organisation in Bangkok for distribution to flood victims.
While our EM balls may make a relatively small splash in the flood waters around Bangkok, the effort and kindness of our children will demonstrate our big heart.
We are teaching our children the significance of the floods and why we all need to show kindness at this time of difficulty for many people. With parents, teachers and children working together, the small ripples of our EM balls will carry the big heart of our school.
No matter how small one's act of kindness, it raises the level of kindness overall.
*a solution containing effective or 'good' microorganisms like yeast, lactic acid and photosynthetic bacteria (https://www.satavic.org/effectivemicroorganisms.htm, https://en.wikipedia.org/wiki/Effective_microorganism).
See also article in Chiang Mai Mail Vol. X No 17.