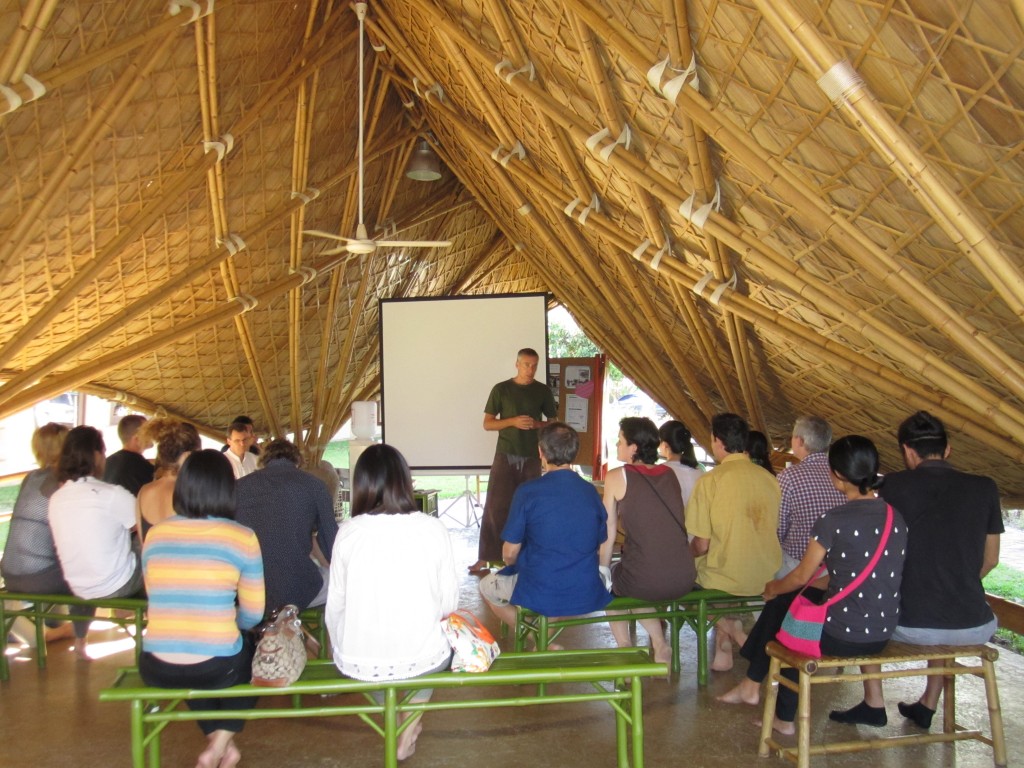 "You are doing well but there is still room for improvement!"
We would like to thank the parents who attended our Parent-Teacher meeting on November 11, and for taking the time to answer our questionnaire. You gave us the thumbs up for our efforts so far in this first ever school year and made some useful suggestions on how we can improve. We would like to share a summary of your answers here.
Objective
The main aim of the questionnaire was to find out how well you, our students' parents, measure our performance as a school, and to ask you for suggestions that will help us improve. Twenty-six parents filled in their answers.

a. Curriculum
The majority of parents who completed the questionaire (84%) are either very satisfied or satisfied with the curriculum we presented for our upcoming term. 12% are 'neutral' and 1 parent is dissatisfied. While we know it is impossible to please everybody (!) we are speaking to the other 16% to see what can be improved.
b. Quality of Teaching
84% of parents are either very satisfied or satisfied with the quality of our teaching. No-one was dissatisfied while 16% were neither satisfied or dissatisfied (neutral). 96% are happy with the answers and information they get from teachers. While we are delighted with this result, we are committed to improving the quality of our teaching through continuous training and coaching of our team.
c. Parent Involvement Opportunities
An overwhelming majority of parents (96%) think there are ample opportunities to speak to teachers and staff, while a little bit less (88%) think they are sufficiently involved in the school. We are looking at forming a Parents Teacher Association next year which we hope will address this. Our upcoming newsletter should also give parents more information about what is happening at school.
d. Continuing at Panyaden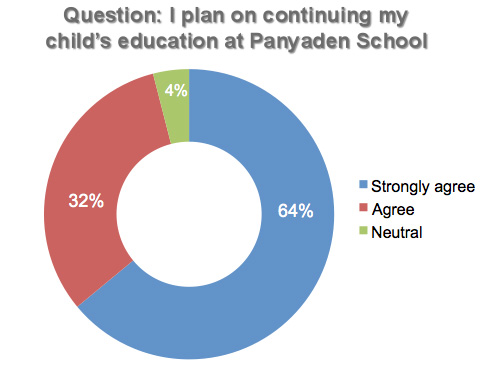 We are pleased to hear that 96% of our parents plan to stay at Panyaden (64% strongly agree, 32% agree), but we still have to work on the 4% who said they are undecided!
e. Food

80% think our food is excellent or more than satisfactory. Nobody was dissatisfied but 16% were neutral or did not know.
f. Cleanliness

A total of 92% are more than satisfied or rate the school's cleanliness as excellent.
g. Playground Facilities

88% think our playground facilities are excellent or more than satisfactory.
h. Health Procedures & Safety

68% think our safety standards are more than satisfactory or excellent while 24% think they are satisfactory and 8% don't know. Similarly 64% of parents think our health procedures are excellent or more than satisfactory, while 16% think them satisfactory and 20% don't know. Clearly we have some work to do here in informing parents about our procedures. This will be one of our priorities for Term 2.
i. Classroom Environment

Our classroom environment scored highly with 88% of parents rating this excellent of more than satisfactory, and nobody dissatisfied.
j. School Environment

76% rated our school environment 'excellent', 20% are satisfied or more than satisfied, while only 4% answered 'don't know.'
k. Quality of Home Activities

Everybody is satisfied with these. 33% are satisfied, 45% are more than satisfied and 22% rate them as excellent. So what we need to do is move the 78% to 'excellent'!
We are pleased with these results overall, but we also see there remains work to be done. We value feedback and will continue to work at making this school a place for highest quality education in all areas. As they say, Rome wasn't built in a day, but we are working hard on the foundations!