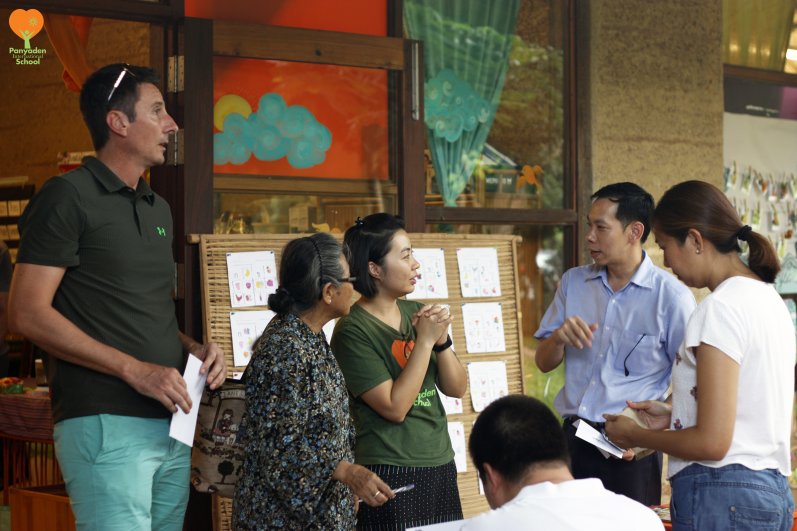 Here are answers to the questions parents asked during our recent Tea with Teachers event at Panyaden.
1. Can you explain your teaching methods?
In all classes, we aim to boost students' independence and their sense of responsibility for their own learning. Key elements that we put in place include the following:
We keep lecture-style lessons to a minimum. Teachers keep instructions and explanations to 5-15 minutes maximum, then the focus turns to learning in small groups and or as individuals.
We involve students in identifying success criteria for the tasks at hand. Having a clear picture of the goal helps them self-monitor their progress.
We start the year with a unit about how the brain works and teach them how to learn more efficiently. Learning how to learn!
We accept mistakes and teach students ways to learn from them.
We describe their learning and behavior in non-judgmental words, leading them to assess themselves instead on relying on us.
We present the same information in different ways so students with different learning needs can access it reach the same goal.
2. Will K2 students learn combined vowel sounds in Thai language? (K2 parent)
In Kindergarten 2 Thai, children will be encouraged to read aloud a wide range of stories and listen to poems which they will start to recite by heart. They will become confident in being able to identify letters and will strengthen their learning of phonological awareness. They will be exposed to a range of daily sight words containing the simple and combined vowel sounds, and will practise forming individual Thai letters.
ในวิชาภาษาไทยสำหรับระดับชั้นอนุบาล 2 นักเรียนจะได้รับการส่งเสริมการอ่านหนังสือและนิทานที่หลากหลาย และได้ฟังบทกลอน บทกวีที่เหมาะสมตามวัย เพื่อพัฒนาทักษะด้านภาษาจากภายในอย่างเป็นธรรมชาติ
นักเรียนจะได้เรียนรู้เกี่ยวกับพยัญชนะไทยและพัฒนาความมั่นใจในการจำแนกเสียงของคำจากเสียงพยัญชนะ นอกจากนั้น นักเรียนจะได้เริ่มเรียนรู้และคุ้นเคยกับคำศัพท์ประจำวันที่ประสมด้วยสระอย่างง่ายเพื่อพัฒนาการเรียนรู้การสะกดคำในระดับสูงต่อไป
3. How can foreign parents help their kids to learn Thai?
Learning a second language yourself is a powerful way to model the importance of that second language but, maybe even more importantly, it's a way to show your child that learning is a lifelong endeavour and that taking risks and doing something difficult is actually enjoyable! However, you don't have to master a second language to help your child. Here are a few suggestions:
Provide learning materials that match your child's interests: books, games, music, etc.
Organise activities where your child will have to use his second language: horse riding, swimming lessons, a visit to a theme park, etc.
Invite a neighbour or a friend who speaks the targeted language.
Show your personal interest in the language.
Read to your child in your first language but find someone to read to her in her second language or use audio books.
4. Can the school increase the length of English learning time? (Year 2 parent)
Children in Year 1-7 have 5 hours of focused English language time each week but are also learning and practising English at other times, such as during integrated learning (maths, science, history, geography) and performing arts, so there are many more hours of English per week than in the English language lesson. As a bilingual school, we put equal emphasis on English and Thai.
5. How can we as parents support at home?
For Year 1-7 we will be sending activities home that aim to involve parents. On top of that, we suggest that parents:
Encourage reading by reading to your children every day, making sure that they see you reading, and limiting screen time.
Arrange a quiet, comfortable space for children to read or do homework and avoid distractions – like the TV being on – during that time.
Come to our parent-teacher workshops later this term where we will share ideas about our approaches to learning and behaviour. We will notify you of dates in advance.
Ask your children to explain the Wise Habits each time we send information about them home and look for opportunities to reflect upon them with our child.
6. Can we have access to the curriculum?
Yes, the UK curriculum is publically available and can be viewed here: Early Years Primary Years 1-7
Information about the The International Primary Curriculum – which is the tool we use to organise the different subjects into themes and units can be viewed here: IPC
7. Can we see the Thai language curriculum for Year 5?
Yes, we have the Thai curriculum for every grade at school as a PDF file. Any parents who would like to get a copy, please write to Kru Dokmai at dokmai@panyaden.ac.th.
ทางโรงเรียนมีหลักสูตรภาษาไทยสำหรับทุกระดับชั้นในไฟล์เอกสาร หากผู้ปกครองท่านใดต้องการสำเนา สามารถติดต่อครูดอกไม้ได้ตามอีเมลนี้ dokmai@panyaden.ac.th.
8. Can we have an overview of the following 3-4 months, upcoming festivities, field trips?
Main school events are available from the school's calendar. We will also be sending home a summary of the term's learning activities each term. This will be done soon.
9. What is the main language of communication among children?
Teachers only speak their first language with students. We expect all students to communicate with teachers in the teacher's first language. Children choose the language they will use among themselves and we hear a lot of switching between Thai and English with English tending to dominate with the older students. To fully support Thai and English we monitor and adjust, in every group, the number of speakers who don't have Thai or English as a first language.