Panyaden School celebrates Teachers' Day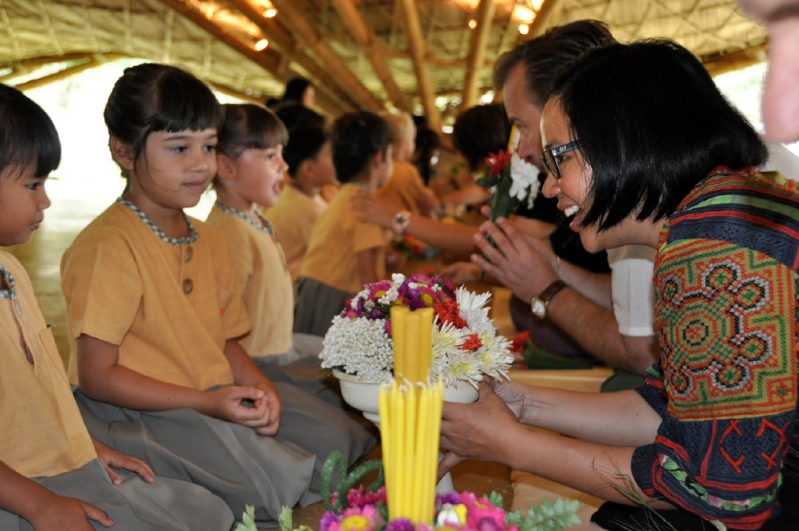 It was a beautiful sunny morning today in Chiang Mai, a wonderful time for Panyaden School's students to formally show their respect and thanks to our hardworking teachers with flowers and tributes during the school's Wai Kru ceremony.
Two young Prathom students welcomed everyone in Thai and English before inviting the school's director, head teachers and homeroom teachers to the front. Our bilingual student representatives spoke about the meaning of 'Wai Kru', which means to 'wai' or bow with hands pressed together as a sign of deep respect to their teachers ('kru') through the giving of flowers.
Key flowers like 'dok khem' (ixora) are presented in decorative paans (Thai-style pedestal trays) or wrapped in banana leaves. Among other things, they symbolise the students' promise to the teachers to be good, to keep their minds sharp and always ready to learn.
Our teachers (and parents in the audience) were visibly moved by our pupils' gentle and heartfelt recital and singing of a poem and song paying tribute to all teachers in Thailand. Class by class, the students then lined up to present their flowers. Three Prathom students shyly read their essays about 'My Teacher', drawing smiles all around.
Before wrapping up the ceremony, our school director, Neil Amas, thanked the students on behalf of all the teachers for the kindness and gratitude shown today. He encouraged all to be kind to everyone including ourselves, and to try our best in everything we do. With that message in mind, the students went back to their classrooms to begin a brand new school day.
More photos on Panyaden blog: