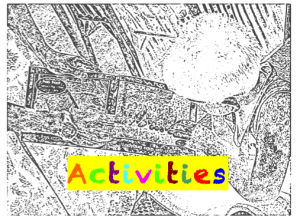 Monday, Nov 28:
Morning: Students will go to bookstores (99THB Bookstore and Surawong) and buy one book each for the school library.
3.30-4.30pm: Small discussion and exchange session between teachers & parents: "The Power of Reading".
Wednesday, Nov 29:
8.30-9.30am: Professional storyteller to read and perform for all students at Assembly Hall.
9.45-10.15am: Workshop about reading and acting for K2-3
10.30-11.15am: Workshop for P1-P5
Thursday, Nov 30:
All day: Fun reading activities in small groups for children of all ages.
Friday (Focus on Father's Day)
Morning class: Reading about and writing to the King (Father's Day). Students will make cards to salute our King and to hang them at the tree bearing the King's photos (Parent's Sala).
3:00-4:00pm: All students will plant home-grown vegetables (i.e. chilli, garlic, lemongrass etc) in our garden area so our chef can harvest it later for cooking our food. This activity is linked to self-sufficiency projects originated by our King. All parents are welcome to join us.

Every morning Assembly:
-Storytelling/reading by our teachers to all students and the DEAR programme (all students need to

D

rop

E

verything

A

nd just

R

ead)
Every lunch time:
"Read under a tree" (independent reading time)
"Once upon a time" (story read by a teacher; voluntary participation)
Ongoing projects:
"One Leaf at a Time": After students finish reading a book, they can put a leaf card on the world map (what the story is about/ what happens).
"Where in the World": The world map that students need to put the leaf on. If they put more = they read more. We may give a reward to the winner of the month/the year (who read the most number of books).