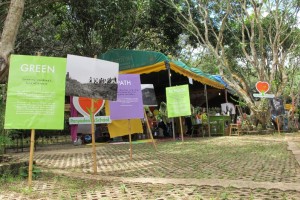 Panyaden School
created a children's playground at last weekend's Yoga Mala Festival at the Spa Resort, Mae Rim. Music, games, arts and craft making kept the visiting parents and children entertained throughout the 2-day event for yoga practitioners, environmentally conscious people, health promoters and others.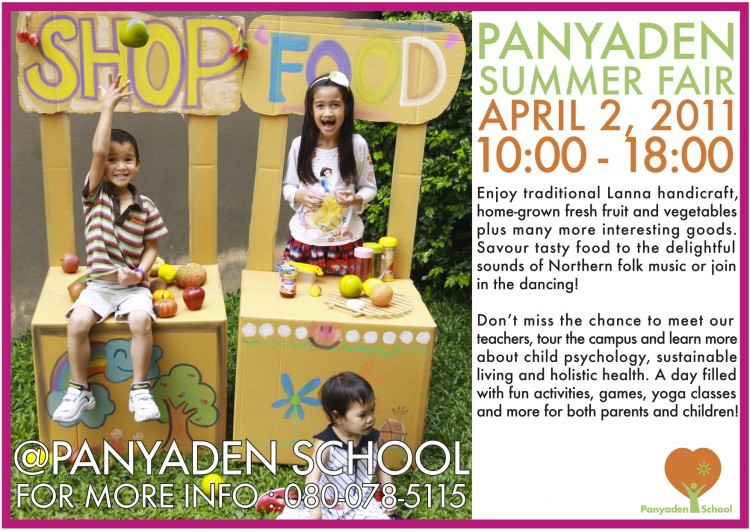 Session / Talk Schedule
by Ms Areerat Kaewkla, Organiser
Meditation, Yoga and Alternative Healings – Session and Talks
Time

Session / Facilitator
Venue / Note
10.00 – 10.30
Kids yoga (4-7 years old)
A fun and calming class for kids.
Taught in English By Ms. Areerat Kaewkla.
Yoga Room
10.45 – 11.45
Mindfulness yoga (all levels)
A gentle and cooling sequence focusing on breathing and relaxation.
Taught in English by Ms. Areerat Kaewkla.
Yoga Room
11.00 – 12.00
Dharma Talk
By Taan Ajahn Jew.
Assembly Hall
12.00 – 12.45
Guided meditation
Led by Mr. Steven Jay Ebstein.
Yoga Room
14.30 – 15.30
EFT (Emotional Freedom Technique)
An introductory talk and demonstration by Ms. Jaz Gove.
Yoga Room
Education & Psychology and Sustainable living – Talks and Discussions
13.30 – 14.30
Buddhist Values. Bilingual Learning. What is Panyaden's approach?
School Director Neil Amas will present findings from visits to some of Europe's most successful bilingual schools and discuss how Panyaden will develop its methods. School Founder Yodphet Sudsawad will outline Panyaden's Buddhist approach and how this will benefit our children. Questions and answers will follow.
Discussion Room
15.00 – 15.45
Raising well-rounded individuals' / "เลี้ยงลูกให้เป็นเด็กอารมณ์ดี"
A talk and discussion by Mr. Sombat Tapanya, a clinical psychologist and lecturer from Chiang Mai University. A father of two boys. A researcher on parenting.
Discussion Room
16.00 – 17.00
Voting three times a day: community agriculture in Chiang Mai
Introducing the idea of community supported agriculture (CSA) and talk about experiences helping to set up a CSA network in Chiang Mai. By Mr. Jeff Rutherford.

Discussion Room
Inspiring Activity – Demonstrations

11.30 – 12.00

And

14.00 – 14.30

Aikido Demonstration
An exciting demonstration of the Japanese form of martial art by a group of skilled young people. Presented by Mr. Sombat Tapanya.
Demonstration Room
Visit our Facebook page for the latest updates.