Go Team Panyaden!

Catching human flies, sprinting around the school compound, bouncing on large rubber balls, jumping over bamboo poles and kicking footballs were just a few fun games our students and teachers did today on our school's first Sports Day. What an exhilarating day! Spirits were high, pulses were racing and we screamed ourselves hoarse as we cheered on our teammates. Many of us (including the little ones) clapped, drummed or played different instruments and danced along with Kru Tee, Kru Jeab and other teachers which added to the joyful atmosphere.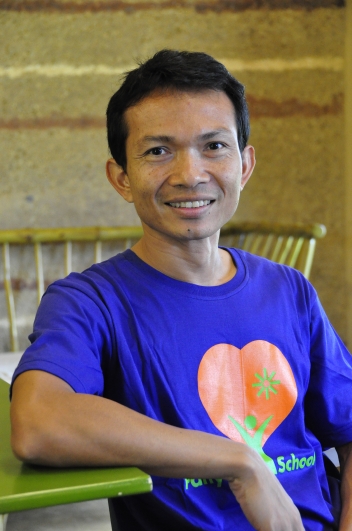 At 9am, we eagerly gathered at our football field as Kru Michel gave a brief opening speech to mark the start of the day's events. Kru Jeab helped us to warm up with an energetic aerobic exercise. Then our PE teacher, Kru Noy who was in charge of organizing today's activities, divided each class into 2 teams: orange or green. Off we went to different stations around the school to play the interesting games our teachers have prepared for us.
Orange or green, we all gave our best. It was fun to be the fastest runner or to score the most number of goals but more than that we enjoyed laughing, playing and helping each other in the team events. Hurray for Panyaden! Hurray for our schoolmates, for Kru Noy and all the teachers who made this day a thoroughly enjoyable and memorable one! And a big thank you to all our parents for joining us on this beautiful day!
We have many more photos on the Panyaden blog gallery.