Blossom Day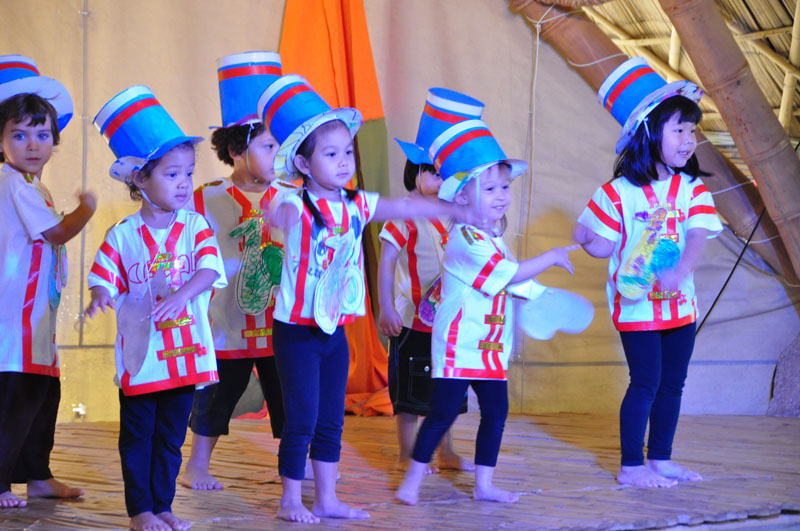 After many rehearsals of singing, dancing, acting, and playing musical instruments, Blossom Day was an amazing show! Student performances took us on a journey harvesting tea in the hills of Thailand, to the ASEAN countries in Asia, to the rainforests of South America, and all the way to outer space and back.
Nursery students win the hearts of the audience with their rendition of the Music Man. Cleverly crafted moving scenery took us on a bear hunt adventure with the K1 students. K2 then 'wowed' us with their creativity and environmental awareness in their eco-fashion show. Demonstrating Caga (generosity), the K3 students presented a new and improved version of The Giving Tree, focusing not just on taking from nature, but also how we can give back by planting trees.
The first Thai astronaut blasted into outer space as the P1 class showed us how each planet orbits the sun. P2-3 brought us back to earth with a play about the beauty of the animals and plants in the rainforest, as well as the importance of its conservation. P4,5,6 plus some friends from P2-3 welcomed us home to ASEAN to showcase traditional clothing, dance, and their own research on trading between the 10 ASEAN nations.
Congratulations to all the Kindergarten students who graduated to Prathomsuksa. We also witnessed the graduation of Panyaden's first Prathom graduate, congratulations Nick!
The outcome of our students' and teachers' enthusiasm and perseverance was spectacular. A big thank you is an order to all who helped behind the scenes to create such a successful show.
Read previous article on this special day: https://www.panyaden.ac.th/blog/panyaden-school-blossom-day/ and  see photos of the student performances, graduation and market on our blog galleries:
https://www.panyaden.ac.th/march-2013/blossom-day-2013/
https://www.panyaden.ac.th/march-2013/graduation-blossom-market/