Eco-school in action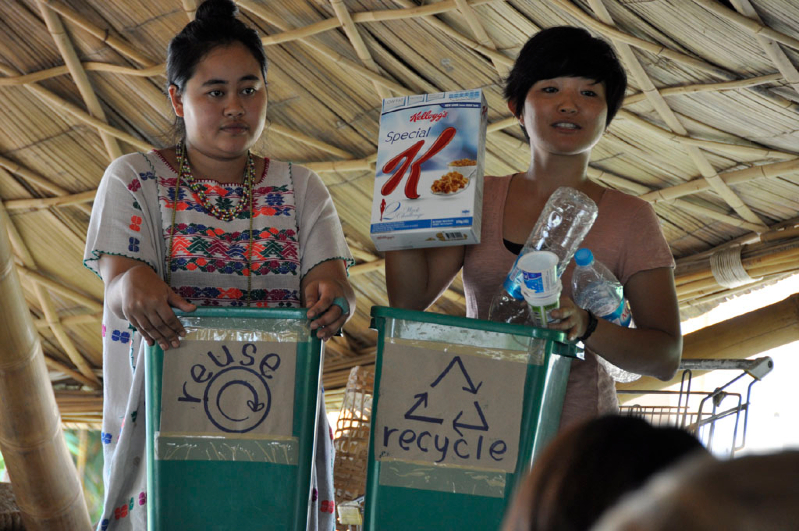 Every Friday, Panyaden School's Life Skills teacher, Kru Yuzu leads our students in 'Tidy Up' sessions after morning assembly. The objective behind 'Tidy Up Friday' is to encourage our children to care for their environment by helping to clean up their classrooms and school grounds; to re-use and recycle in order to reduce all waste including dried leaves and broken twigs.
Each class and office has bins clearly marked for recycling and re-using. The students, teachers and staff separate their general waste into these bins that will be collected every Friday. This good habit is a big part of our school's green practice.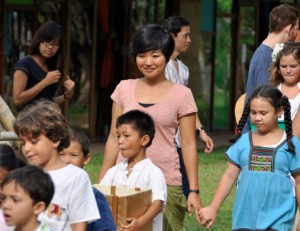 Kru Yuzu says that all reusable materials go to the newly set-up storage area where they can be re-utilized and made into "new creations at school" (for example, used plastic bottles can be cut, painted and fashioned into vases and flowers; paper used on one side can be re-used) while other accumulated waste will go to the municipal recycling facility.
Since the start of the new school year last week, all our students from the little ones in nursery to Prathom classes, have been diligently picking up leaves and twigs on our campus each Friday. Today, our gardener, Khun Fon, showed our P4 students how this organic waste can be composted and made into fertilizer for planting. Composting is a technique used to accelerate the natural decay process. The technique converts organic wastes to a mulch, which is used to fertilize and condition soil. See footnote below photos for Khun Fon's special homemade compost recipe.
Ingredients for organic compost –
Mixture of beneficial microorganisms from bamboo, rice husks, and cow manure, rice wash, and sugar, which helps the decomposition of the dried leaves and to add nitrogen to the soil 
Fermented milk + rice wash to add calcium
Egg shells + rice wash to add calcium
Chicken bones + rice water to add potassium
Fish intestine + sugar to add protein.