Drop Everything And Read!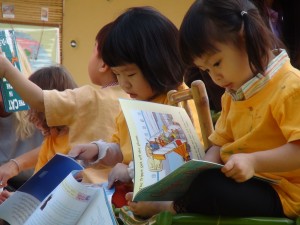 Reading is one of most important skills your child will ever learn. Cultivating a love of reading was the main purpose of our Panyaden School Reading Week.
During that week, we focused on engaging activities like storytelling, role-playing characters from books as well as our 'Drop Everything And Read' (DEAR) and 'Book in a Bag' programmes.
| | |
| --- | --- |
| Book Bag | Storytelling time during Reading Week |
Continuing Reading Activities
Though Reading Week is now over we are continuing reading activities as follows:
On regular occasions, such as in during assembly, we will ask children to literally drop everything and read. Children and teachers will find a corner, a cushion or any seat and read a book of their choice.
At lunch times we will encourage students to 'Read under a Tree' by leaving cushions and a basket of books in the shade of a tree. Teachers will from time to time sit with them and read a story.
'One Leaf at a Time' and 'Where in the World' – we launched our 'Book in a Bag' programme during Reading Week where a child brings home books in a special bag. After finishing a book, the students fill out a label which is then placed on a world map outside our library. They also glue leaves on our paper Reading Tree to show the growing number of books they have read.