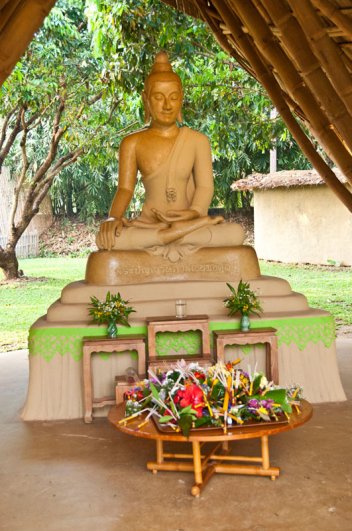 At Panyaden School, we began our commemoration of Makha Bucha Day on Friday with our P1-6 students sharing the importance of this yearly Buddhist event observed on the full moon of the third lunar month ('Makha'). This was the day 2,500 years ago when the Buddha taught the principles of Buddhism called "The Ovadhapatimokha" to the 1,250 Sangha followers who came to see him that evening without any prior planning.
Kru Tee and Kru Sean then led the 'vien tien' ceremony at our Buddha Sala where we held flowers, incense and candles ('tien') while mindfully walking clockwise around our Buddha Sala 3 times to pay respects to the Three Jewels (the Buddha, the Dharma and the Sangha) before proceeding back to class.
Later in the afternoon, Phra Ajahn Jiew visited our campus to talk with our staff and children before he delivered a public Dhamma talk on "Happiness versus Suffering".
See more photos of today's activities (taken by Ally Taylor) on our blog:
1. https://www.panyaden.ac.th/february-2013/makha-bucha-day-vien-tien/
2. https://www.panyaden.ac.th/february-2013/phra-ajahn-jiew-makha-bucha-day-visit/