Malaysian minister visits our green school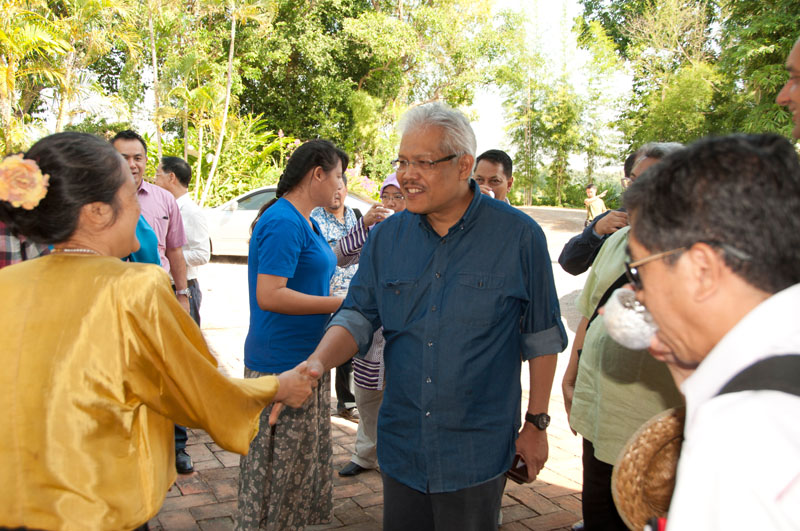 Panyaden School hosted a visit today by Y.B. Dato' Hamzah Zainuddin, Malaysia's Deputy Minister Of Plantation Industries and Commodities (MPIC). The Deputy Minister was in Chiang Mai with his team consisting of senior government officials from MPIC and the Malaysian Timber Industry Board (MTIB) as well as members of Global Innovation & Entrepreneurship (GIEF), an NGO promoting green lifestyles in Malaysia.
The Panyaden team was on hand to welcome the visitors who were keen to learn about the school's unique education system taught in its green environs and eco-friendly architecture. The minister was particularly interested in the use of bamboo and other sustainable building materials with an eye on its applicability to Malaysia.
เมื่อวันที่ 9 พ.ย. 2555 คณะรัฐมนตรีกระทรวงอุ
ตสาหกรรมการเพาะปลูกและสินค้า ต
ัวแทนองค์การนวัตกรรมและผู้
ประกอบการ และคณะกรรมการองค์
การอุตสาหกรรมป่าไม้ประเทศมาเลเ
ซีย นำโดยคุณ Dato' Hamzah Zainuddin ให้เกียรติเยี่ยมชมโรงเรียนปั
ญญาเด่น-โรงเรียนเพื่อสิ่งแวดล้
อมใน จ.เชียงใหม่ ซึ่งคณะผู้เข้าเยี่
ยมสนใจศึกษาดูระบบการเรี
ยนการสอนที่ผสมผสานการรักษ์
ธรรมชาติรวมถึงโครงสร้างอาคารที
่คำนึงถึงสิ่งแวดล้อมด้วยการใช้
ไม้ไผ่ ซึ่งเป็นเอกลักษณ์
เฉพาะของโรงเรียน ที่อาจนำไปปรับใช้ที่
ประเทศ มาเลเซียได้

More photos by Ally Taylor in our image gallery.