"Rather than an education system which is geared to testing and to competition and to preparing people for a particular livelihood, the emphasis of Buddhist education is on teaching children how to learn, how to enjoy learning, to love wisdom for its own sake."
– Taan Ajahn Jayasaro
Saturday, 7 May, was Panyaden School's Orientation Day for new and prospective parents. The day was designed for them to meet our teachers, key staff and spiritual advisor, Taan Ajahn Jayasaro, and to find out more about our curriculum and approach, our policies, school uniform and codes of conduct.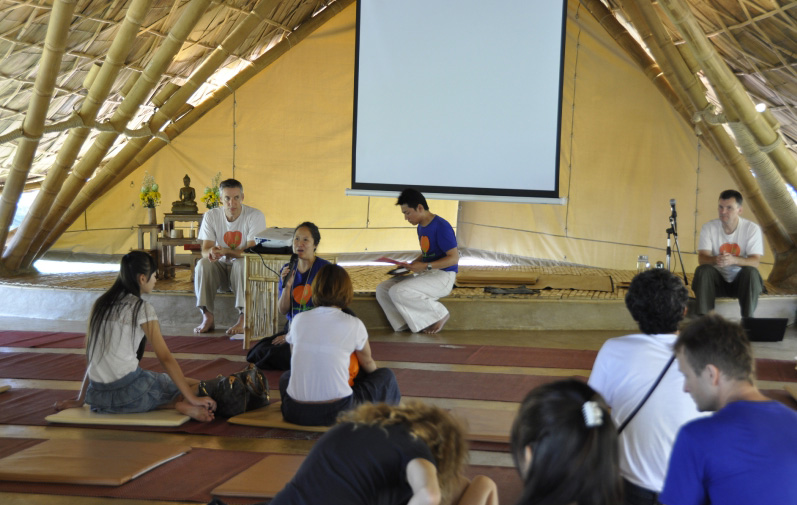 Yodphet Sudsawad, our Founder, welcomed everyone before Neil Amas, our School Director, spoke to parents about how we can all work together as students, teachers and parents to provide our children with a well-rounded education that emphasizes the core Buddhist values of "Mindfulness (Sati), Concentration (Samadhi) and Wisdom (Panya)". He and Operations and Liaison Manager Jettana Sangchote ('Kru Boy') then presented the main contents of the 2011 Panyaden School Handbook which was given out to all parents.
| | |
| --- | --- |
| School Director, Neil Amas | Jettana Sangchote, Operations and Liaison Manager |
Our Head Teacher, Michel Thibeault, then introduced the school curriculum which is based on the highly acclaimed International Primary Curriculum (IPC; also read blog post by Michel) before opening up the floor to the parents for a question and answer session.
Later in the day, Taan Ajahn Jayasaro gave a talk and answered questions on Buddhism and education (video links: https://www.youtube.com/watch?v=k0nRFYQC5pM; https://www.youtube.com/watch?v=e3JZNPTfJx8 and https://www.youtube.com/watch?v=wVTDPeNJe94 ).
| | |
| --- | --- |
| Michel Thibeault Talking About IPC | Taan Ajahn Jayasaro |
If you would like to know more about the specifics of our school philosophy and education approach or to speak at length with our School Director and Head Teacher, please contact our office at tel: 053-441460 or email: info@panyaden.ac.th.