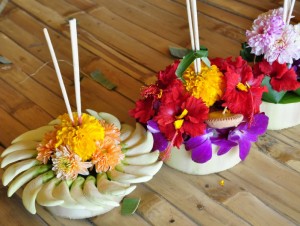 "Loy Krathong is here and everyone's full of cheer" (Loy Krathong song). Part of the festive fun today was making our own krathongs at Panyaden School and  floating them in the swimming pool before we took them home. We also helped our teachers light some Chinese lanterns and watched them fly off into the sky.
It is easy to buy krathongs everywhere during the festival but nothing beats making your own with your friends or family and seeing your handiwork stay upright, floating along happily on the water.
To make a krathong, we first cut slices of banana stem to make the lotus-shaped base. Then we folded and pinned banana leaves around it. Finally we decorated it with pretty flowers, incense sticks and candles. Voilà our very own krathong!