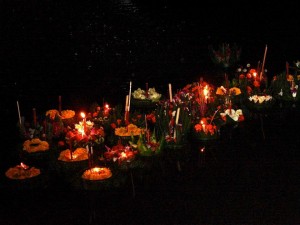 Loy Kratong Festival or the Thai Festival of Light is celebrated on the full moon night of the twelfth lunar month (November) when the tide in the rivers is highest and the moon is at its brightest.
Different legends surround its origins. The most popular is that the festival was an expression of gratitude to the goddess of water, 'Phra Mae Klongka', for the people's usage of the water from canals and rivers. It was also to thank her for providing water for the people's livelihood.
'Loy' means 'to float' while 'kratong' refers to the lotus-shaped receptacle. A kratong contains flowers, food like bread and rice, joss sticks, coins and candles. We light the candles and the joss sticks, make our silent wishes and release the kratong to gently float away with the current.
Song and Lyrics

[audio:https://www.panyaden.ac.th/old-blog-uploads/2011/11/ลอยกระทง-Loy-Kra-Tong.mp3|titles=ลอยกระทง Loy Kratong]
November full moon shines
Loy Kratong, Loy Kratong
And the water's high in the local river and klong
Loy Kratong, Loy Kratong
Loy Kratong, Loy Kratong
Loy Kratong is here and everybody's full of cheer
We're together at the klong
Each one with his kratong
As we push away we pray
We can see a better day
Loy Kratong, Loy Kratong
Loy Kratong, Loy Kratong
Loy Kratong is here and everybody's full of cheer
เพลงลอยกระทง
วัน เพ็ญ เดือน สิบสอง
น้ํา ก็ นอง เต็ม ตลิ่ง
เรา ทั้ง หลาย ชาย หญิง สนุก กัน จริง วัน ลอย กระทง
ลอย ลอย กระทง, ลอย ลอย กระทง
ลอย ลอย กระทง กัน แล้ว ขอ เชิญ น้อง แก้ว ออก มา รําวง
รําวง วัน ลอย กระทง, รําวง วัน ลอย กระทง
บุญจะส่งให้เราสุขใจ,บุญจะส่งให้เราสุขใจ