Celebrating Loy Krathong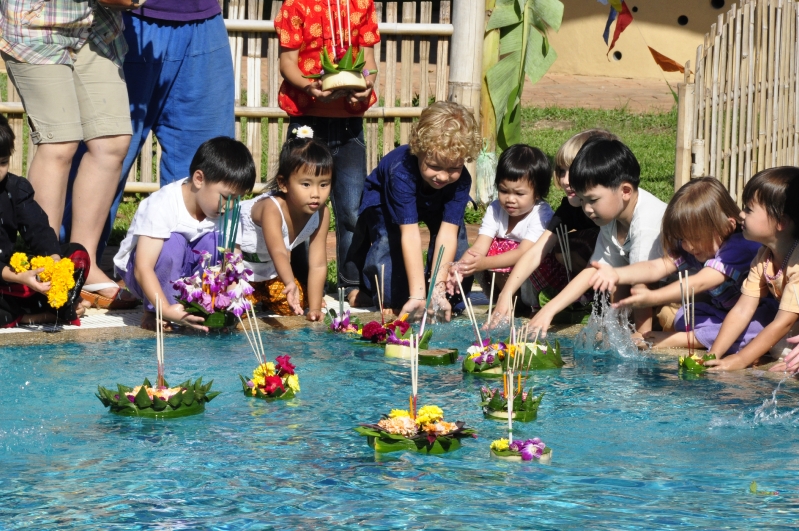 Wednesday 28th November 2012 is Loy Kratong day.
We have a day of fun activities planned to celebrate the traditional Thai Loy Krathong festival as follows:
13.00 – 14.00 hrs: Students join together at the Assembly Hall to decorate their krathongs (K.2-P.6)
14.00 – 14.15 hrs: Snack
14.15 – 14.30 hrs: Students perform a Thai folk dance on the way to the  swimming pool (N.-P.6)
14.30 – 14.40 hrs: Representative students explain the meaning of Loy Krathong and perform a Thai dance
"Rabam Sukhothai"
14.40 – 15.00 hrs: Students float their krathongs
We ask parents to help in sending in materials for making krathongs (banana leaves, flowers, a candle and three incense sticks) and have your child come to school in Thai traditional dress. We would also like to invite parents to make krathongs with us in the Assembly Hall or otherwise join us at any time.
Please note that Nursery and K1 will make krathongs in their classroom. If parents of those classes wish to join, please contact your homeroom teachers for details.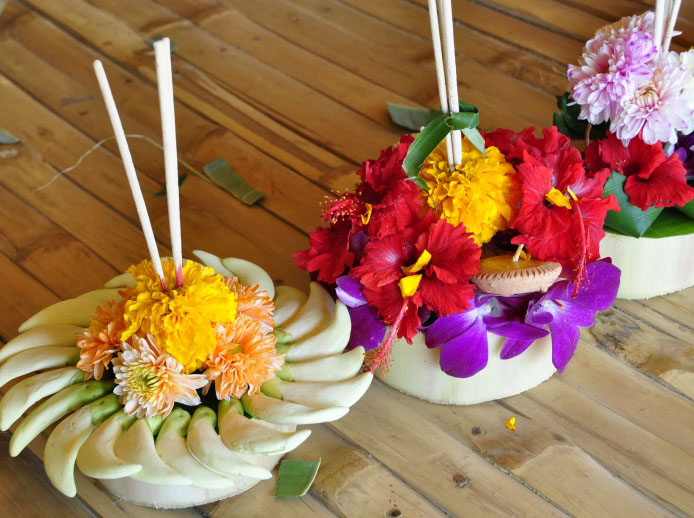 วันลอยกระทง
เนื่องจากวันพุธที่ ๒๘ พฤศจิกายน พ.ศ ๒๕๕๕ เป็นวันลอยกระทง
ทางโรงเรียนจึงได้จัดกิจกรรมเพื

่อสืบสานประเพณีอันดี

งามของไทย
โดยมีกิจกรรม ดังนี้ 
๑๓.๐๐ – ๑๔.๐๐ น.    นักเรียนร่วมกันประดิษฐ์กระทงที่ศาลาเอนกประสงค์  (นักเรียนระดับชั้น อ.๒ – ป.๖)
๑๔.๐๐ – ๑๔.๑๕ น.    รับประทานอาหารว่าง
๑๔.๑๕ – ๑๔.๓๐ น.    นักเรียนร่วมกันรำวงและเดินไปที่สระว่ายน้ำ (นักเรียนระดับชั้นเตรียมอนุบาล – ป.๖)
๑๔.๓๐ – ๑๔.๔๐ น.    ตัวแทนนักเรียนอธิบายถึงความสำคัญของวันลอยกระทงและนักเรียนหญิง
ชั้นประถมศึกษาปีที่ ๓ แสดง "ระบำสุโขทัย"
๑๔.๔๐ – ๑๕.๐๐ น.     นักเรียนลอยกระทงที่สระว่ายน้ำ
ทั้งนี้ จึงขอความร่วมมือให้นักเรียนนำวัสดุในการประดิษฐ์กระทง เช่น ใบตอง ดอกไม้(ชนิดใดก็ได้) ธูปเทียน มาในวัน ดังกล่าว
และขอความร่วมมือให้นักเรียนแต่งกายชุดไทยหรือชุดพื้นเมืองมาจากบ้าน และ ขอเชิญชวนผู้ปกครองทุกท่าน
เข้าร่วมกิจกรรมกับนักเรียนในเวลาดังกล่าว
หมายเหตุ นักเรียนชั้นเตรียมอนุบาลและอนุบาล ๑ จะประดิษฐ์กระทงในชั่วโมงเรียน หากผู้ปกครองมีความประสงค์ร่วมประดิษฐ์
กระทงกับนักเรียน กรุณาสอบถามเวลากับครูประจำชั้นโดยตรง