Laughing with delight, a group of Panyaden students showed off their hands wet with colourful liquid dyes. They had been soaking the cotton yarn that they had spun themselves, into tubs of liquid dye made from natural ingredients like fragrant tree bark, fruit, tumeric and indigo plants ('kraam').
The dyeing 'station' was part of our school's Cotton Project that started at the beginning of this month (see previous post). Our students have now harvested the cotton plants and are ready to go to the next stage of the journey; that is, to learn how to prepare and spin the cotton fibers into yarns before weaving.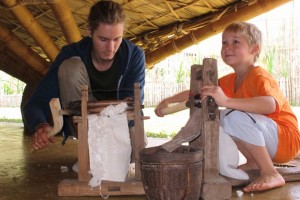 Our teachers and some local craftswomen demonstrated and supervised each step of the production process. Firstly, the students were shown how to remove the seed from the fiber by using a traditional wooden press called 'id-fai'. This machine is composed of a system of wooden cylinders between which cotton clumps are pressed. This process separates and flattens the clumps of fibers from the seeds.
Next the children moved on to beat and fluff up the cotton fibers with a bow or 'gong' before rolling the wool into a tube. The fiber is now primed for spinning on the hand-operated spindle ('phien'). It was fascinating to see how simple steps like these could create long strings of thread that are then wound by hand into skeins or loose coils before colouring.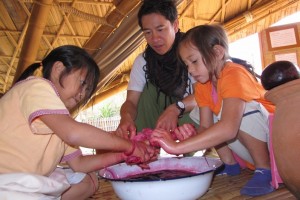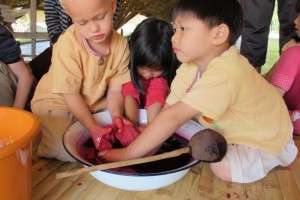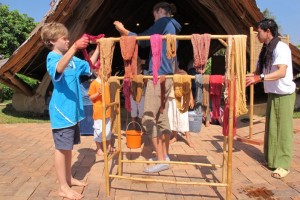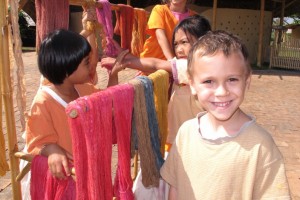 While the coils of cotton dried in the sun, our students took turns using a wooden loom ('gee') to weave the yarn into pieces of textiles that can eventually be made into soft, breathable organic clothing.
Judging from the questions and enthusiasm displayed throughout the project, our students seem to have enjoyed learning and experiencing for themselves the value and usefulness of the remarkable cotton plant.
 Interesting Facts:

 Did you know that adding a little limestone paste to the liquid dyes darkens the colour; and that using natural colouring materials reduces chemical pollution in our environment?
The cottonseeds need not be thrown away. They can be refined to produce cooking oil.
The shells or hulls of the cottonseed can be recycled as healthy feed for cattle.
Sources:
https://www.ehow.com/how_6390153_make-cotton-yarn.html
https://en.wikipedia.org/wiki/Cotton