Panyaden was joined at the end of term by a representative from the International Primary Currculum (IPC), Sarah Brown. We are integrating the IPC with the Thai curriculum and have just completed our first year of using it. We invited Sarah, the IPC's Professional Development Manager, to join our Blossom Day and she kindly recorded her observations for our blog.
Panyaden's annual celebration of children's learning
By Sarah Brown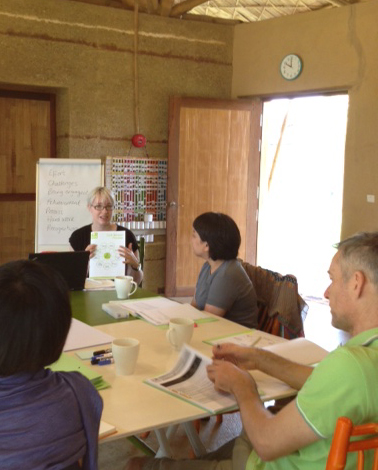 After the show, we were invited to the Blossom Market where the young entrepreneurs set to work persuading the audience to buy objects and food they had made during their different units of work. Bilingual storybooks, potted plants and other crafts were for sale, with all proceeds being donated to a learning centre for disadvantaged children. I spent the rest of the morning quizzing pupils about their learning, and was given a guided tour of caveman art, learnt how food can be made using a solar oven, and was treated to a taste of home with some freshly made scones and jam!
There are 3 key elements to the IPC – academic, personal and international learning. It is so easy to focus solely on the academic, but it is the personal and international which help guide and prepare children to be responsible and caring adults in the future. Panyaden celebrate personal learning through their 12 Wise Habits – I found these personal qualities to be a living and breathing part of the whole school community. They are explored, modelled, encouraged and celebrated through the school's entire approach to learning, meaning that any visitor feels welcome the minute they arrive at Panyaden.
The school is only in its first year of using the IPC but is successfully adapting the unit themes to meet the needs of their school context and culture, as well as the needs of their individual students. Staff are now developing the assessment of children's learning, with a focus on involving students in this continuous process of feedback and future target setting. Leadership at the school also spent a day looking at how they can move forward with the curriculum by involving all staff in a review of their successes so far, and working together to find ways they can continuously improve the learning for all students in the school.
Thanks for having me Panyaden – I look forward to another visit to Chiang Mai in the not too distant future!