Renewable Energy:
From Food Scraps to Natural Cooking Gas – Biogas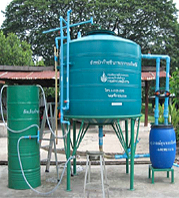 Everyone, meet the Food Waste Digester. Installing this anaerobic digester is another initiative by this green school to recycle any food scraps and organic waste generated at Panyaden.
The environmental engineers at Utility Business Alliances (UBA) estimate that on average, 450 children and teachers (1 meal a day) will produce about 70 to 80kg of organic waste.
Instead of throwing that away and leaving it to be trucked to a landfill where it will decompose and rot with other materials to release greenhouse gases like methane into the environment, Panyaden School uses the food digester to turn the waste into biogas.
What is a Food Waste Digester?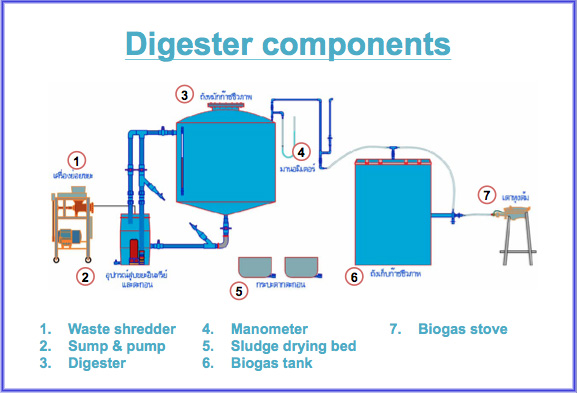 The Food Waste Digester (FWD) is a tank in which bacteria digest and break down organic matter without using oxygen. Watch the YouTube video at the start of this post (https://www.youtube.com/watch?v=but5ntRMQQc&feature=player_embedded). It demonstrates a simplified version of how an anaerobic digester like the FWD generally works to produce biogas, a clean natural gas that represents renewable energy.
Food waste that can easily go into the FWD are
Cooked and raw meat/fish
Cooked and wasted vegetables
Fruit waste

Cooked pasta/rice
Pig/cow manure
Other organic wastes
Benefits
For minimal labour input, biogas can replace firewood and fossil fuels that are becoming more expensive as supply lags behind demand (source: University of Adelaide, https://www.adelaide.edu.au/biogas). At Panyaden School, the biogas will be sent from the tank to the gas stove for cooking. Here's some math that might help put things into perspective (approximations only):
80kg of food waste per day = approx. 2.5 m3 of biogas = 90min of cooking time
Another benefit of using the FWD is that the residual digested food waste ('digestate') that is routed to the sludge drying beds, can be recycled as organic fertilizer for planting.
There is no need to worry that using a food digester will attract vermin. It will not because the food waste is broken down under the ground. The FWD is also designed with fibre-reinforced plastic that keeps in odors that attract vermin.
The children at the School will also be able to learn from an early age, the science and application of fermentation, digestion, natural gases, renewable energy and of course, sensible waste management.
Note: Methane is not toxic when inhaled, but it can produce suffocation by reducing the concentration of oxygen inhaled (K. Alisa from UBA). When structures are built on or near landfills, methane can penetrate the buildings' interiors and expose occupants to significant levels of methane, posing a high risk of causing asphyxiation (https://en.wikipedia.org/wiki/Methane).