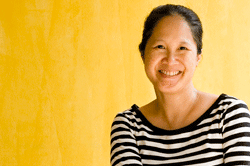 The Founder of Panyaden
"Curiosity. Innovation. Respect. Sustainability. Holistic Education. Creativity. Inner Peace. Balance. Living with Nature. Buddhist Approach. Environmentally Mindful. Learning Through Experience. Practicing what you have learnt."
I went away from meeting Khun Yodphet Sudsawad (aka Khun Tik) with these buzz words and phrases swimming furiously in my head. She is an inspiring woman who is building her dream school. These nouns and phrases fly out at you every time she talks about it. Her passion and belief that it is possible to make dreams come true has inspired many like-minded people to come together to build Panyaden School.
Why a school? She believes in training minds from an early age. While working at Phenomena, a renowned Bangkok TV commercial production house, she learnt that the "quality of manpower" and good attitude is as important as professional knowledge. To have this, people need to be trained from an early age.
Having been a follower of Buddhism all her life, she wants her school to provide a sustainable education that is based on the Buddhist principles of 'sila sikka' (moral conduct), 'panya sikka' (wisdom development) and 'samadhi sikka' (mind training).
"Panyaden (also) has to be international, compatible with the best schools in the world. We will give away scholarships for 10 – 20% of the local students." Pupils will study mathematics, science, computer studies, dance, music and so on in Thai and English.
These studies will be conducted in an environment that is built out of locally available raw materials. Here is a school whose architecture and structure will itself be a big part of the learning process. This idea is strongly supported by her husband, Markus Roselieb, co-Founder of the school and the Project Manager of the construction.
"I wanted to use local materials, which are sustainable and green; to acknowledge them and to learn how they can be used in our daily lives. Armed with this concept, she went about gathering information and teams of people who share the same vision. Now some 80 workers, led by skilled local craftsmen and foreign expertise, work on the site. Building from earth is a local practice in Chiangmai, so I thought about what material will match or go with it and suddenly the idea of bamboo came up, and I knew (then that) it's possible.
"We started to research the material we're going to use to make our building sustainable. Luckily, the World Bamboo Congress took place in Thailand about 2 years ago, where all renowned bamboo architects gathered and lectured. One of them was Olav Bruin from 24-H Architecture (Rotterdam) which designed many of Rudolf Steiner's** schools in Europe. The Rudolf Steiner schools have a creative atmosphere for children to experience and be a part of. I knew that we needed experienced architects to achieve a unique design combined with the local materials, so our children could learn from them."
A major part of the learning experience is the physical environment that is primarily being built out of bamboo and rammed earth. The school's unique design was inspired by an antler fern the 24h team found at Tik's residence. An organic design combined with age-old raw materials and building techniques, whipped together with a large dollop of reverence and care for nature.
Khun Tik wants to give the students a well-rounded education that helps them to think for themselves and to lead by example. "Children have to be able to implement theory and adapt it to use in daily life. Then they know which theory works or which one doesn't. Everyone in the school, both the children and teachers, have to understand what is sustainable living (this is one part of how to balance your life). When they see their school buildings, they will ask questions about how the school was built and with what materials."
Here at Panyaden, we want to nurture
A Buddhist educational approach that acknowledges nature along with all living and non-living things.
A mind that is environmentally aware and alive, able to control its thoughts with confidence and inner peace. Able to think and speak in Thai and English, armed with the necessary knowledge for it to thrive in this increasingly global economy.
And finally, a mind that is able to practice what it has learnt and to share it with the community at large.
'Panya' – wisdom, insight, knowledge; 'Den' – outstanding. The name of the school embodies all these elements that make up the essence of Khun Tik's dream. And we wish her astounding success.

***Visit the Panyaden Buddhist Bilingual School's website at https://www.panyaden.org or click on the link on our blog. The site will be launched on 7 July 2010.
** Steiner's education: https://www.steinerwaldorf.org/whatissteinereducation.html