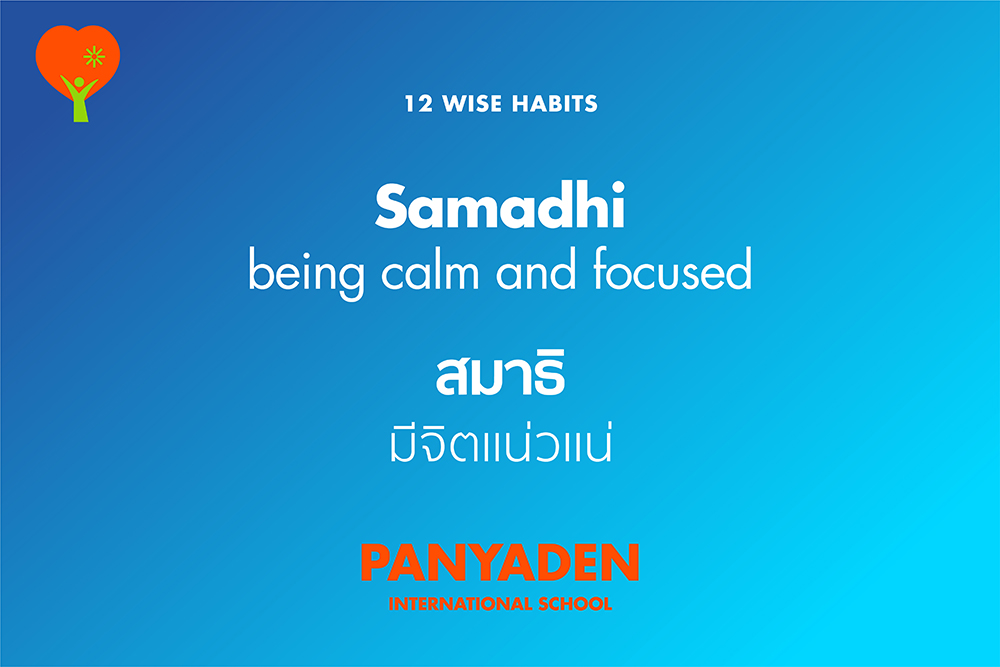 The word samadhi originates from the Sanskrit sam‐a‐dha, meaning "to bring together." It is usually translated as "concentration" or composing of the mind. It is the mind that does not waver, does not scatter itself and is focused on the task at hand despite being disturbed, persuaded or provoked. When we achieve samadhi we attain the calm and collectedness needed to make wise choices and decisions.
Samadhi is the second of the three divisions of the Noble Eightfold Path, sila (moral development), samadhi (mind development ) and panya (wisdom development). Samma samadhi, 'or right concentration' is part of this second division and refers to "single pointedness of mind" or concentrating the mind to the point of mental absorption, leading ultimately to successively higher mind states (jhana).
In everyday actions of ordinary life we require concentration, but this is not necessarily 'right concentration' as taught by the Buddha. A mind of single intent is capable of doing what it does more effectively, be it good or bad. The skilled pickpocket must have a high capacity for concentrated thought; the cat waits with all its attention focused on its prey. But samma samadhi refers only to concentration that leads to beneficial thoughts and actions. In Buddhist teachings, before we can achieve samadhi, we must overcome the 'Five Hindrances' to a calm and focused mind: sensual desire or greed, ill will or aversion, restlessness or anxiety, laziness or lethargy and doubt. With right effort and right mindfulness these conditions begin to lose their power and the mind gets firmly established in right concentration.
A mind firmly composed by samadhi provides the foundation from which to achieve the other Wise Habits. Undisturbed by distraction or persuasion, we set the mind on persevering with the task at hand (viriya), to keep our word (sacca) or endure difficulties with patience (khanti). With a strong determination we watch over ourselves to keep our thoughts and actions firmly in line with what is practical, logical and beneficial (yoniso‐manasika). ''A steadfast and unwavering heart is free of apprehension, remorse and confusion concerning our actions and speech. This is samadhi'' (Venerable Ajahn Chah)
As parents and teachers we are always hoping our children will improve their concentration skills. We can do this by reducing distractions, such as the TV or computer, while they are working on their homework. We can set them activities that require progressively prolonged periods of concentration and offer praise and encouragement for their efforts. Basic meditation techniques to promote calm and focus can be introduced from an early age, such as counting the breath or listening to sounds around them with their eyes closed, recalling each one to you afterwards. Older children are able to sit for an increasing number of minutes in silent meditation. We can start by asking them to keep the focus of attention on their breath, raising their hand each time the mind wanders off (this is the role of sati ‐ to call back the mind). Children often have a surprising propensity for higher states of concentration. But whatever the capacity and length of time, the calm and collectedness that result from meditation, and the enhanced thinking skills that result, are proven and hugely beneficial to all of us.
Venerable Ajahn Jayasaro writes "if we can compose our mind with sati, we have no need to depend on sleeping pills, alcohol, 'retail therapy' or other unwholesome ways to help us relax. When the mind is peaceful, we are better able to reflect, we increase our perseverance and patience, faith in our practice and we understand more. As we understand more, our faith increases, and so on, the cycle continues.''
If we train the mind in a wholesome way, it becomes calm and assured, bringing a sense of peacefulness not only to oneself, but also to those around us. The mind that reaches samadhi is like the moon which has emerged from the clouds ‐ clear, sharp and bright.