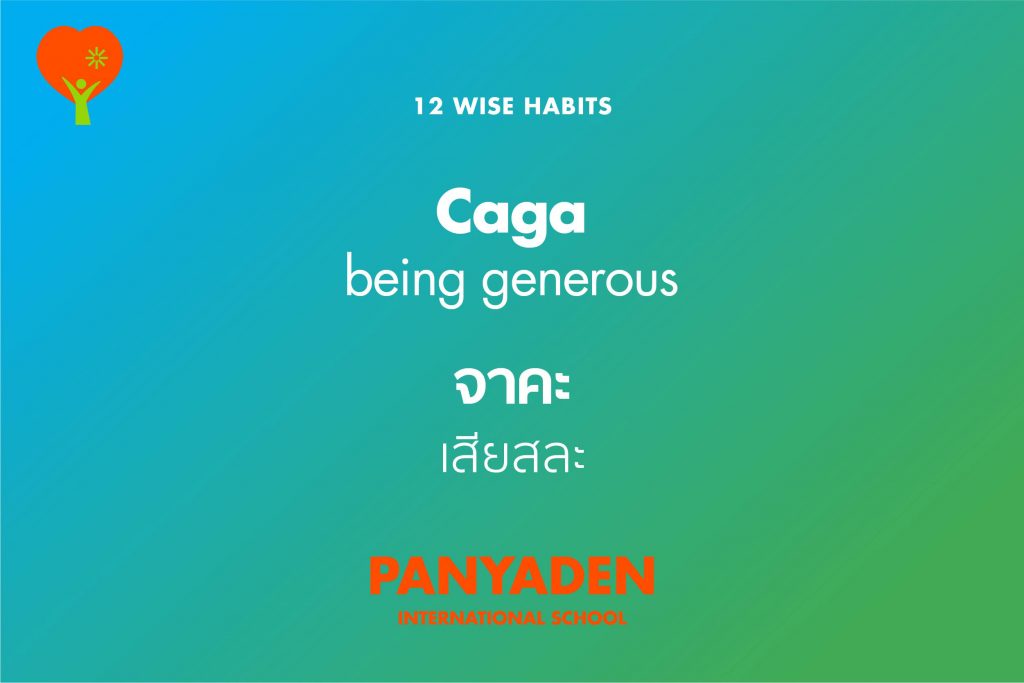 "Few things enhance the sense of connection between family members as group acts of generosity." – Ajahn Jayasaro
CAGA (Being generous)
PANYADEN 12 WISE HABITS WEEK
Caga (pronounced jaa-ka) means generosity. It is delighting in the act of giving, sharing, or relinquishing and expecting nothing in return; it is when the love of giving becomes a virtue in itself. Caga is being generous not only with material things, but also with your time, your energy, your forgiveness, and your willingness to be fair and just with other people. It is the opposite of selfishness, stinginess, being attached to me and my things, needs or views, and, as such, Caga also means to give up those thoughts and habits.
Caga can be developed in different ways and at different levels. Helping others and offering service are ways of stepping over the boundaries of me and mine. Like the vine which grows and is shaped by the nearest tree, children are more affected by their parents' example than anything else. When we think of the people who have most positively influenced our lives, "it is not because of the kinds of cars they own or vacations they have taken but because they have been trustworthy, kind, and patient with us. They've made us feel good, no matter how badly we feel about ourselves. This kind of giving is not beyond the capacity of anybody. Increasing well-being and decreasing dukkha (suffering) are gifts we can all give," (Ajahn Pasanno, ibid).
From an early age, if children are praised and encouraged for freely giving to others, they grow up with a pleasant feeling associated with being generous. The idea that you gain happiness by giving things away does not come automatically to a young child's mind, but with practice they will find that it is true.
Caga helps build confidence in children because by being able to help other people we develop a sense of self-worth. As such, acts of generosity are an antidote to low self-esteem. They create a sense of openness in the mind which helps break down boundaries with others that otherwise would keep goodwill from spreading around. Caga can be used as a catalyst for family togetherness because, as Ajahn Jayasaro notes, ''few things enhance the sense of connection between family members as group acts of generosity."
จาคะ แปลว่า ความเสียสละ ความเอื้อเฟื้อ การแบ่งปัน แก่ผู้อื่นโดยไม่หวังผลตอบแทน ซึ่งสิ่งนี้จะเกิดขึ้นได้เมื่อความรักในการให้กลายเป็นคุณธรรมประจำตัวเรา การให้ในความหมายของจาคะ ไม่ได้หมายถึงเพียงแค่การให้เป็นสิ่งของเท่านั้น แต่รวมไปถึงการให้เวลา ให้ด้วยการลงแรง ร่วมแรงร่วมใจ การให้อภัย และให้ความเต็มใจที่จะเป็นกลางและยุติธรรมกับผู้อื่นเสมอ การเสียสละนั้นจะตรงข้ามกับความเห็นแก่ตัว ความตระหนี่ ความยึดติดกับวัตถุและความต้องการของตนเอง ดังนั้นการมีจาคะ คือการปล่อยวางจากการยึดติดในความคิดและวัตถุต่างๆ
จาคะ นั้นสามารถพัฒนาไปได้ในหลากหลายทางและหลายระดับ เช่น การให้หรือช่วยเหลือผู้อื่นเป็นการก้าวข้ามผ่านการยึดติดว่าของสิ่งนี้เป็นของฉัน การเติบโตของเด็กนั้นเปรียบเสมือนเถาวัลย์ที่เติบโตเลื้อยไปตามรูปร่างของต้นไม้ที่อยู่รอบๆ ตัว เด็กก็เช่นกัน เขาจะเติบโตโดยมีพ่อแม่เป็นแบบอย่างมากกว่าสิ่งอื่นรอบตัว เมื่อเราลองมองย้อนไปในวัยเด็ก คนที่มีอิทธพลต่อเรามากที่สุด "ไม่ใช่คนที่เรามองว่าเขาขับรถอะไร หรือเขาไปเที่ยวพักร้อนที่ไหน แต่เป็นคนที่น่าเชื่อถือ เรารู้สึกเชื่อใจ เป็นคนใจดี และมีความอดทนกับเรา เวลาอยู่ด้วยทำให้เรารู้สึกดี แม้ว่าตอนนั้นเราจะรู้สึกไม่ดีกับตัวเองอยู่ก็ตาม ฉะนั้นการให้ความรู้สึกเช่นนี้กับลูก ไม่ได้ยากเกินความสามารถของเราเลย การเพิ่มความสุขในการดำรงชีวิต และลดความทุกข์ เป็นของขวัญที่เราทุกคนสามารถแบ่งปันได้ " คำสอนโดยพระอาจารย์ปสันโน
ในช่วงวัยเด็กเล็ก ถ้าเด็กถูกส่งเสริมและปลูกฝังการแบ่งปันให้กับผู้อื่น เขาจะเติบโตขึ้นกับความรู้สึกดีในการให้และช่วยเหลือผู้อื่นเสมอ ซึ่งความสุขที่ได้จากการให้นั้นไม่ได้เกิดขึ้นเองในความคิดของเด็กเล็ก แต่จะเกิดขึ้นจากการฝึกและสอนให้เขาเห็นว่าเวลาได้เป็นผู้ให้นั้นจะรู้สึกมีความสุขแบบนี้
นอกจากนั้น จาคะ ยังช่วยสร้างความมั่นใจให้กับเด็กอีกด้วย เนื่องจากเมื่อได้เป็นผู้ให้แล้ว เขาจะรู้สึกว่าตนเองมีคุณค่า ซึ่งถือเป็นยาแก้อาการไม่มั่นใจในตนเอง รวมไปถึงการมีจิตใจที่เปิดกว้างพร้อมรับฟังผู้อื่น ทำให้ทลายกำแพงที่ปิดกั้นความตั้งใจในการแบ่งปันให้กับผู้อื่นลงไปได้ จาคะนั้นสามารถเป็นยากระตุ้นที่ช่วยกระชับความสัมพันธ์ภายในครอบครัวให้แน่นแฟ้นมากขึ้น ดังที่พระอาจารย์ชยสาโร ได้กล่าวไว้ว่า "มีบางสิ่งที่สามารถทำให้ความสัมพันธ์ระหว่างคนในครอบครัวนั้นดีขึ้นได้ นั่นคือ การให้และการเอื้ออาทรต่อกันของทุกคนในครอบครัว"