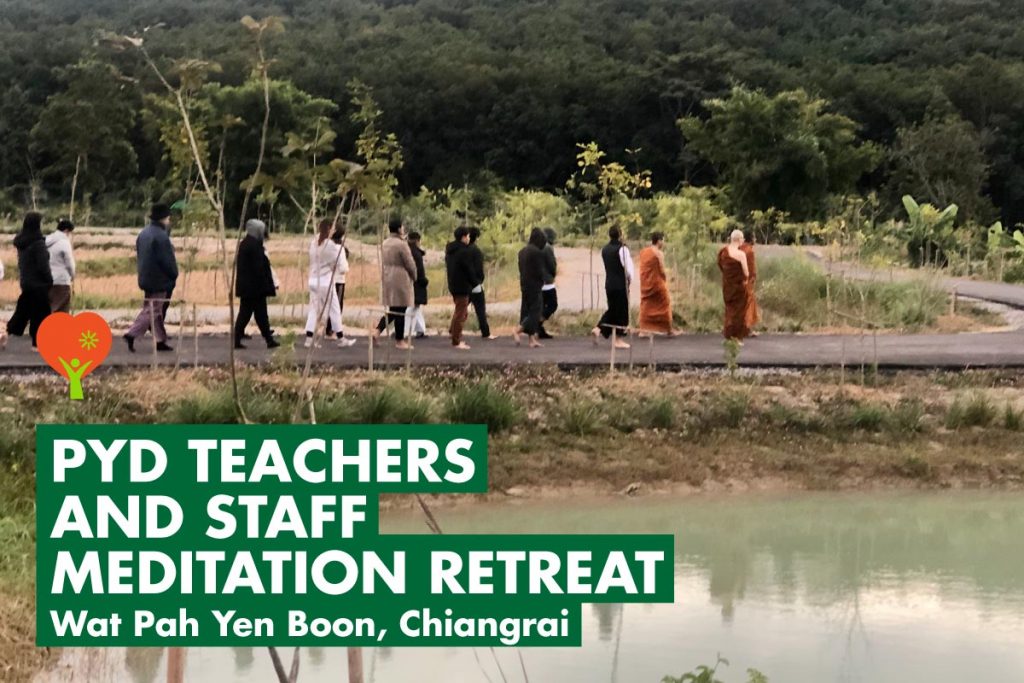 TEACHERS AND STAFF MEDITATION RETREAT AT WAT PAH YEN BOON FOREST MONESTRY, CHIANGRAI
Last December I attended the meditation retreat by Venerable Phra Ajahn Piyasilo (Phra Ajahn Jiew) at Wat Pah Yen Boon Forest Monestry, Chiangrai, as a great way to rest and reset my mind. That was my only plain and simple goal to accomplish at this retreat. At Wat Pah Yen Boon, everything is created and planned for a meditator to only focus on cultivating their mind. However, this time, I didn't join the retreat as a meditator but as a Dhamma service staff.
I envisioned this new responsibility as to merely serve others and I was eager to arrange everything to live up to these high expectations. Unfortunately, I discovered that on the very first day itself, I began to be under a lot of stress when things didn't go as planned or when I did something wrong. I noticed the kind of tone I used on myself and knew that it was not right. I did not practice Metta (being compassionate) on myself. I, therefore, decided to slow down, stop and began to observe my mind.
The teachings from Prah Ajarn ran through my mind and I realised that there are two goals of being a Dhamma service staff. The first goal is to accommodate the needs of the meditators. The second is to be aware of our relationship to the tasks at hand, that is to see our habitual tendencies and to nurture them with compassion.
As a result of the retreat, I learned to explore what it means to apply mindfulness in work and life and will continue to do so. I understand that it will be an endless task but I am more than happy and determined to keep exploring and practicing with Prah Ajahn Jiew's teachings and with Dhamma in mind.
Kru Ying,
Year 7 Advisory Teacher and Thai Teacher
I have been on several retreats before and each time it has always been a new experience. This time was especially different as the retreat was for our Thai colleagues where Phra Ajahn Jiew would give the meditation instruction and Dhamma talks in Thai, not English as I was used to. It was tricky at times, but with Samadhi (being calm and focused) and Sati (being mindful and alert), I was able to understand a lot more than I first thought. I am glad to have had the opportunity to practice both the Dhamma and my Thai listening skills on the retreat. Lastly, I am very grateful to be sent on a meditation retreat once a year and practice with our teachers and staff of Panyaden.
Kru Anthony,
K2 Honey Bees Homeroom Teacher
Panyaden International School is ever grateful to Phra Ajahn Jiew for his unending support, kindness, and wise teachings. We are most certainly looking forward to our next meditation retreat.