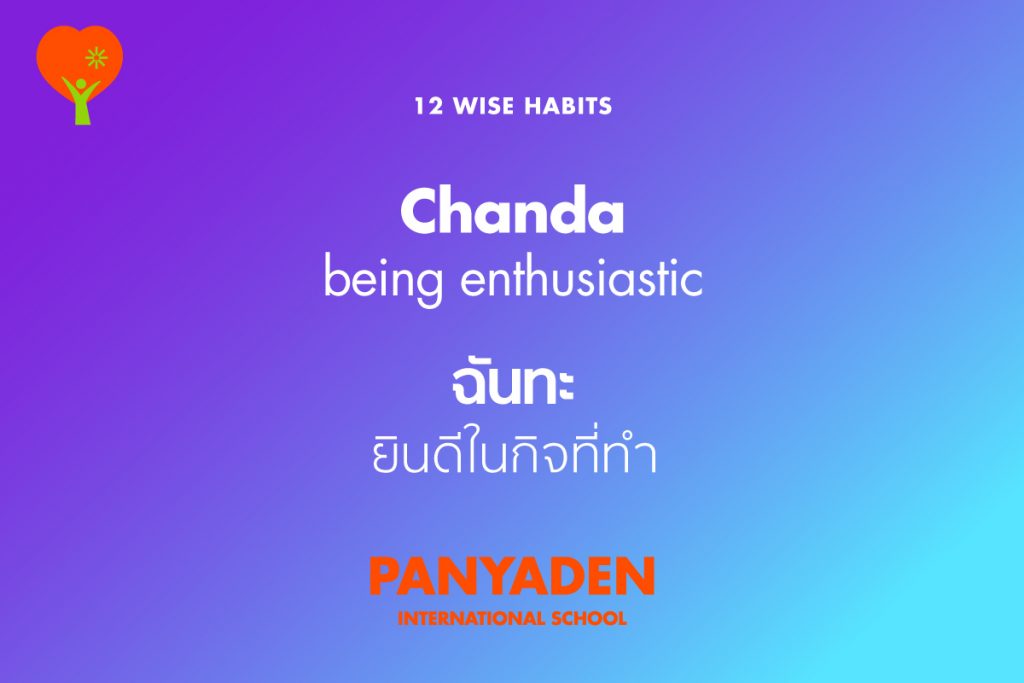 Chanda (pronounced Chan-ta ฉันทะ) this is an important principle in the education of children or in the raising of children by parents. We should not be overly obsessed with results, but instead look for quality of action in the present moment. It is natural that as parents or teachers things will not always work out the way we had hoped and we feel disappointed.
But when we recognise that there are outside influences that we can not control, we are better able to put effort into things that we can, such as our own actions and reactions.
Because chanda has to come from the heart and cannot be "taught", the best we can do is create opportunities for children to develop their own passions and interests and help them reflect on how it feels when they put good effort into achieving something. This leads them to generate further motivation.
Chanda arises from a place of genuine and unconditional love. We all know how precious a parent's praise is to a child. If we concentrate on celebrating effort, we will help them develop chanda, a wise habit for life.
How can you promote Chanda at Home
Praising effort over results
– I can see you … (describe details of what child has done)
– You are so focussed.
– It looks like you have been practicing.
– You did it!
– You worked so carefully..
Encouraging them to try something despite initial reluctance
– Notice and talk about when you, as parents, try something new. "I tried a new tea today."
– Develop a family catchphrase for new situations, such as, "Try something new, it might be a good experience." Or "When we do something new, let's talk about what we'll do."
Ask questions to help you children reflect on the benefits of what might seem like a boring task.
– Example: A child is resisting tidying up their toys. "Do you like being able to find your toys easility?" "How does it feel now that all the toys are in their home?"
Kru Pond and Kru Jodi 
Buddhist Education Coordinator and Primary School Counselor
ฉันทะคือหลักการสำคัญในการศึกษาของเด็กหรือในการเลี้ยงดูเด็กของพ่อแม่ เราไม่ควรกังวลกับผลลัพธ์มากเกินไป จนหลงลืมการมองเห็นคุณค่าของการกระทำในช่วงเวลาปัจจุบันขณะ เป็นเรื่องธรรมดาที่สิ่งต่างๆ ที่พ่อแม่หรือครูคาดหวังจะไม่เป็นไปตามที่เราหวังไว้เสมอไปและส่งผลให้เรารู้สึกผิดหวัง
หากเราตระหนักว่ามีปัจจัยภายนอกที่เราไม่สามารถควบคุมได้ เราเองทุ่มเทความพยายามในสิ่งที่เป็นการกระทำของเรา และผลจากการกระทำของเราเนื่องจากฉันทะต้องมาจากใจ และไม่ได้มาจากการ "สั่งสอน" สิ่งที่ดีที่สุดที่เราทำได้คือสร้างโอกาสให้เด็กพัฒนาความสนใจ เนื่องจากความสนใจของเด็กๆ จะช่วยให้พวกเขาไตร่ตรองว่ารู้สึกอย่างไรเมื่อพวกเขาลงมือพยายามอย่างเต็มที่ในการบรรลุเป้าหมาย สิ่งเหล่านี้จะช่วยสร้างแรงจูงใจเพิ่มขึ้น
ฉันทะเกิดขึ้นจากความรักแท้จริงปราศจากเงื่อนไข เราทุกคนรู้ดีว่าคำชมจากพ่อแม่มีคุณค่าสำหรับเด็ก หากเราชื่นชมในความเพียรพยายามของเด็กก็จะมีส่วนช่วยพวกเราพัฒนาฉันทะ ซึ่งเป็นอุปนิสัยที่ดีสำหรับการดำเนินชีวิต
เราจะช่วยส่งเสริมฉันทะที่บ้านด้วยการชื่นชม (Home Prasing) ได้อย่างไร เพื่อส่งเสริมความพยายามของเด็กๆ มากกว่าการคาดหวังในผลลัพธ์
– ฉันเห็นคุณ…..(อธิบายรายละเอียดว่าเด็กกำลังพยายามทำอะไร)
– ลูกดูตั้งใจ…..(การกระทำ)มากนะ
– ดูเหมือนว่าลูกจะฝึกฝนเป็นอย่างดี
– ลูกทำได้
– ลูกทำมันอย่างประณีตมากเลย
เพื่อกระตุ้นให้พวกเขาลองทำอะไรบางอย่างแม้ว่าจะไม่ได้ตั้งใจหรือไม่เต็มใจทำในตอนแรก เราจะมีส่วนช่วยกระตุ้นให้เด็กๆ ได้ทกลองทำอะไรใหม่ๆ เช่น "วันนี้ฉันลองดื่มชารสชาติใหม่" ครอบครัวอาจมีการใช้ข้อความช่วยกระตุ้นเด็กๆ อาทิ "ลองทำอะไรใหม่ๆ แล้วจะได้ประสบการณ์ดีๆ" หรือ "เราคุยกันเรื่องสิ่งใหม่อะไรที่เราอยากทำ"
เราอาจมีส่วนในการตั้งคำถามชวนคุยให้เด็กๆ เห็นประโยชน์จากการทำงานที่น่าเบื่อ เช่นการเก็บของเล่น "เราชอบที่จะค้นหาของเล่นได้ง่ายหรือยาก" คำถามและการชวนคุยถึงเรื่องราวในชีวิตประจำวันเหล่านี้จะมีส่วนช่วยเด็กๆ สนใจในสิ่งทำในสิ่งใหม่
ครูปอนด์และครูโจดี้
ครูผู้ประสานงานการศึกษาวิถีพุทธและครูแผนกให้คำปรึกษาระดับประถมศึกษา