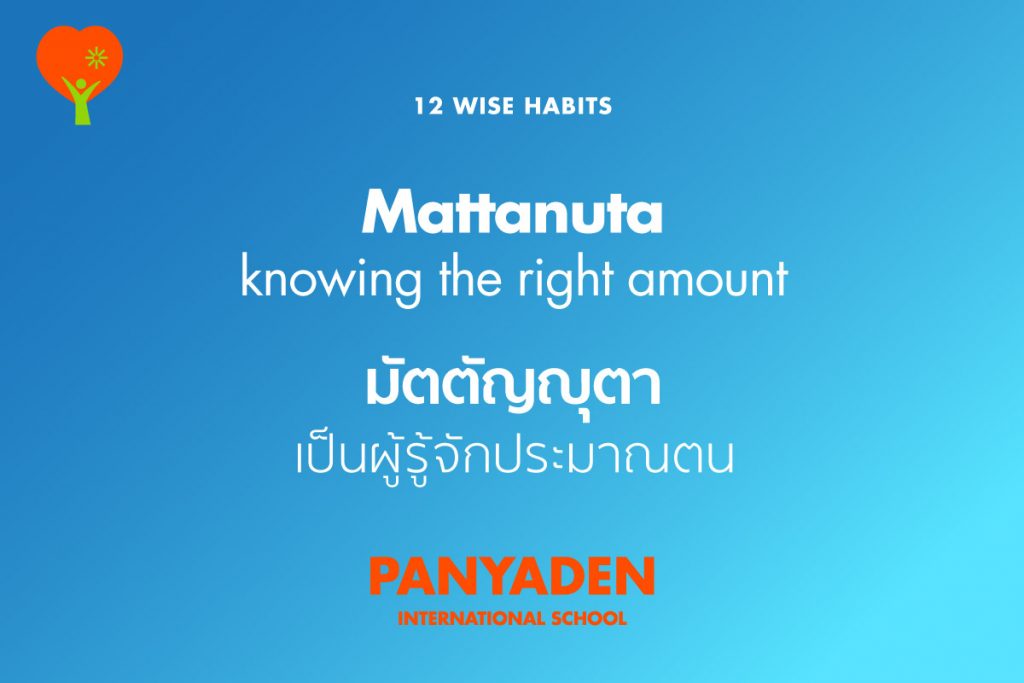 MATTANUTA (Knowing the right amount)
Mattanuta (pronounced ma-tan-yoo-ta) means'knowing the right amount.' When practised, it helps us achieve a healthy balance in life. It is the quality of understanding that, whatever goals we set ourselves, there is an optimum amount of material and non-material things that we need. It is the ability to assess what is enough, and to know when we are being over-demanding to ourselves, others or our environment.
In today's world of branded 'must-haves' and ubiquitous advertising, teaching the new generation how to consume the right amount is very important. Natural resources are stretched and we are experiencing increasing environmental degradation. Understanding Mattanuta, therefore, is vital for our students as they grow up and shape the future of our society and our world. Venerable Ajahn Jayasaro counsels that if we think more is better simply in order to make our lives more comfortable, we will end up just wanting more and more and will never be satisfied. His advice is to encourage children to work out the Mattanuta point for themselves; whether eating, sleeping, studying, playing, using the computer or talking, the ability to find optimal balance through self-regulation is a skill which will lead to maturity and social responsibility. This means not dictating the rules to children, but rather helping them see the results of too much sleep – irritability and heaviness – or not enough – drowsiness and the inability to concentrate, and so on. When we ask our children how much sleep they think they need, how much food they should eat, instead of routinely imposing our own limits, they begin to understand Mattanuta. If we encourage children to persevere for just another five minutes on a task they are bored with or wish to avoid, or to stop doing something they really crave a little earlier than they would like, this further helps put into focus the pushes and pulls of the mind and the benefits of balance.
Venerable Jayasaro suggests that a family which practices Mattanuta is one where parents and children are able to come to mutually acceptable agreements. This means deciding how long we think children should watch TV or play on the computer, for example, but also respecting our child's ability to think for himself and come to a sensible agreement on the right amount of time. When the time has passed, we simply remind our child of the agreement. In this age of ever-increasing screen time, as adults we also need to reflect on the amount of time we spend on smart phones or laptops in the presence of children, and the message we are giving them about what we consider to be important.
Mattanuta means understanding that any goals we set should take into account the optimum balance of supporting factors required to achieve the most beneficial result for ourselves, others and the environment. Practising Mattanuta helps us to understand the desires and aversions created by our mind, and that understanding in turn increases the peaceful moments we experience. Mattanuta is, therefore, a vitally important Wise Habit to teach our children, but also to practise ourselves if we are to achieve true balance in our lives.
มัตตัญญุตา (อ่านว่า มัด-ตัน-ยุ-ตา) คือ การรู้จักประมาณตน รู้จักความพอดี ซึ่งสิ่งนี้จะนำพาไปสู่ความสมดุลของชีวิต ในการดำเนินชีวิตของคนเราจำเป็นที่ีจะต้องมีเป้าหมายที่ชัดเจนและดีงาม เราต้องฉลาดที่จะเลือกเดินในเส้นทางที่เอื้อต่อการเข้าถึงเป้าหมายของเรา โดยสิ่งที่เอื้อให้เราเข้าถึงเป้าหมายได้ดีที่สุดนั่นก็การรู้จักความ "พอดี (มัตตัญญุตา)" นั่นคือ มีความสามารถในการยับยั้งชั่งใจตนเองเมื่อตระหนักได้ว่าเรามีความต้องการในสิ่งใดสิ่งหนึ่งมากเกินไป
การปลูกฝังให้เด็กรุ่นใหม่มีความตระหนักต่อการใช้ทรัพยากรธรรมชาติต่างๆ อย่างพอดีเป็นสิ่งที่สำคัญอย่างยิ่ง มัตตัญญุตา จึงเป็นหลักปฏิบัติสำคัญที่จะสามารถหล่อหลอมเด็กๆ ให้เติบโตไปสู่ยุคหน้าด้วยทัศนคติที่ดี พระอาจารย์ชยสาโร ได้กล่าวไว้ว่า "การรู้จักความพอดีเป็นคุณธรรมข้อหนึ่งที่นักเรียนในโรงเรียนวิถีพุทธควรฝึกฝนปฏิบัติ เพราะในโลกปัจจุบันที่เราประสบปัญหาสิ่งแวดล้อมเสื่อมโทรม ทรัพยากรธรรมชาติกำลังจะหมดไป ปัญหานานาประการจะยิ่งหนักขึ้นในอนาคต ดังนั้นการสอนให้เด็กรุ่นใหม่รู้จักความพอดี รู้จักบริโภคสิ่งต่างๆ รอบตัวอย่างเหมาะสมพองามแก่ความต้องการของตัวเองเป็นเรื่องที่สำคัญมาก ถ้าเราถือว่ายิ่งมากยิ่งดีและต้องการให้สะดวกสบายที่สุด เราก็จะเห็นว่ามันไม่มีที่จบสิ้น
การรู้จักความพอดี เป็นคุณธรรมสำคัญในการอยู่ในโลก อยู่ในสังคม นั่นคือ รู้จักพอดีในเรื่องการกิน การนอน การเที่ยว การเรียน การเล่น การใช้คอมพิวเตอร์ หรือการพูด การสอนให้ลูกรู้จักความพอดี พ่อแม่ต้องไม่ห้ามหรือจัดแจงอะไรมากมาย แต่ควรใช้วิธีการตกลง และให้ความเชื่อมั่นในตัวลูกว่า ลูกสามารถแบ่งเวลาในการทำกิจกรรม หรือบริโภคสิ่งของต่างๆ ได้ด้วยตนเอง โดยผู้ใหญ่อาจเตือนสติเป็นครั้งคราวโดยชี้ให้เห็นผลของการกระทำนั้นๆ เช่น ถ้าลูกนอนมากเกินไปจะเป็นอย่างไร ตื่นขึ้นมาอาจจะหงุดหงิดหรือรำคาญใจ หรือถ้านอนน้อยเกินไป อาจทำให้คิดอะไรไม่ออก สมองไม่ทำงาน ง่วงนอน แล้วให้พิจารณาว่านอนแค่ไหนจึงเรียกว่านอนอย่างพอดี เป็นต้น
การฝึกฝนให้เด็กๆ มีมัตตัญญุตา อาจเริ่มจากส่งเสริมให้เด็กอดทนเอาชนะข้อจำกัดในใจของตนเอง เช่น ลองเพิ่มเวลาในการทำกิจกรรมบางอย่างที่ไม่ชอบอีก 5 นาที หรือหยุดทำกิจกรรมใดๆ ที่เด็กๆ ชอบมากก่อนเวลาอันสมควร การฝึกเช่นนี้จะช่วยเสริมสร้างความสมดุลให้แก่จิตใจของเด็กๆ
กล่าวโดยสรุปแล้ว มัตตัญญุตา คือ การหาจุดสมดุลในการบรรลุเป้าหมายที่เราได้วางไว้มาเป็นอันดับแรก ปัจจัยรองลงมาที่ทำให้เราบรรลุเป้าหมายได้นั่นคือสิ่งแวดล้อมรอบตัวเรานั่นเอง การฝึกเป็นคนมี มัตตัญญุตา เป็นการกระตุ้นให้เราเข้าใจเท่าทันความอยากได้ อยากมีของตนเอง เพื่อสร้างความสงบให้เกิดขึ้นในจิตใจของเราในทุกๆ ย่างก้าวของชีวิต การปลูกฝังให้เด็กๆ มี มัตตัญญุตา นับเป็นสิ่งที่สำคัญมาก อีกทั้งหลักปฏิบัติข้อนี้จะมีประโยชน์มากขึ้นอีกหากเราทุกคนยึดนำมาเป็นหลักปฏิบัติในชีวิตประจำวัน เพื่อสร้างความสมดุลแก่ชีวิตของเราอย่างแท้จริง