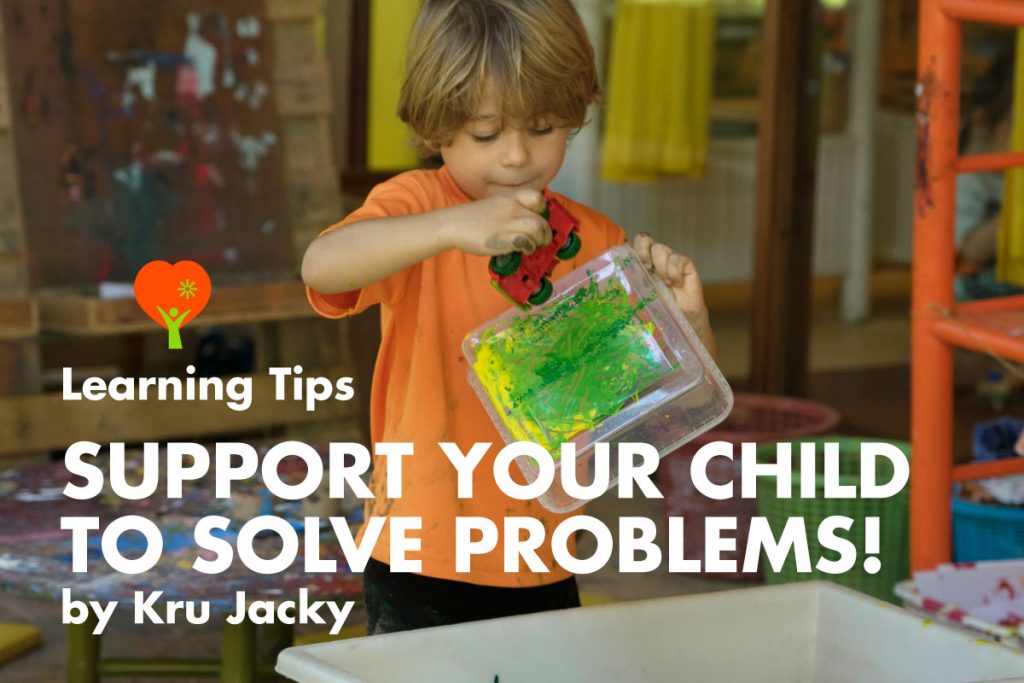 There are typically two kinds of problems our children encounter:
Small problems – conflicts that cause feelings of annoyance, embarrassment, anger, or boredom.
Big problems – those that need to be taken to an adult, such as situations that are scary, dangerous, or illegal.
When children come to you with a small problem, try to resist the urge to "save them" and solve the problem yourself. Give your children the tools they require to deal with small problems on their own and coach them through the experience.
Talk to your children about big problems, too. What are some examples? What should be done? Make sure your kids know how to ask an adult for help in the event of a big problem.
For conflicts with friends:
Stop, breathe, and take a moment to be mindful and cool off. Tell the friend involved "Stop! I don't like it."
If unsuccessful, tell the friend why something is bothersome by elaborating on feelings using "I" statements. Practise this at home. If the problem persists, ask your child to remove him or herself from the area. If your child tries these steps to no avail, it is time for an adult to help. Ask your child to tell a homeroom teacher or another trusted adult. Where required, prepare your child to apologise in a meaningful way. Those statements should not be forced. If you sense any resistance, acknowledge this and agree on a time to meet again to revisit how he or she feels about the event. Make sure to discuss the incident again to bring some closure.
การส่งเสริมให้เด็กรู้จักแก้ปัญหา
ปัญหาในความคิดของเด็กๆ มีอยู่สองแบบ แบบแรกคือ "ปัญหาเล็ก" ซึ่งหมายถึงเรื่องเล็กน้อยที่ทำให้เขารู้สึกรำคาญใจ อับอาย โกรธ หรือเบื่อหน่าย และ "ปัญหาใหญ่" ซึ่งหมายถึงปัญหาที่ควรมีผู้ใหญ่เข้ามาช่วยเหลือ เช่น สถานการณ์ที่น่ากลัวหรืออันตราย
เมื่อเด็กมาขอความช่วยเหลือจากผู้ปกครองในปัญหาเล็กๆ ครูอยากแนะนำให้ผู้ปกครองลองยับยั้งตนเอง ไม่รีบยื่นมือเข้าไปช่วยเหลือหรือแก้ปัญหาให้เขาเร็วจนเกินไป แต่เปลี่ยนมาเป็นการชี้แนะแนวทางเพื่อให้เด็กได้ฝึกการแก้ไขปัญหาด้วยตนเอง และผู้ปกครองเพียงคอยให้คำแนะนำกับเขาตามประสบการณ์ของตนเองเท่านั้น
เมื่อเด็กๆ เจอปัญหา ผู้ปกครองสามารถแนะนำให้เขาลองปฏิบัติตามแนวทางดังต่อไปนี้
เมื่อเด็กมีปัญหาหรือทะเลาะกับเพื่อน
๑. ให้เขาหยุดอยู่กับที่ หายใจลึกๆ ค่อยๆ สงบสติอารมณ์ของตนเอง
๒. บอกเพื่อนที่ทะเลาะกับเขาว่า "หยุดได้ไหม เราไม่ชอบแบบนี้เลย"
๓. หากยังไม่เป็นผล ให้เขาลองอธิบายกับเพื่อนว่าทำไมตนจึงไม่ชอบสิ่งที่เพื่อนกระทำ ลงรายละเอียดว่าสิ่งนั้นทำให้เรารู้สึกไม่ดีอย่างไร โดยใช้รูปประโยค "ฉัน…" ผู้ปกครองอาจให้เด็กลองฝึกทำแบบนี้ดูที่บ้าน
๔. หากปัญหายังไม่คลี่คลาย ให้เด็กออกมาจากเหตุการณ์ก่อน
๕. หากเด็กลองทำตามวิธีการข้างต้นมาทั้งหมดแล้วแต่ยังเป็นปัญหาอยู่ ก็ถึงเวลาที่ผู้ใหญ่ต้องเข้ามาช่วยแก้ไข แนะนำให้เขาแจ้งครูประจำชั้นหรือผู้ใหญ่ที่สามารถไว้วางใจได้
๖. หากดูสถานการณ์แล้วผู้ปกครองเห็นว่าเด็กควรขอโทษเพื่อนของเขา ผู้ปกครองอาจพูดคุยกับเด็กว่าเขาควรแสดงความขอโทษอย่างจริงใจ โดยเป็นคำพูดที่มาจากตัวเด็กเอง หากเด็กไม่อยากขอโทษก็ไม่ควรฝืน ให้เวลาเขาสักพัก แล้วค่อยมาพูดคุยกันใหม่ว่าเขารู้สึกอย่างไรกับสิ่งที่เกิดขึ้น
๗. หลังปัญหาจบลงแล้ว ผู้ปกครองและเด็กควรมีการพูดคุยสรุปเพื่อเรียนรู้จากเหตุการณ์ที่ผ่านมาร่วมกัน
สำหรับปัญหาใหญ่ ผู้ปกครองสามารถพูดคุยกับเด็กได้เช่นกัน เช่น เด็กควรจะทำอะไรอย่างไรบ้างในสถานการณ์เช่นนี้ และให้เด็กเรียนรู้ที่จะเข้าหาผู้ใหญ่เมื่อเขาเผชิญกับปัญหาที่ใหญ่เกินกว่าจะแก้ไขได้ด้วยตนเอง