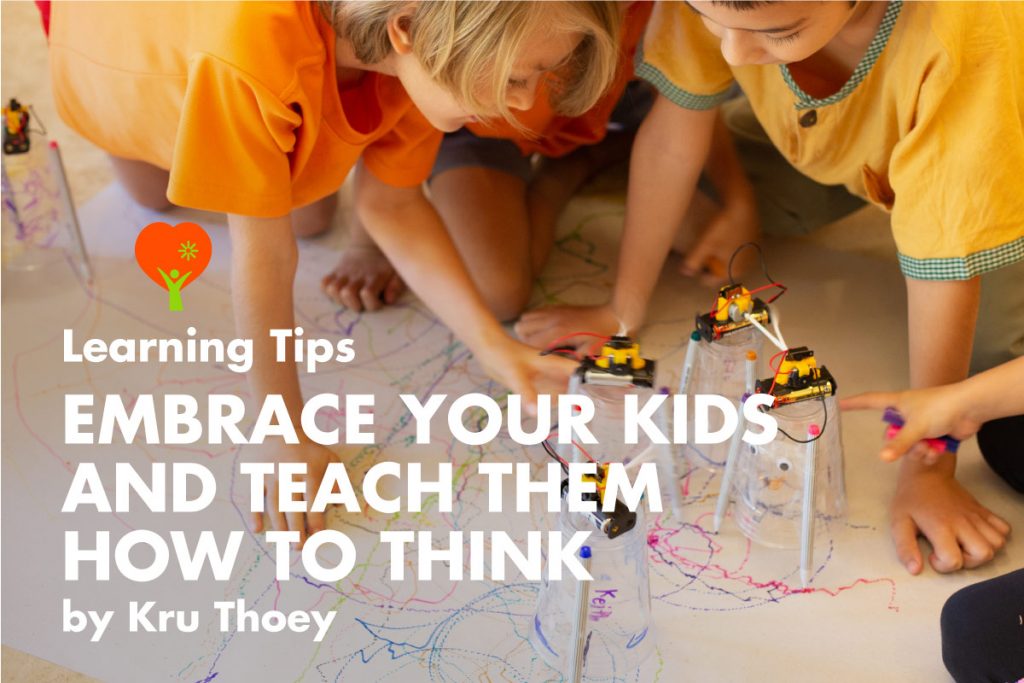 LEARNING TIPS: EMBRACE YOUR KIDS AND TEACH THEM HOW TO THINK
BY KRU THOEY
Educating is not an easy task, especially when it comes to teaching how to think. We often praise children who obey their parents as 'good children'. However, obeying is not always learning. On the contrary, the result of always following directions is that, when students reach adulthood, they often will follow others' choices, instead of thinking for themselves. They can be afraid to make a mistake or be hesitant to express their own opinions.
Good learning involves asking questions, finding answers, persevering, taking calculated risks, and arriving at their own conclusions. This will help children realize their potential and choose the best path.
Embrace your children and encourage them to learn how to think by:
Showing and expressing to children that their ideas are important. Parents and educators must be paying attention and listening with empathy. Even small ideas can change the world.
Offering children the chance to make decisions. Provide your children with usable choices and allow them to choose, despite the risk of making a mistake.
Communicating your feedback through warm words and gestures for overcoming challenges, learning, and growing. We can start with small steps, let the children be involved in making decisions at home. For example, something as simple as asking, 'How can we save electricity in our home?' Let them think, make decisions, and take action.
Finally, it is important to look back and reflect on what they have learned. It doesn't have to be a perfect solution every time, but we should learn to enjoy the process. In this way, children will grow in self-confidence and will be able to make the best choices for their future.
การสอนให้เด็กคิดเป็น
การสอนให้เด็กคิดเป็นอาจฟังดูไม่ใช่เรื่องง่ายนักเพราะเรามักชื่นชมเด็กที่เชื่อฟังพ่อแม่ว่าเป็นเด็กดี แต่การเชื่อฟังคำสั่งนั้นอาจไม่ส่งเสริมการเรียนรู้ให้เด็กเสมอไป เมื่อเด็กถนัดการปฏิบัติตามคำสั่งอยู่เสมอเติบโตเป็นผู้ใหญ่ พวกเขามักเลือกทำตามสิ่งที่คนส่วนใหญ่ทำกัน โดยไม่คิดและตัดสินใจเอง รวมทั้งกลัวความผิดพลาด และไม่กล้าที่จะแสดงความคิดเห็นของตน การส่งเสริมการเรียนรู้ให้แก่เด็กที่ดีคือ การตั้งคำถาม หาคำตอบ ลองผิดลองถูก จนเด็กได้คำตอบด้วยตัวเอง วิธีนี้จะช่วยให้เด็กๆ ได้ตระหนักถึงศักยภาพของพวกเขาและเลือกเส้นทางที่ดีที่สุดสำหรับตนเองได้ในอนาคต

ครูเตยจะขอแบ่งปันแนวคิดเล็กๆ น้อยๆ ที่จะช่วยส่งเสริมให้เด็กคิดเป็นดังต่อไปนี้นะคะ
๑. ให้ความสำคัญกับแนวความคิดและความคิดเห็นของเด็ก ผู้ปกครองและครู ควรให้ความสนใจและรับฟังความคิดของเด็ก แสดงรู้สึกร่วมไปกับเขา ความคิดเล็กๆ ก็อาจเปลี่ยนแปลงโลกได้
๒. ให้โอกาสเด็กเลือกและตัดสินใจ ให้เด็กได้ลงมือทำแม้อาจจะมีความเสี่ยงต่อการผิดพลาดบ้างก็ตาม
๓. ให้กำลังใจเขา สื่อสารทั้งทางคำพูดและท่าทางอย่างอบอุ่นว่าพวกเขาสามารถทำสิ่งต่างๆ ให้สำเร็จและเรียนรู้ได้ เราอาจเริ่มต้นง่ายๆ โดยการให้เด็กมีส่วนร่วมในการตัดสินใจเรื่องต่างๆ ในบ้าน เช่น ระดมความคิดว่าจะช่วยกันประหยัดไฟฟ้าได้อย่างไร เพื่อให้เขาลองคิด ตัดสินใจ และลงมือทำ
สุดท้ายคือการมองย้อนกลับไปทบทวนว่าพวกเขาได้เรียนรู้อะไรไปแล้วบ้าง ไม่จำเป็นต้องแก้ปัญหาได้อย่างสมบูรณ์ทุกครั้ง แต่เด็กๆ ควรรู้สึกสนุก ตื่นเต้นทุกครั้งที่ได้คิดและเรียนรู้ การหมั่นฝึกฝนด้วยวิธีนี้เด็กๆ จะเติบโตด้วยความมั่นใจในตนเอง คิดเป็น และสามารถตัดสินใจเลือกสิ่งที่ดีที่สุดให้กับชีวิตของเขาได้