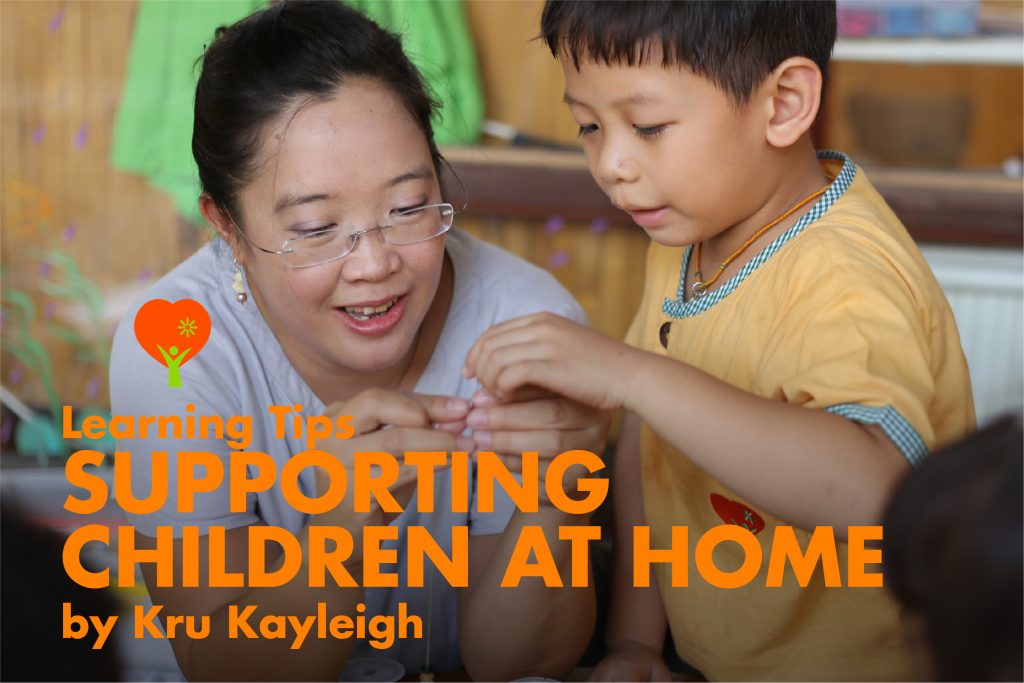 During these uncertain times, I felt that it was fitting to share a tip that might help to motivate children to do work for parents/carers at home. In my experience, children can be more likely to produce work for their teachers than for parents. In light of this, I would like to suggest three key ways in which to help support your children through this transition to online learning, and to help ease what can sometimes be a battle at home!
Firstly, Encourage acceptance of the situation.
This is no easy task and the transition won't happen overnight. It's important to explain, in an age-appropriate way, the following points:
1. What online learning is. Online learning will consist of asynchronous tasks (for example, Google classroom tasks and videos) and synchronous learning that is in real-time via Zoom meetings with their teachers.
2. What you expect from them and how you can support them.
3. Why this is happening. This will help them understand what to expect and understand that they have to learn from home.
Secondly, Work together on scheduling and routines.
Creating a new homeschooling routine can be challenging, but involving your child in some of the decisions will help them feel a little more in control. Receiving their input and making sure that they understand what's happening each day will help to reduce confusion and tension and will help you to plan ahead as well.
Ensure that your child/children have a workspace within the home, preferably not in the same place that they play. Use the same workspace each time they sit down to do work. Set times of the day when they will work and be clear about this each day.
Set clear expectations so they know what will be asked of them each day. This could include making a timetable wherein you map out what learning will take place that week. Include the blocks of time where the children will work and the times that their Zoom meetings take place. Although this may add to your workload at the start of each week, it should make things far easier to manage.
Aim to complete one piece of work at a time, then allow for breaks. Do not try to replicate the school day. For younger children, do not expect them to sit for longer than 15 mins at a time.
Finally, remember to be flexible and adaptable.
Be flexible; remember, we're going through an unprecedented change and it's going to be hard for everyone. Some days, home learning just won't go as planned and change will be necessary. Do not be discouraged by this. There are many reasons why you may need to adjust the day.
Support systems are as important as ever and you'll need to coordinate with other parents to help your child see their friends virtually until schools can reopen.
Arranging virtual playdates or chats is a great way to stop your child from feeling too isolated.
Experiment to find something that works for you. Every teacher and parent knows that all children are different. While some kids will easily adjust to the new situation, others will find it difficult to concentrate at home, be away from their friends, or learn in a new format. Experimenting to find the right thing for your child is going to be essential to making this work.
การสนับสนุนการเรียนรู้ของนักเรียนที่บ้าน
ในช่วงเวลาที่สิ่งต่างๆ ยังไม่คลี่คลายนี้ ครูคิดว่าเป็นจังหวะเหมาะที่จะแบ่งปันข้อคิดเกี่ยวกับการจูงใจให้นักเรียนทำงานที่บ้าน จากประสบการณ์ของครูพบว่านักเรียนมีแนวโน้มจะทำงานที่ครูมอบหมายมากกว่าจากผู้ปกครอง ซึ่งครูขอแนะนำแนวทางสามประการที่จะช่วยให้นักเรียนศึกษาทางออนไลน์ได้ราบรื่นขึ้น และผ่อนปรนความตึงเครียดที่อาจเกิดขึ้นที่บ้านได้
ประการที่หนึ่ง ทำความเข้าใจและยอมรับสถานการณ์ตามความเป็นจริง
สิ่งนี้ต้องใช้เวลาและคงไม่สามารถปรับความคิดได้ในชั่วข้ามคืน จึงสำคัญที่ผู้ปกครองควรอธิบายเด็กให้เข้าใจตามสมควรแก่วัยของเขา ในประเด็นต่อไปนี้
๑. การเรียนรู้ทางออนไลน์คืออะไร การเรียนรู้ทางออนไลน์มีการทำงานแบบไม่เป็นเวลาที่ตายตัว (เช่น งานและวิดีโอบนโปรแกรมกูเกิ้ล คลาสรูม (Google classroom)) และการเรียนที่เกิดขึ้นพร้อมๆ กันหลายกลุ่มกับครูผ่านทางโปรแกรมซูม (Zoom)
๒. สิ่งที่ผู้ปกครองคาดหวังจากนักเรียนและสิ่งที่คุณสามารถช่วยเหลือเขาได้
๓. เหตุใดเหตุการณ์จึงเป็นเช่นนี้ สิ่งเหล่านี้จะช่วยให้เด็กเข้าใจความเป็นไปได้ในชีวิตจริงและเขาจึงต้องเรียนจากที่บ้าน
ประการที่สอง ผู้ปกครองและนักเรียนตกลงตารางกิจวัตรประจำวันร่วมกัน
การให้นักเรียนมีส่วนร่วมในการกำหนดกิจวัตรของตนเองจะทำให้เขารู้สึกว่าตนเป็นผู้กำหนดสิ่งที่ตนจะทำ การรับฟังความคิดเห็นและทำให้เขาเข้าใจสิ่งที่เกิดขึ้นจะช่วยลดความสับสน ความตึงเครียด และช่วยให้ผู้ปกครองวางแผนอนาคตได้อีกด้วย
ผู้ปกครองควรจัดเตรียมให้นักเรียนมีบริเวณสำหรับการเรียนทางออนไลน์โดยเฉพาะ แยกต่างหากจากพื้นที่เล่น ให้เขานั่งเรียนตรงจุดเดิม กำหนดเวลาที่จะนั่งทำงานอย่างชัดเจนในแต่ละวัน การบอกสิ่งที่ผู้ปกครองคาดหวังอย่างชัดเจนจะช่วยให้นักเรียนรู้ว่าเขาต้องทำอะไรบ้างในแต่ละวัน อาจเป็นตารางให้เขาเห็นว่าจะมีเรียนอะไรตอนไหนบ้างในแต่ละสัปดาห์และเขาต้องทำงานตอนไหน ประชุมทางโปรแกรมซูมตอนไหน แม้การทำสิ่งนี้อาจเป็นภารกิจเพิ่มขึ้นสำหรับผู้ปกครองในช่วงเริ่มสัปดาห์แต่จะช่วยให้การจัดการเรียนของนักเรียนง่ายขึ้น นอกจากนี้ควรให้นักเรียนทำงานให้เสร็จเรียบร้อยทีละชิ้นงาน และมีช่วงพักเบรค โดยไม่ต้องตามตารางเหมือนตอนอยู่โรงเรียนเสมอไป ส่วนเด็กเล็กไม่ควรให้เขานั่งเรียนครั้งหนึ่งเกิน ๑๕ นาที
ประการสุดท้าย ควรมีความยืดหยุ่นและการปรับตัว
อย่าลืมที่จะยืดหยุ่นกับเด็กๆ บ้าง ช่วงเวลาของความเปลี่ยนแปลงนี้ไม่ง่ายสำหรับทุกคน บางวันการเรียนรู้อาจไม่เป็นไปตามที่วางแผนไว้และต้องปรับแผนไปตามสถานการณ์ซึ่งท่านไม่จำเป็นต้องกังวล มีเหตุผลมากมายที่อาจทำให้เราต้องเปลี่ยนแผนการช่วยเหลือนักเรียนในช่วงนี้เป็นสิ่งสำคัญมาก ผู้ปกครองอาจติดต่อกับผู้ปกครองท่านอื่นเพื่อให้นักเรียนได้พบเพื่อนของเขาทางออนไลน์จนกว่าโรงเรียนจะเปิดอีกครั้ง ท่านอาจจจะนัดวันเวลาให้เด็กๆ ได้เล่นหรือพูดคุยกันเพื่อให้เขาไม่รู้สึกเหงาจนเกินไป ทั้งหมดนี้อาจต้องอาศัยการทดลองสรรหาวิธีที่เหมาะกับครอบครัวของท่าน ครูและผู้ปกครองทุกท่านทราบดีว่าเด็กแต่ละคนไม่เหมือนกัน บางคนอาจปรับตัวได้รวดเร็ว บางคนอาจตั้งสมาธิได้ยากหน่อยที่จะเรียนจากที่บ้าน ห่างไกลเพื่อน และต้องเรียนในรูปแบบใหม่ การพลิกแพลงหารูปแบบที่ใช่สำหรับเด็กเป็นปัจจัยสำคัญที่จะทำให้การเรียนทางออนไลน์ของเขาเป็นไปได้ด้วยดี