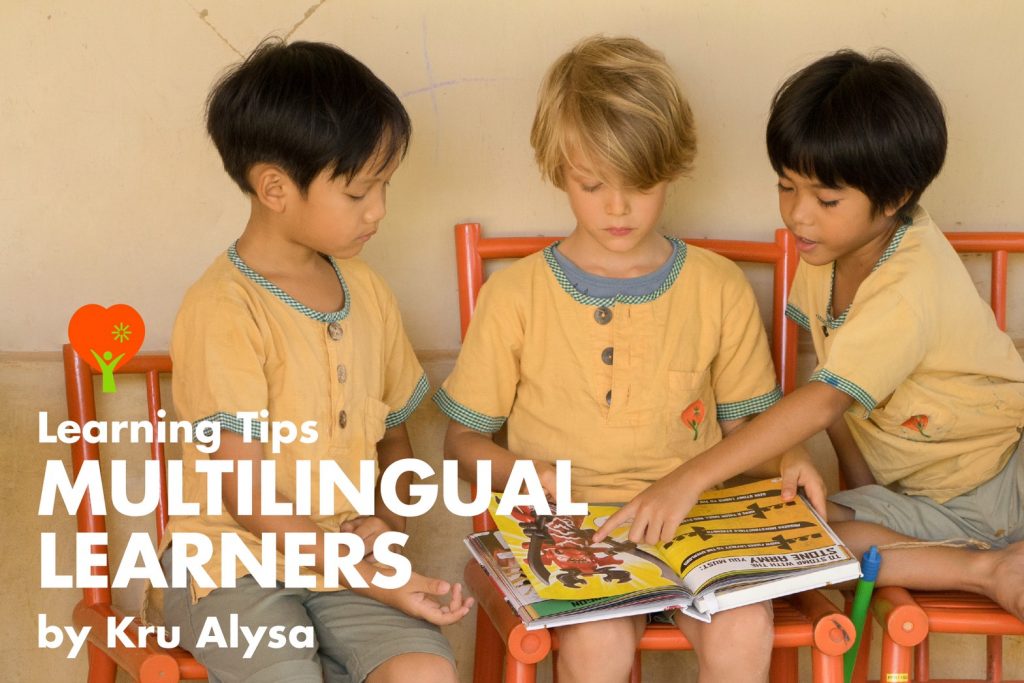 Multilingual learners have the daunting task of learning the language of instruction at the same time they are learning rigorous academic content. Parents, however, can help their children be successful by developing social English and academic literacy at home even when English is not your first language.

Here are some easy tips:
Don't be afraid to use your native tongue, when supporting your child with homework in English. 
Take the time to answer any questions your child may have. If you don't know the answers, you can help your child find resources to help answer the questions, or you can help your child write down the question to ask his or her teacher.
Encourage involvement in extracurricular activities. Extracurricular activities provide additional meaningful opportunities to develop language and literacy. 
Stay connected and collaborate with teachers. You can keep up to date on your child's linguistic, academic, and social progress with the teachers. Understanding what is going on will give you a better idea of how you can support your child.
เกร็ดการเรียนรู้จากครูอลิสา เด็กที่เรียนหลายภาษา
เด็กที่เรียนหลายภาษาจะต้องทำความเข้าใจทั้งตัวภาษาเองและเนื้อหาวิชาการที่เขาเรียนไปพร้อมๆ กัน ซึ่งผู้ปกครองสามารถช่วยนักเรียนให้ประสบความสำเร็จในการเรียนรู้ที่บ้าน โดยการพัฒนาทักษะภาษาอังกฤษและความรู้ทางวิชาการเมื่ออยู่ที่บ้านได้ แม้เด็กจะไม่ได้พูดภาษาอังกฤษเป็นภาษาแม่
คุณครูอลิสามีเทคนิคง่ายๆมาแนะนำผู้ปกครองดังนี้ค่ะ
อย่ากลัวที่จะใช้ภาษาเเม่ในการอธิบายการบ้านที่เป็นภาษาอังกฤษให้แก่เด็กๆ
ใช้เวลาอย่างเต็มที่ในการตอบคำถามต่างๆ ที่เด็กมีเวลาทำการบ้าน หากผู้ปกครองไม่ทราบคำตอบ ท่านสามารถช่วยเหลือเด็กในการหาข้อมูลที่จะนำไปสู่คำตอบนั้นได้ หรือช่วยเขาเขียนคำถามเพื่อให้เขาสอบถามคุณครูต่อไป
ส่งเสริมให้เด็กเข้าร่วมกิจกรรมนอกเวลาเรียน ซึ่งกิจกรรมเหล่านี้เป็นประโยชน์ ช่วยพัฒนาเด็กในด้านภาษาและความรู้ความเข้าใจในสิ่งต่างๆ
ผู้ปกครองพูดคุยและร่วมมือกับครูอยู่เสมอ การทราบข้อมูลจากคุณครูจะทำให้ท่านรู้พัฒนาการของเด็กว่าเป็นอย่างไรบ้าง ทั้งในด้านวิชาการ ภาษา และสังคม เพื่อวางแนวทางการช่วยเหลือเขาเมื่อเขาอยู่ที่บ้านได้อย่างเหมาะสม