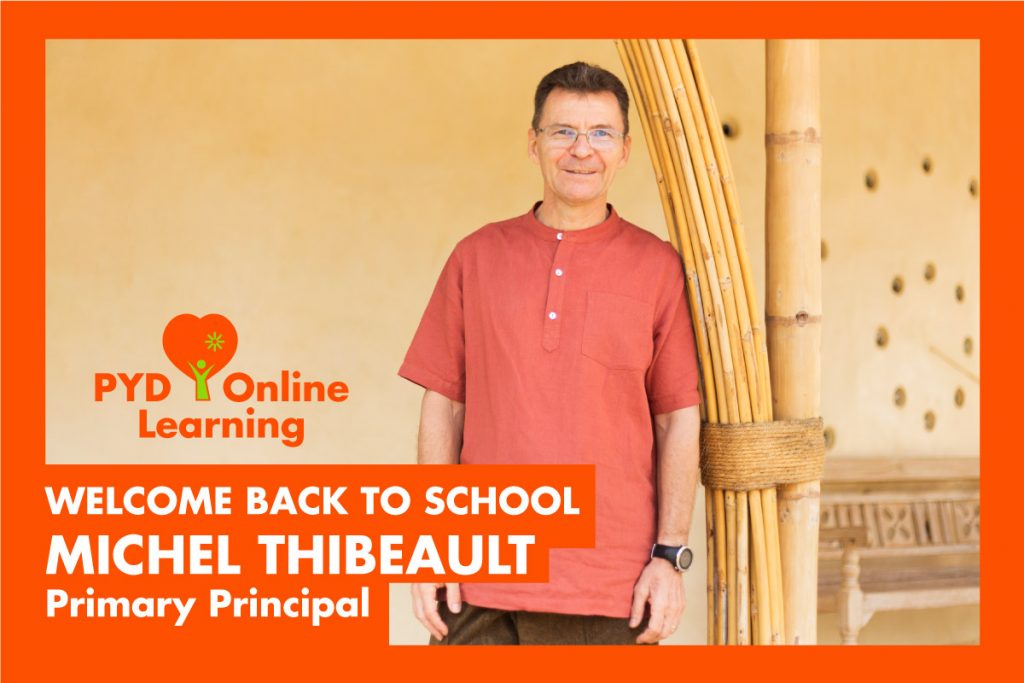 April 20, 2020
We wish a warm welcome back to school to all Panyaden parents and students. Online learning guidelines were shared with parents but not having experienced it yet, students wonder what it will look like and what it will feel like?

Imagine you have a chance to meet your teachers in small groups for personalized support and getting their undivided attention.

Imagine you know exactly what must be done but that you also have options.

Imagine you have a chance to hear the explanations twice if you missed anything the first time you watched a video lesson.

Imagine you can take a break when needed and make sure you're always at your best when doing school work.

Imagine that you can alternate between learning activities that need to be completed on the computer and others that don't.

Imagine you can set up an individual appointment with any of your teachers if you want to.

Imagine you will get to see and talk to your friends every day.

Imagine a unique and challenging opportunity to become more independent and responsible for your learning.

Imagine all this and join us online Tuesday morning, April 21st, 2020 at 8.30am (only EYs and Primary students) to make it happen!
ผู้ปกครองและนักเรียนโรงเรียนนานาชาติปัญญาเด่นทุกท่านครับ ยินดีต้อนรับวันเปิดเรียนอีกครั้งนะครับ ตามที่ทางโรงเรียนได้แจ้งข้อมูลแนะนำการเรียนการสอนออนไลน์แก่ผู้ปกครองไปนั้น กล่าวได้ว่าพวกเรายังใหม่กับเรื่องนี้ พวกเราอาจกำลังสงสัยว่ามันจะมีรูปแบบเป็นอย่างไรและพวกเราจะรู้สึกกันอย่างไรใช่ไหมครับ?

ลองนึกภาพที่เรามีโอกาสพบกับคุณครูในกลุ่มเล็ก ๆ เพื่อรับการช่วยเหลือเป็นรายบุคคลและได้รับความสนใจโดยไม่มีการแบ่งแยก

ลองนึกภาพที่เราจะได้รับทราบอย่างชัดเจนถึงสิ่งที่ต้องทำ แต่เราก็ยังมีตัวเลือก

ลองนึกภาพว่าเรายังมีโอกาสได้ฟังคำอธิบายเป็นครั้งที่สองหากเราพลาดอะไรไปในครั้งแรกจากบทเรียนวิดีโอที่ชมผ่านไปแล้ว

ลองนึกภาพว่าเราสามารถหยุดพักได้เมื่อจำเป็น ในขณะเดียวกันก็แน่ใจได้ว่าเราสามารถทำได้อย่างยอดเยี่ยมที่สุดเสมอสำหรับงานที่ได้รับมอบหมายมา

ลองนึกภาพว่าเราสามารถสลับได้ระหว่างกิจกรรมการเรียนรู้ที่ต้องทำให้เสร็จในคอมพิวเตอร์และกิจกรรมอื่น ๆ ที่ยังไม่ได้ทำ

ลองนึกภาพว่าเราสามารถตั้งค่าการนัดหมายรายบุคคลกับคุณครูได้ถ้าต้องการ

ลองนึกภาพว่าเราจะได้เห็นและพูดคุยกับเพื่อนๆได้ทุกวัน

ลองนึกภาพว่าเราได้รับโอกาสที่ท้าทายและไม่เหมือนใครที่จะเป็นอิสระและรับผิดชอบต่อการเรียนรู้ของเรามากขึ้น

ลองนึกภาพทั้งหมดนี้แล้วมาพบประสบการณ์ใหม่นี้ด้วยกันในเช้าวันอังคารที่ ๒๑ เมษายนเวลา ๘.๓๐ (เฉพาะชั้นปฐมวัยและประถมศึกษา) นี้นะครับ!