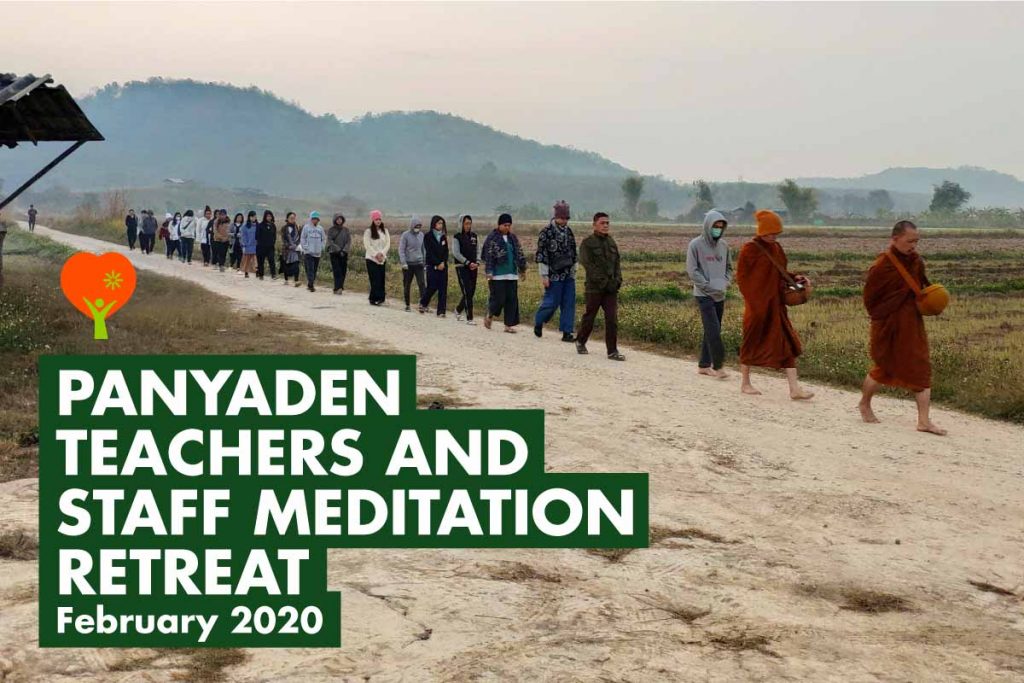 Panyaden International School Teachers and Staff Meditation Retreat, February 2020.
Kru Jeab: K2 Busy Ants Homeroom Teacher
"The meditation retreat at Wat Pah Yen Boon Forest Monastery, Chiangrai (February 5th-9th, 2020) conducted by Venerable Phra Ajahn Piyasilo (Phra Ajahn Jiew) was a good opportunity for me again to reflect on myself, to practice being mindful and to concentrate on my breath. I was aware and willing to accept my own emotions whether it is anger, frustration or uneasiness, which means I will be able to appropriately manage my mind with compassion together with mindfulness and wisdom towards my self and other people."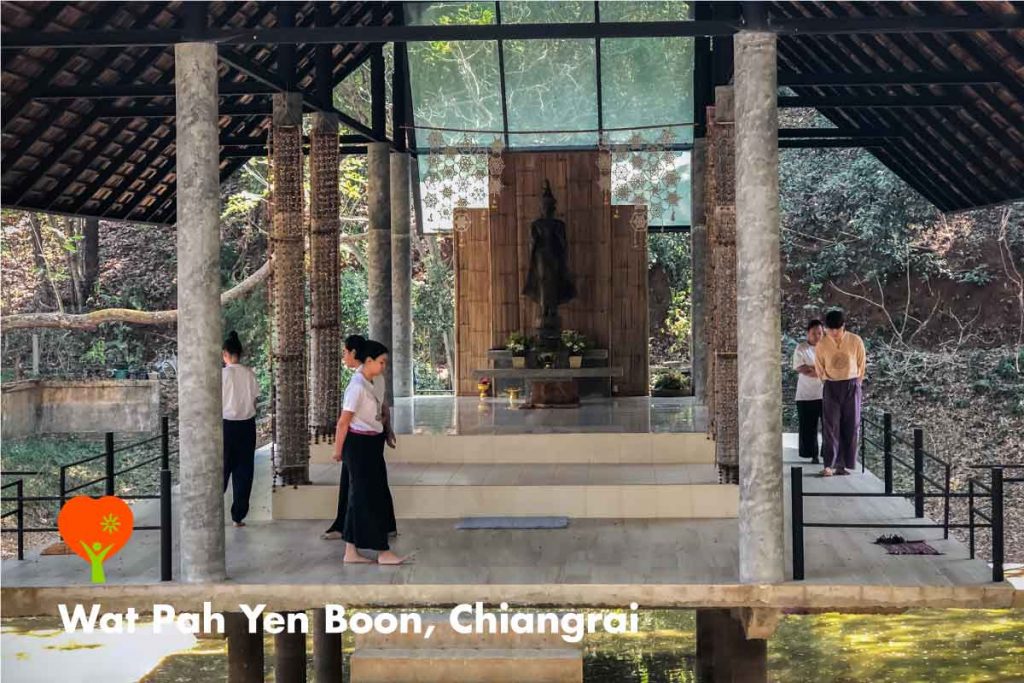 Kru Denny: Buddhist Education Coordinator & Secondary English and Social Studies Teacher.
"Panyaden teachers attended a teacher meditation retreat during February 19th-23rd, 2020, at Paccaya Eco Sala in Mae Rim. Venerable Phra Ajahn Piyasilo (Phra Ajahn Jiew), traveled from Chiang Rai to teach us and were joined by Dr. Alex Wynne, an Oxford scholar of Buddhism and the Pali language, who offered insight into the Pali canon."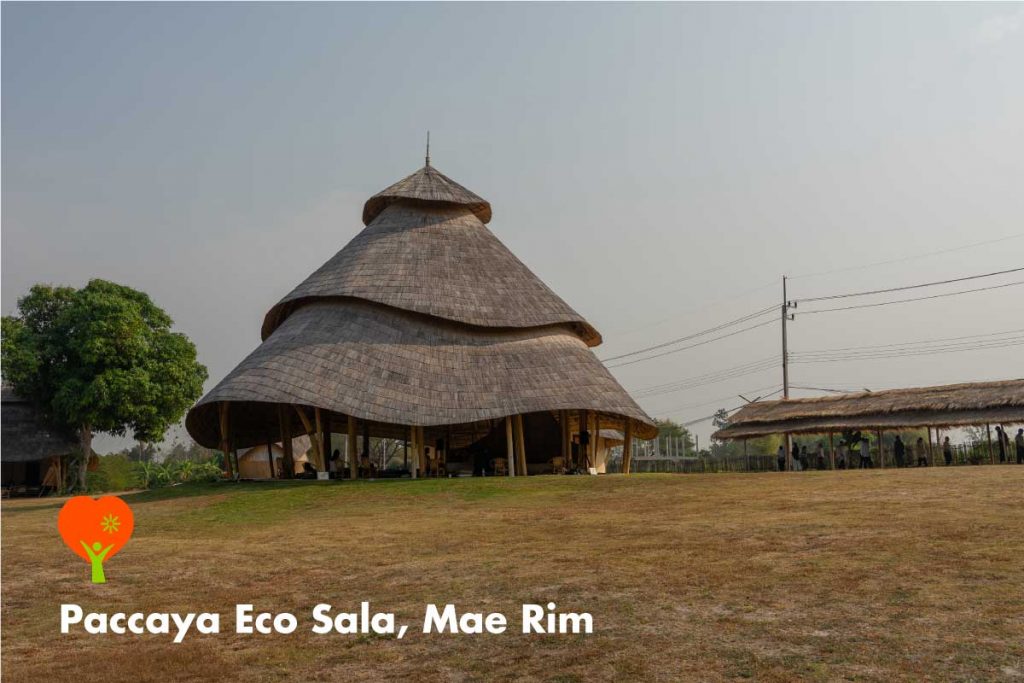 "In addition to the program of morning chanting, sitting and walking meditation, we had a daily question and answer session with Phra Ajahn and Dr. Alex. The exchange of ideas highlighted many differences in their experiences with the Dhamma. One point that both agreed on was understanding Buddhism as a system of wisdom, rather than a system of belief. That the texts are there to guide us, but that each individual must discover the verity of the teachings oneself through practise."
"Meditation is such a deeply personal experience. Once again, I realised again how quickly I resort to distractions to avoid discomfort in my day to day life, like changing an uncomfortable sitting posture or entertaining myself with books or media to avoid boredom. But also, how quick I am to avoid more personal, emotional discomforts. This retreat allowed me the time and space to really listen to my body and mind, to not turn away, but understand what is happening for me at that moment. I am extremely grateful to have had this simple, challenging, and profoundly valuable experience."
We at Panyaden are ever grateful to Phra Ajahn for his kind support and wise teachings bestowed on us and will be looking forward to our next meditation retreat.
กิจกรรมการปฏิบัติธรรม โรงเรียนนานาชาติปัญญาเด่น เดือนกุมภาพันธ์ ๒๕๖๓
ครูเจี๊ยบ ครูประจำชั้น K2 ห้องมดงาน
"ในการไปปฏิบัติธรรม ณ สำนักปฏิบัติธรรมวัดป่าเย็นบุญ จังหวัดเชียงราย (วันที่ ๕ – ๙ กุมภาพันธ์ ๒๕๖๓) นี้นับเป็นโอกาสที่ดีที่ครูเจี๊ยบได้กลับไปทบทวนและฝึกสติในการรู้ทันลมหายใจเข้าออกอีกครั้ง เพราะนั่นคือการรู้ทันอารมณ์ของตนเองไม่ว่าจะเป็นความโกรธ ความคับข้องใจ ไม่สบายใจ เพื่อที่เราจะสามารถจัดการกับอารมณ์ของตนเองอย่างเหมาะสมด้วยความเมตตาต่อตนเองและผู้อื่นอย่างมีสติและปัญญา"
ครูเดนนี่ ผู้ประสานงานการศึกษาพระพุทธศาสนาและครูวิชาภาษาอังกฤษและสังคมศึกษาระดับมัธยม
"คณะครูโรงเรียนนานาชาติปัญญาเด่นได้มีโอกาสเข้าร่วมกิจกรรมปฏิบัติธรรมระหว่างวันที่ ๑๙ – ๒๓ กุมภาพันธ์ ๒๕๖๓ ณ มูลนิธิปัจจยา อำเภอแม่ริม ในครั้งนี้ได้รับความเมตตาจากพระอาจารย์ภูวดล ปิยสีโล (พระอาจารย์จิ๋ว) ซึ่งเดินทางมาจากจังหวัดเชียงรายเพื่อมานำสอนฝึกปฏิบัติการเจริญสติ นอกจากนี้ยังได้รับเกียรติเป็นพิเศษจากดอกเตอร์อเล็ก เวนน์ ผู้เชี่ยวชาญด้านพระไตรปิฎกและบาลีจากมหาวิทยาลัยออกซ์ฟอร์ด มาเป็นวิทยากรให้ความรู้อีกด้วย"
"นอกจากการทำวัตรเช้า เดินจงกรม และนั่งสมาธิแล้ว ยังมีกิจกรรมการถาม-ตอบปัญหาธรรมะกับพระอาจารย์จิ๋วและดอกเตอร์อเล็กซ์ซึ่งน่าสนใจเป็นอย่างยิ่ง จากการแลกเปลี่ยนความคิดและมุมมองด้านธรรมะจากครูบาอาจารย์ธรรมทั้งสอง ทำให้เราพบว่าถึงแม้ทั้งสองท่านจะมีความเชี่ยวชาญที่แตกต่างกัน แต่มีสิ่งที่ตรงกันคือ การมองว่าคำสอนของพระพุทธศาสนาเป็นแนวคิดและการนำไปสู่วิถีทางแห่งปัญญา มากกว่าเรื่องความเชื่อ คำสอนเหล่านี้เป็นสิ่งชี้นำโดยที่พวกเราแต่ละคนจะต้องฝึกฝนปฏิบัติจึงจะเข้าใจและกระจ่างแจ้งด้วยตนเอง"
"จากประสบการณ์ตรงของผมในการปฏิบัติธรรมครั้งนี้ ผมได้ตระหนักรู้อีกครั้งโดยสามารถกำหนดรู้ตามจิตทุกขณะให้เร็วเพื่อออกจากความฟุ้งซ่านในแต่ละวัน เช่นเดียวกับการคลายอิริยาบถจากความปวดเมื่อยในท่านั่งสมาธิเป็นเวลานาน หรือการผ่อนคลายตัวเองด้วยการอ่านหนังสือหรือชมสื่อต่างๆเพื่อคลายความเบื่อหน่าย แต่ผมได้กำหนดรู้จากตัวตน อารมณ์และอิริยาบถเหล่านั้นได้เร็วขึ้น การได้มาฝึกเจริญสติในครั้งนี้ทำให้ผมได้ใช้จิตฟังและตามดูร่างกายและจิตของตัวเองโดยไม่เลี่ยงหนี เพื่อทำความเข้าใจสภาวะปัจจุบันที่เกิดขึ้นตามความจริง ผมรู้สึกขอบคุณสำหรับประสบการณ์ที่ล้ำค่า ท้าทาย อันเรียบง่ายนี้อย่างที่สุดครับ"
พวกเราชาวปัญญาเด่นน้อมกราบขอบคุณในความเมตตาของพระอาจารย์เป็นอย่างสูงที่ได้กรุณามอบแสงแห่งปัญญาแก่พวกเราผ่านการนำสอนในครั้งนี้ และหวังจะได้รับการฝึกปฏิบัติธรรมอีกครั้งในโอกาสต่อไปค่ะ