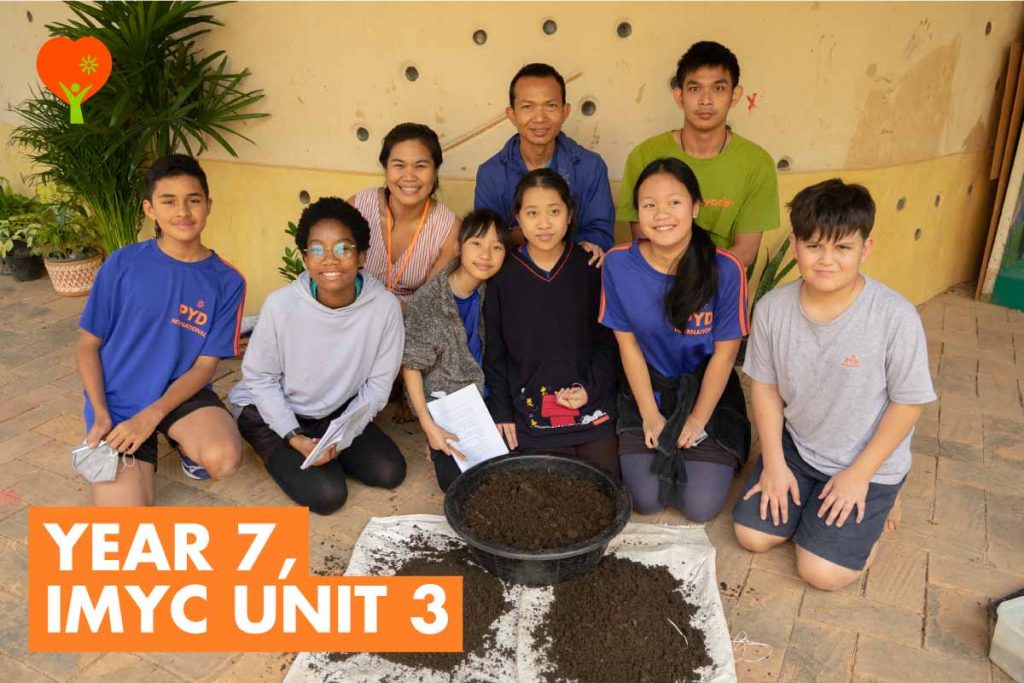 Year 7, IMYC Unit 3, RISK
Kru Ying: Year 7 Advisory and Thai Teacher
As part of the IMYC Curriculum, Year 7, Unit 3's learning route is on the subject of Risk. This learning progress involves exposing oneself to Risk, and to consider its impact or forms of danger, harm, uncertainty or opportunity.
Therefore, Year 7 students selected literature as a topic of discussion, and how to analyze and investigate a subject matter. They chose the book "The World of Moddaeng and Tangkua (and Auei!) (โลกของมดแดงและแตงกวา (เอยด้วย!))", written by renowned author and S.E.A Write Award recipient, Ngarmpun Vejjajiva. The story revolves around living sustainably, growing vegetables, and raising animals without using any pesticides or chemicals.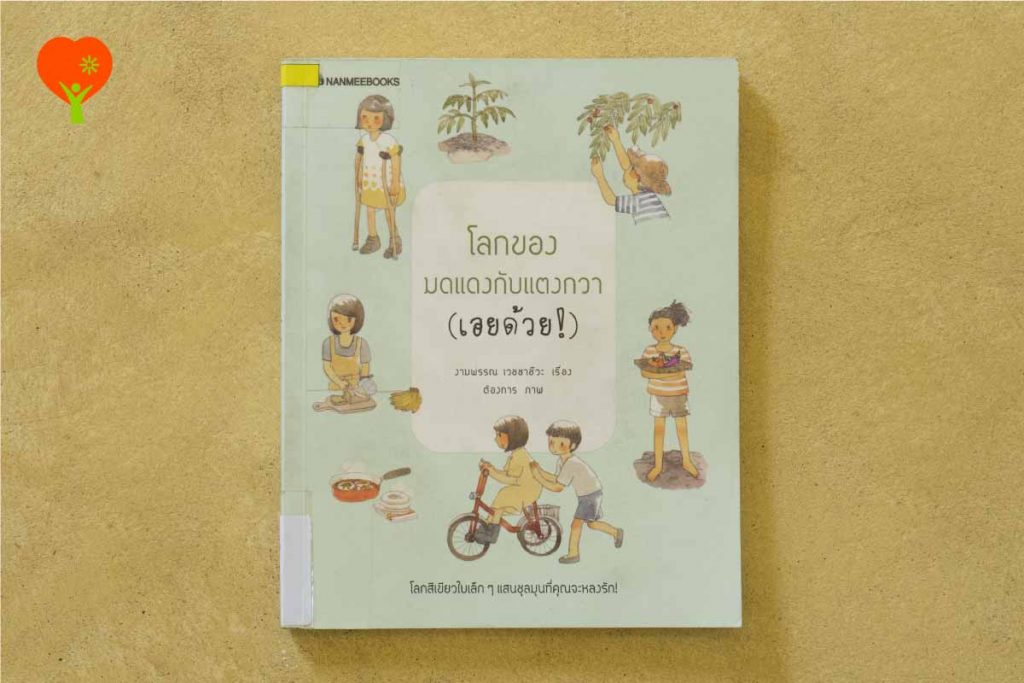 Students were encouraged to analyze and ask questions to find concrete solutions. Some of the questions raised were,
* What problems did you find tended to be a risk?
* How did risk affect each of the character's roles?
* What are the solutions to manage risk?
This led them to two possible risk factors,
* From social media exposure.
* From harmful chemicals in the food industry.
Therefore, their risk solution was vermicomposting and using the compost for farming and growing vegetables without the use of chemicals or pesticides. Together with Kru Noy, the students built their vermicompost bins and learned to harvest the worms. Some were hugely excited as it was their first hands-on experience with the worms and were truly impressed as to how a small creature could be immensely important and valuable to the earth's ecosystem.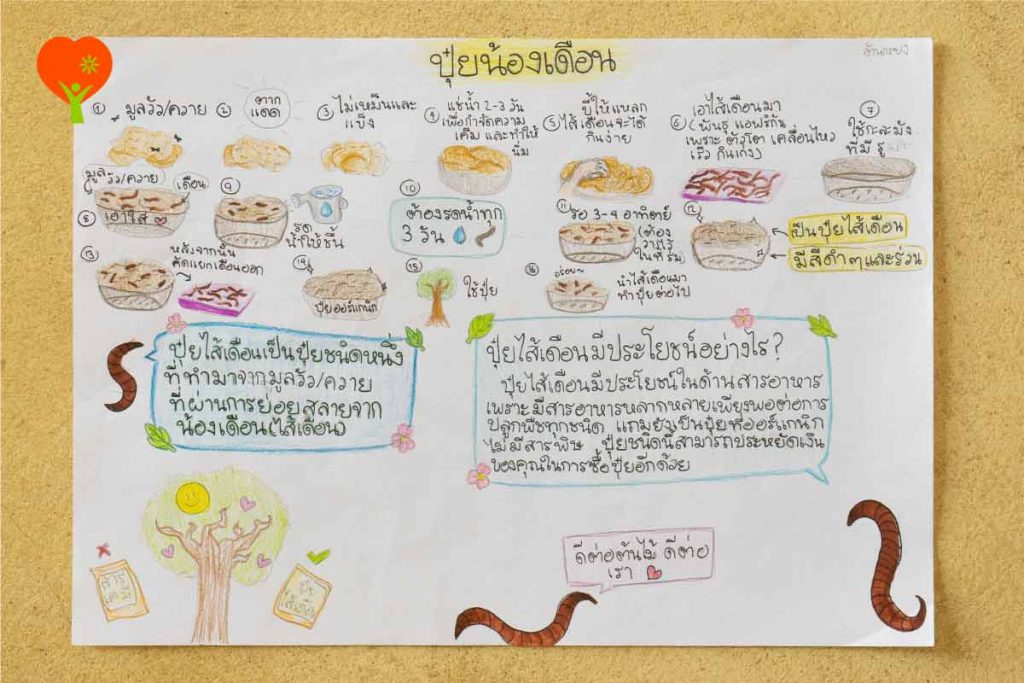 Student, Year 7.
"This was my first experience making vermicompost! The earthworms were impressive and beautiful in my hands. Kru Noy taught us how to make vermicompost, and how to care and harvest the worms. He was kind enough to share some earthworms with me as well. Therefore, I think I will try to make vermicompost to use in my grandmother's garden. It's a great idea and my grandmother could save money instead of buying chemical fertilizers."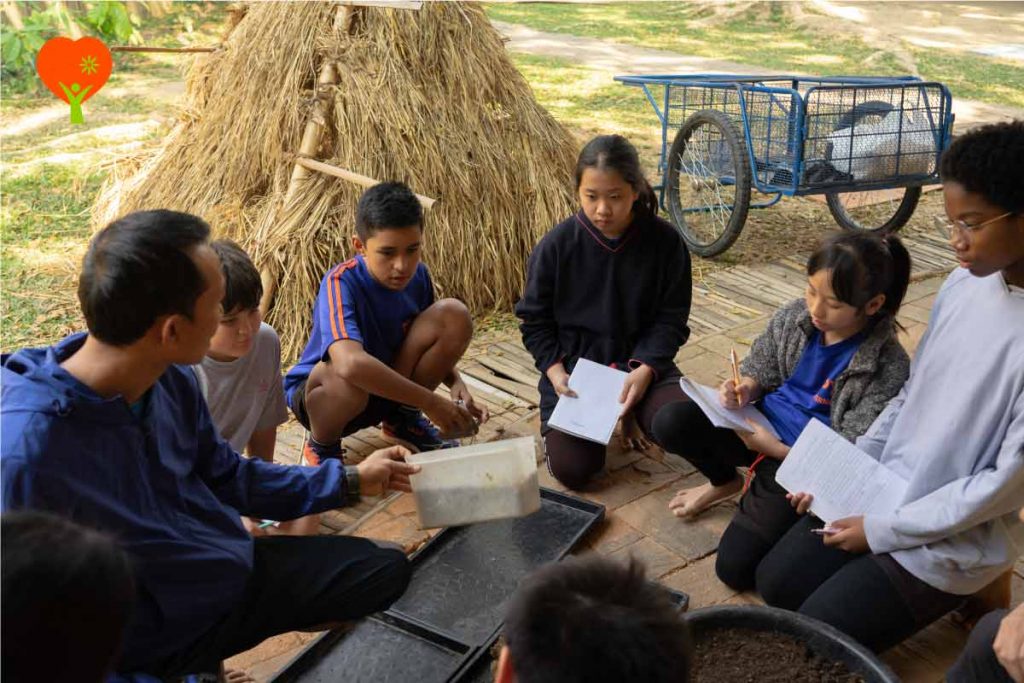 Student, Year 7
"I must admit that before, I disliked earthworms because when they are bunched together, they look quite disgusting like parasites. But, after this class project, I gradually realize how important earthworms are and how they are a benefit to our world."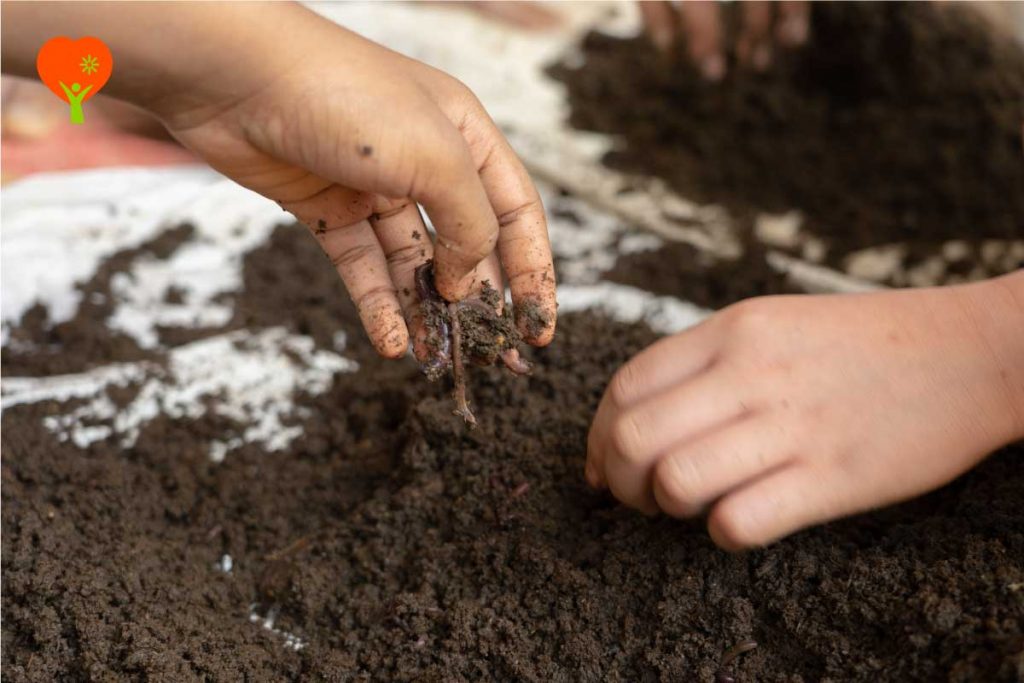 หน่วยการเรียนรู้ที่ 3 เรื่องความเสี่ยง ภายใต้โปรแกรมIMYC ระดับชั้นYear 7 ครูหญิง ครูที่ปรึกษาชั้น Year 7 และครูวิชาภาษาไทย
ในครั้งนี้ ครูหญิงจะได้มาแบ่งปันเรื่องดีๆจากการเรียนการสอนในหน่วยเรียนที่ 3 เรื่อง'ความเสี่ยง' หลักสูตร IMYC ของนักเรียนชั้น Year 7 ในวิชาภาษาไทยกับการวิเคราะห์คุณค่าและหาข้อคิดที่ได้จากวรรณกรรมให้ฟังกันค่ะ ครูหญิงได้นำนักเรียนเข้าสู่ประสบการณ์การเรียนรู้ที่ดีที่สุด นั่นคือการได้ลงมือปฏิบัติ หลังจากนักเรียนทุกคนได้อ่านวรรณกรรมเยาวชนเรื่อง 'โลกของมดแดงกับแตงกวา (เอยด้วย!)' ประพันธ์โดยนักเขียนวรรณกรรมเยาวชนรางวัลซีไรท์ คุณงามพรรณ เวชชาชีวะ ซึ่งเป็นวรรณกรรมที่บอกเล่าเรื่องราวการใช้ชีวิตตามวิถีออร์แกนิก การปลูกผัก การเลี้ยงสัตว์ที่ไม่ใช้สารเคมีหรือสารเร่ง รวมถึงการทำปุ๋ยมูลไส้เดือน แล้วได้มีการวิเคราะห์วรรณกรรม นักเรียนจึงได้ตระหนักถึงแนวคิด "ความเสี่ยง" ที่เป็นแก่นเรื่องของวรรณกรรมอยู่ 2 ประการ ได้แก่
* ความเสี่ยงจากการรับสื่อสังคมและเทคโนโลยีในเชิงลบ และ
* ความเสี่ยงจากการรับสารเคมีอันตรายที่อยู่ในอาหารเข้าสู่ร่างกายซึ่งเป็นผลกระทบจากผู้ผลิตขาดความรับผิดชอบและไม่คำนึงถึงผู้บริโภค
สาระสำคัญและข้อคิดจากวรรณกรรม ได้ถ่ายทอดผ่านบทบาทของตัวละคร มาสู่กิจกรรมสร้างสรรค์ประสบการณ์ที่นักเรียนได้ลงมือทำ นั่นคือ 'กิจกรรมการทำปุ๋ยมูลไส้เดือน' บรรยากาศการทำกิจกรรมเป็นไปอย่างน่าสนใจ นักเรียนได้เรียนรู้ขั้นตอนการทำปุ๋ย ได้สัมผัสมูลวัว มูลไส้เดือน และได้ทำความรู้จักสัตว์ตัวเล็กๆ ที่สร้างประโยชน์ให้แก่เราได้อย่างไม่คาดคิด
รากฐานการเรียนรู้ของหน่วยเรียน 'ความเสี่ยง' คือการตระหนักถึงภัย ความพิจารณาใส่ใจ ความเกี่ยวข้อง ผลกระทบของอันตราย ปัญหา ความไม่มั่นคง หรือโอกาส
ครูหญิง ได้ตั้งโจทย์ให้นักเรียนได้วิเคราะห์ * ความเสี่ยงที่พบในวรรณกรรมว่ามีอะไรบ้าง? * ความเสี่ยงเหล่านั้น มีผลกระทบกับตัวละครในวรรณกรรมอย่างไร ? * การวิเคราะห์หาแนวทางหลีกเลี่ยง ป้องกันการเกิดความเสี่ยงมีอะไรบ้าง ?
นักเรียนชั้น Year ๗ คนหนึ่ง ผมประทับใจสีสันของไส้เดือนและผมได้จับไส้เดือนเป็นครั้งแรกอีกด้วย! หลังจากที่ฟังครูหน่อยอธิบายเรื่องการทำปุ๋ยมูลไส้เดือน ครูหน่อยบอกว่าจะแบ่งไส้เดือนให้ผมไปเลี้ยงที่บ้าน ผมคิดว่าผมอยากลองทำปุ๋ยเองเพราะคุณยายปลูกต้นไม้เยอะ ผมอยากลดภาระการซื้อปุ๋ยของยายครับ
นักเรียนชั้น Year ๗ คนหนึ่ง ตอนแรกหนูไม่ชอบไส้เดือนค่ะเพราะมันยุกยิกเหมือนพยาธิโดยเฉพาะเวลามันรวมตัวกัน ตอนนี้ก็ยังไม่ชอบอยู่แต่เห็นความสำคัญมากขึ้นเพราะมันสามารถสร้างปุ๋ยออร์แกนิกได้