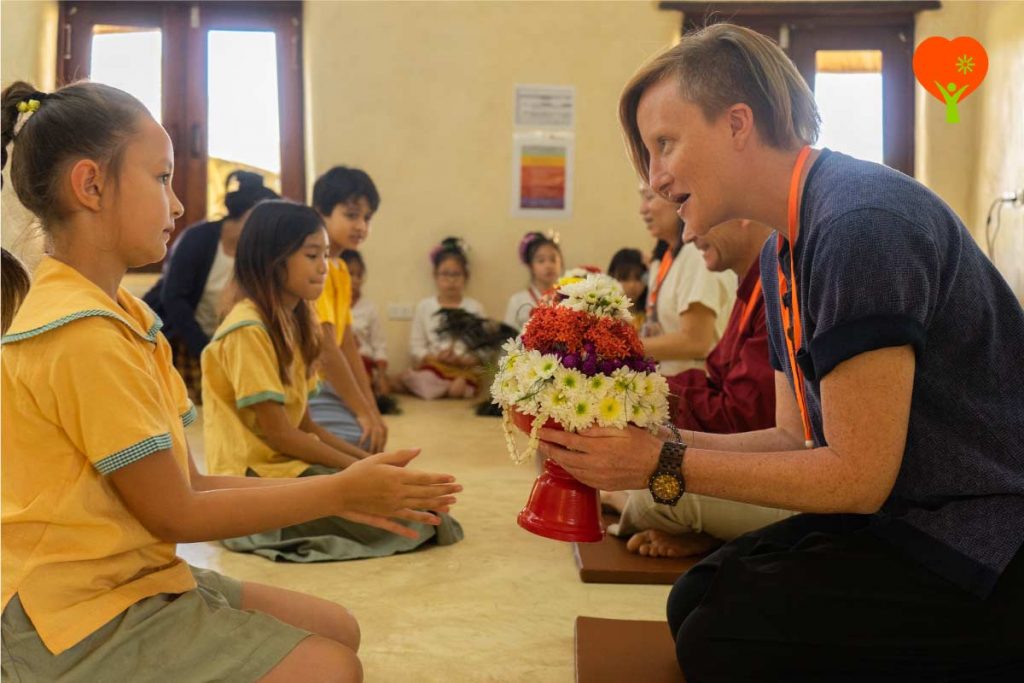 Wai Kru Ceremony at Panyaden International Primary School.
Student Year 2
Since my parents are teachers, they inspire me with a good teacher's attitude. So my dream is to become a teacher, that way I can give happiness to children because I want to see them grow up to be a good and happy person.
Student Year 4
I want to be an Art teacher because I would like to teach art. I like Wai Kru day because the flowers are amazing and it's a day to respect not only our teachers but all other teachers.
Student Year 4
Wai Kru Day means a lot to me because every time something happens, a good thing or a bad thing. The teachers are always the first person to support me. I love Wai Kru Day because it's a day I can say "thank you" to all the teachers that had helped me throughout the years.
Student Year 4
Wai Kru Day means so much to me because the teachers are so nice and helped me learn everything. And if I had to be a teacher, I would be a nice and helpful teacher.
Student Year4
I want to be an Art teacher. I think Wan Wai Kru is a special day because teachers are not just teachers. They not just there to do their job. They're here to teach us and help us. I'm thankful for Kru Ellisa for being kind and generous and to help me much more than being homeschooled.
Kru R, Thai Head Teacher.
For me, the meaning of Wai Kru Day is the opportunity to show gratitude to our teachers. This does not mean giving a physical gift. As a teacher, the greatest gift of gratitude a student can give is to apply themselves to their studies and meeting their teacher's guidelines.
Kru Ellisa, Primary School Vice Principal & Math Coordinator.
Wai Kru Day has always held a special place in my heart. In my first year at Panyaden, I fell in love with the beautiful cultural elements such as the flowers, the dance performances, and the music. Last year was particularly meaningful; I was so touched to have some of my former students write letters to me and read them aloud at the ceremony. I think something must have flown into my eyes at that exact moment! 🙂 Their thoughtful expressions of gratitude meant so much to me that I still have them up on my fridge at home.