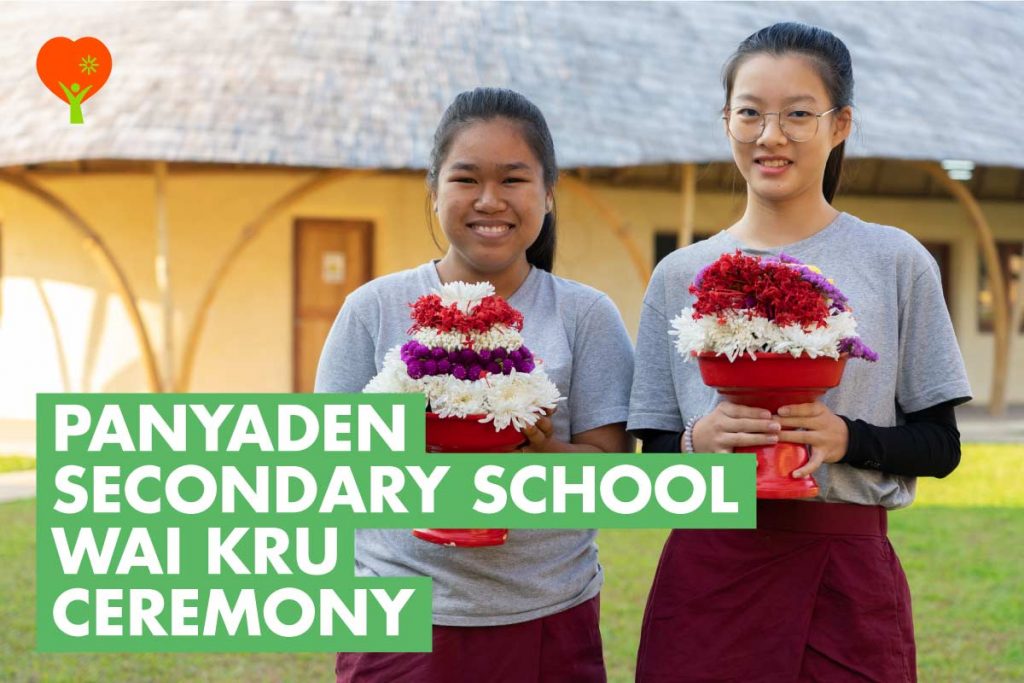 Wai Kru Ceremony at Panyaden Secondary School 2020.
Year 9 Student.
"Why do we celebrate Wai Kru? We celebrate Wai Kru to give appreciation to our teachers. They give us knowledge, teach us life skills, and work hard for us. Therefore, Wai Kru day is a great opportunity for us to not only give thanks to our teachers but for us to show our appreciation to them every day by respecting and listening to them, and working hard to make ourselves a better person."

Year 9 Student.
"As students, the Wai Kru ceremony was a special occasion for all of us. It reminded us to show gratitude and to pay respect to our teachers since we often take them for granted daily. We offered our sincere appreciation by conducting the Wai Kru ceremony with our teachers, thanking them for teaching and supporting us in our development in life."

Kru Meriska, Year 7 Advisory Teacher, Mathematics and Science Teacher.
"Wai Kru ceremony was an enlightening experience that brought up many positive emotions. By being included in this cultural experience it gave me a deeper understanding of both the Thai culture and Buddhist way. Feeling the mutual respect between students and teachers was a tremendous privilege to be part of."

Kru Denny, Buddhist Education Coordinator, Year 9 Advisory, Social Studies Teacher and English Teacher.
"I'm not crying. You're crying," Kru Meriska turned to us afterwards, laughing, with tears in her eyes. This captures the experience of Wai Kru Day for me, this mix of kindness, gentleness, humility and a little bit of humour. 

The students organised the entire ceremony for us, sequestering us on the lawn outside with our coffee and tea while they finished setting up.

Our students sang us a heart-achingly beautiful song, Pa-Jay-Raa, paying respect to the teachers. The students bowed and presented us with cones of flowers and incense and envelopes filled with personalised, handwritten notes. 

Kru Daiju spoke briefly and warmly about our community at Panyaden, the challenges and rewards of teaching, and the good fortune we have, as teachers and students, to build our Panyaden Secondary School together.