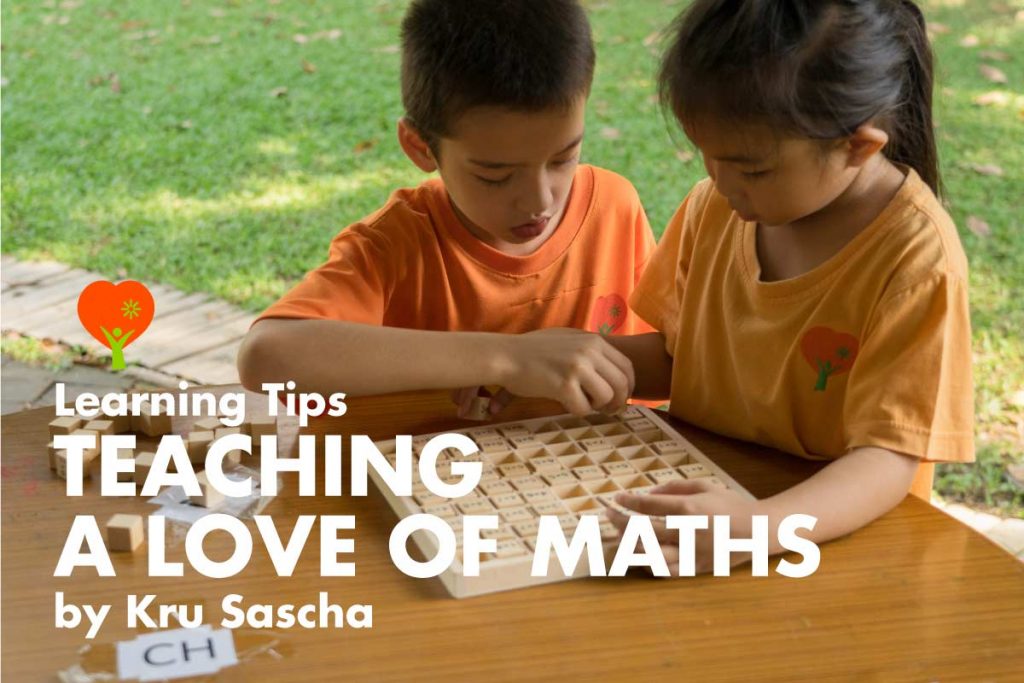 Learning Tips: Teaching a Love of Maths by Kru Sascha.
How often do you use maths in your day? Probably a lot more than you realise. Maths is everywhere: from the timer you set on your alarm clock in the morning to the pattern in the centre of the flower at the side of the road. So how do we encourage a love for maths in our children?
Narrate using maths specific language:
* Show your children how often you use maths by showing them the prices on the items you buy or talk through the time's things begin and end. You'd be surprised how often children don't know what time school starts!
* Use language like "tall, big, short, small" or compare things for them. "That tree looks almost as tall as that house!". Show them patterns in nature or make a pattern into a picture.
* Talk to them about numbers of items, ask them about sharing, equal pieces of numbers, how many groups there are, etc.
Maths is imperative to our daily lives as adults. When anyone (children included) realises how important something is in our everyday life, when we can relate to it, we find meaning and are motivated to investigate further.
เกร็ดการเรียนรู้จากครูซาช่า: มาปลูกฝังให้นักเรียนรักคณิตศาสตร์กันค่ะ
เคยคิดไหมคะว่าเราใช้ทักษะคณิตศาสตร์ในชีวิตประจำวันบ่อยแค่ไหน? น่าจะบ่อยกว่าที่เราคิดแน่นอนค่ะ เพราะคณิตศาสตร์นั้นอยู่รอบตัวเราไปหมด ไม่ว่าจะเป็นการตั้งนาฬิกาปลุกในตอนเช้า ไปจนถึงลวดลายธรรมชาติของเกสรดอกไม้ริมทาง… แล้วเราจะส่งเสริมให้เด็กๆ รักวิชาคณิตศาสตร์ได้อย่างไรบ้าง? วันนี้ครูซาช่ามีเคล็บลับดีๆ มาแบ่งปันกันค่ะ
การอธิบายโดยใช้ตัวเลข และภาษาคณิตศาสตร์บ่อยๆ
*แสดงให้เด็กๆ เห็นว่าคณิตศาตร์จำเป็นต่อชีวิตประจำวันแค่ไหน เช่น ให้เขาได้ทราบราคาของสิ่งที่คุณซื้อ การพูดให้ชัดเจนว่าเราจะเริ่มต้นทำอะไร เมื่อไหร่ และจบเวลาไหน ผู้ปกครองอาจจะแปลกใจที่บ่อยครั้งเด็กๆ ไม่รู้ด้วยซ้ำว่าพวกเขาจะต้องเริ่มเรียนกี่โมง!
*ใช้ภาษาที่สื่อความหมายเชิงเปรียบเทียบ อาทิ สูง เตี้ย ใหญ่ เล็ก เช่น "ต้นไม้ต้นนั้นสูงเกือบจะเท่าบ้านหลังนั้นเลย!" หรืออาจให้เด็กดูรูปแบบ ลวดลายต่างๆ ในธรรมชาติ หรือนำรูปแบบเหล่านั้นมาประกอบเป็นภาพ
*หมั่นพูดคุยกับเขาเกี่ยวกับจำนวนของสิ่งต่างๆ รอบตัว เช่น จะแบ่งของชิ้นนี้อย่างไร? แบ่งให้เป็นชิ้นหรือจำนวนเท่าๆ กันอย่างไร? แบ่งได้ทั้งหมดกี่กลุ่ม? เป็นต้น

การใช้คณิตศาสตร์ถือเป็นส่วนหนึ่งในชีวิตประจำวันของผู้ใหญ่ทุกคน…หากเรา (รวมถึงเด็กๆ ด้วย) ตระหนักรู้ และเห็นความเชื่อมโยงระหว่างคณิตศาสตร์กับชีวิตของมนุษย์แล้ว เราจะเห็นคุณค่าของวิชานี้ และอยากศึกษาค้นคว้าเพิ่มขึ้นค่ะ