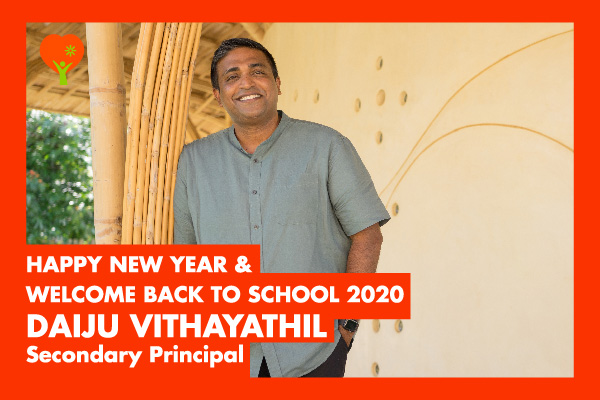 Happy New Year and Welcome Back to School 2020
Daiju Vithayathil, Secondary Principal,
Panyaden International School
Happy New Year and welcome back to school. We will be working on re-establishing routines as we get back on track with learning. I hope that everyone was able to spend some quality time with family, friends and loved ones over the break. All the best in 2020!
A new year always ushers in the sense of renewal – a renewal of purpose and collective commitment to excellence in teaching, learning, research and service to our community. With this comes the firm resolution to achieve desired results and meet deliverables. I am enthused by the many exciting initiatives for our campus that are in the pipeline, all of which are intended to meet the educational needs of our students and community stakeholders.
Have a great start to term 2!
สวัสดีปีใหม่และขอต้อนรับทุกท่านสู่ภาคเรียนที่ ๒
จาก ครูไดจู วิทยาทิล ครูใหญ่ฝ่ายมัธยมศึกษา
โรงเรียนนานาชาติปัญญาเด่น
สวัสดีปีใหม่และขอต้อนรับทุกท่านสู่ภาคเรียนที่ ๒ ครับ ได้เวลาเริ่มต้นกิจวัตรประจำวันและสนุกกับการเรียนรู้สิ่งใหม่กันอีกครั้ง ผมหวังว่าทุกท่านได้ใช้ช่วงเวลาอันมีค่าร่วมกับครอบครัว ญาติมิตร และคนที่คุณรักในช่วงวันหยุดปิดภาคเรียนที่ผ่านมานะครับ ผมขออวยพรให้ปี ๒๕๖๓ นี้เป็นปีที่ดีสำหรับทุกท่านนะครับ
'ปีใหม่' ทำให้เรารู้สึกถึงการเริ่มต้นทำสิ่งใหม่ๆ สำหรับปัญญาเด่นแล้ว เราเริ่มศักราชใหม่ด้วยการยืนหยัดในเจตนารมณ์อันแรงกล้าที่จะพัฒนาความเป็นเลิศในการเรียนการสอน การศึกษาวิจัย และการบริการชุมชนปัญญาเด่นของเรา เราตั้งใจและใส่ใจในทุกรายละเอียดการปฏิบัติงานเพื่อให้งานสำเร็จ บรรลุตามเป้าหมายที่ตั้งไว้ ผมรู้สึกตื่นเต้นที่ได้เห็นโรงเรียนของเราพัฒนาอย่างต่อเนื่อง ทั้งอาคารสถานที่ บุคลากร และสิ่งอำนวยความสะดวกต่าง ๆ ทั้งหมดนี้เพื่อจุดมุ่งหมายเดียว นั่นคือมอบการศึกษาที่มีคุณภาพแก่นักเรียนของเราทุกคน
ขอให้ทุกท่านเริ่มต้นภาคเรียนที่ ๒ อย่างมีความสุขครับ