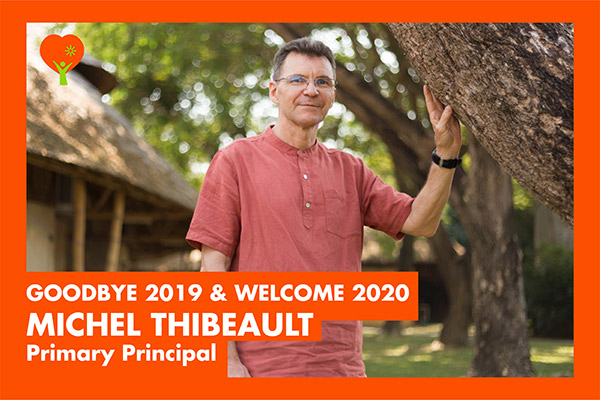 Goodbye 2019 and Welcome 2020
Michel Thibeault, Primary Principal
Panyaden International School
20 December 2019
Dear Parents,
Another calendar year comes to a close and, what a year it has been for Panyaden International School! We added new positions, including a new Operations and Human Resources Director, a Thai Head Teacher, a Learning Support Teacher, a Counsellor, a Nurse, and extra TAL and EAL teachers. We strengthened the role of the subject coordinators and, last but not least, we added to the Panyaden team a Secondary School Principal and a full roster of teachers for our Year 7-8 and 9 students!
All our subject coordinators have focussed their energy on improving the quality and consistency of the learning experience we provide via numerous academic training sessions for all, improving the presence of the 12 Wise Habits and articulating a clearer and more practical "green program". We also received very positive feedback from the WASC Accreditation representatives following the report we submitted in June and their recent visit to the secondary program. They commented as well about the positive presence of the Friends of Panyaden. We are well on track to be granted full accreditation after next year's in-depth study!
Our initiatives have meant more support for student learning as well as an extension of the number of after-school clubs we offer and more team sports opportunities for our students. As an organisation grows, it can become challenging to maintain the school family atmosphere we all appreciate so much. Being aware of this has led us to redouble our efforts to offer key school-wide events and to give our relationship to parents the importance it deserves.
2019 was marked by a strong determination to continue building Panyaden and take it a step closer to reaching its full potential. We thank all parents for their trust and collaboration and all the staff for their sustained contribution to a high-quality education for all our students. 2020, like 2019, will be what we make it, together.
We wish all Panyden families a restful break and a Very Happy New Year!

สาส์นอำลาปีเก่า๒๕๖๒ อวยพรปีใหม่ ๒๕๖๓
ครูใหญ่แผนกประถมศึกษา ครูมิเชล ธิโบลท์
๒๐ ธันวาคม ๒๕๖๒
เรียนท่านผู้ปกครอง
ปีนี้กำลังจะผ่านไปปีใหม่ใกล้มาถึงอีกเพียงนิดเดียวแล้วนะครับ สำหรับหนึ่งปีที่ผ่านมาของโรงเรียนนานาชาติปัญญาเด่นนั้น ครอบครัวของเราใหญ่ขึ้น เรามีเจ้าหน้าที่ใหม่ ประกอบไปด้วยผู้อำนวยการฝ่ายปฏิบัติการและทรัพยากรบุคคล  หัวหน้าครูไทย ครูผู้ช่วยสอน ที่ปรึกษา พยาบาล และครูพิเศษ TAL, EAL เราเป็นองค์กรที่ใหญ่ขึ้น ทั้งเสริมความแกร่งในบทบาทของผู้ประสานงานวิชา และที่สำคัญ เรามีครูใหญ่และทีมครูฝั่งมัธยมศึกษาตอนต้นเต็มรูปแบบสำหรับนักเรียนชั้นYear ๗ – Year๙ ครับ

ครูผู้ประสานงานวิชาของเราทั้งหมด มุ่งใส่ใจไปกับการปรับปรุงคุณภาพและเสถียรภาพของการเรียนการสอนจากประสบการณ์ที่ทางโรงเรียนได้จัดส่งครูเข้าร่วมฝึกอบรมวิชาการที่ผ่านมาเป็นจำนวนมาก และครูทุกท่านได้ปรับใช้แนวทางจากคุณลักษณะอันพึงประสงค์ ๑๒ ประการสู่กระบวนการเรียนการสอนอย่างชัดเจนขึ้น อีกทั้งยังมีการฝึกปฏิบัติเรื่องของโครงการรณรงค์เพื่อสิ่งแวดล้อมยิ่งขึ้น นอกจากนี้โรงเรียนของเรายังได้รับข้อเสนอแนะเชิงบวกเป็นอย่างมากจากผู้แทนหน่วยรับรองมาตรฐาน WASC หลังจากรายงานที่เราส่งในรอบเดือนมิถุนายน และจากการมาเยี่ยมชมโรงเรียนครั้งล่าสุดในส่วนของฝั่งมัธยมศึกษา และโดยเฉพาะอย่างยิ่งเราได้รับคำชมในด้านการมีสัมพันธภาพแน่นแฟ้นกับชมรมเพื่อนปัญญาเด่น นับได้ว่าโรงเรียนของเรามีความพร้อมที่จะได้รับการรับรองอย่างเต็มรูปแบบในปีการศึกษาหน้า

กระบวนการคิดริเริ่มของโรงเรียนด้านการสนับสนุนการเรียนรู้ของนักเรียน นับว่ามีบทบาทมีความหมายมากขึ้น ดังจะเห็นได้จากการเพิ่มจำนวนของชมรมหลังเลิกเรียน รวมถึงการที่เรามีโอกาสในการตั้งทีมกีฬาของโรงเรียนขึ้นอีกหลายชนิดกีฬา เมื่อองค์กรเติบโตขึ้น จึงกลายเป็นความท้าทายที่จะต้องรักษาบรรยากาศความเป็นครอบครัวในโรงเรียนที่เรารักเป็นอย่างยิ่งเอาไว้ การตระหนักถึงสิ่งนี้ทำให้โรงเรียนพยายามในการสื่อสารเรื่องราวของโรงเรียนเพื่อสานความสัมพันธ์ระหว่างโรงเรียนกับผู้ปกครองเป็นสำคัญ
ด้วยเจตนาอันมุ่งมั่นที่ตั้งเอาไว้ในปี ๒๕๖๒ เราจะสร้างและพัฒนาโรงเรียนนานาชาติปัญญาเด่นอย่างต่อเนื่องและก้าวต่อไปให้ใกล้ศักยภาพสูงสุดเข้าไปอีก ผมขอขอบคุณผู้ปกครองทุกท่านสำหรับความไว้วางใจและความร่วมมือ รวมไปถึงเจ้าหน้าที่ทุกท่านที่มีส่วนสนับสนุนตลอดมา ในท้ายนี้ ผมขอให้เราทุกท่านมาร่วมกันอีกครั้งในปี ๒๕๖๓ ดังเช่น ปี ๒๕๖๒ เพื่อการศึกษาที่มีคุณภาพสูงสำหรับนักเรียนของเราทุกคนครับ
ขอให้สมาชิกครอบครัวปัญญาเด่นทุกท่านได้พักผ่อนอย่างสุขใจและสวัสดีปีใหม่ครับ!