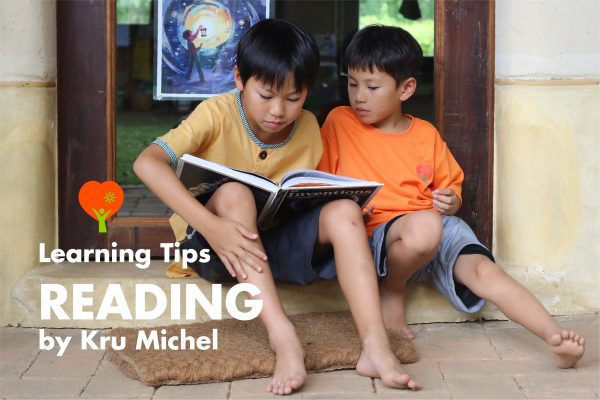 Learning Tips from Kru Michel: Reading
You probably know that reading to your children 10 minutes every day is more beneficial than reading one hour twice a week. But did you know that accepting to read to your child the same book over and over is supporting his/her reading skills? When the child has memorized the book and "reads" it back to you, they are experiencing their first successful reading session. Let's celebrate that!
เกร็ดการเรียนรู้จากครูมิเชล: การอ่าน
ผู้ปกครองคงทราบกันดีอยู่แล้วว่าการอ่านหนังสือให้เด็กฟังทุกวัน วันละ 10 นาทีจะเป็นประโยชน์กว่าการอ่านสัปดาห์ละสองครั้ง ครั้งละ 1 ชั่วโมง แต่ทราบหรือไม่ว่าหากอ่านหนังสือเล่มเดิมให้เด็กฟังอยู่เรื่อยๆ จะช่วยเสริมทักษะการอ่านของเขาได้ดีขึ้น เมื่อเด็กจดจำเนื้อเรื่องได้และเริ่มเป็นฝ่ายอ่านให้คุณฟัง นั่นแปลว่าเด็กคนนั้นประสบความสำเร็จในการอ่านครั้งแรกแล้ว ขอแสดงความยินดีด้วยครับ!
Kru Michel
Primary School Principal