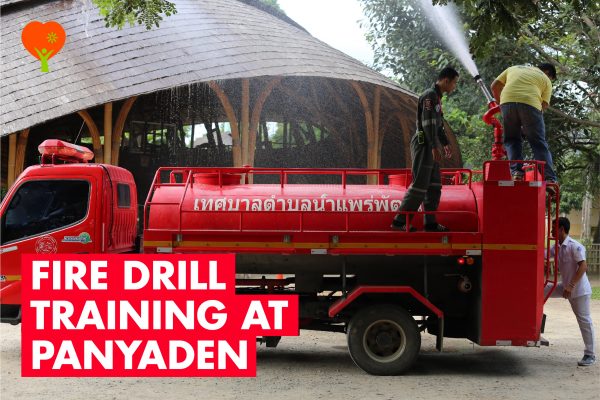 Learning about fire safety in a memorable and meaningful way!
On Friday, 13th of September, Panyaden students, teachers and staff took part in a fire drill conducted with the Namphrae Pattana Municipality. Key safety points of the training were on how to evacuate the building in case of fire, knowing the safest route, where to assemble outside and who to report to.The students not only learnt how to carry out the school's fire evacuation plan with speed and efficiency, but al
so enjoyed some time exploring a real fire truck and an ambulance.
Our many thanks and appreciation to all the teachers and staff, especially to the Nam Phrae Fire team for their time and dedication in teaching us about the importance of fire and emergency safety.
การซ้อมหนีไฟที่น่าประทับใจ!
เมื่อวันศุกร์ที่ ๑๓ กันยายนที่ผ่านมา นักเรียน ครู และบุคลากรปัญญาเด่นได้เข้าฝึกซ้อมอพยพหนีไฟร่วมกับเทศบาลน้ำแพร่พัฒนา เราได้จำลองสถานการณ์ขณะเกิดอัคคีภัย โดยฝึกเคลื่อนย้ายนักเรียนออกจากตัวอาคารอย่างเป็นระบบเพื่อรายงานตัว ณ จุดรวมพล นอกจากจะได้รับความรู้แล้ว นักเรียนตัวน้อยของเรายังตื่นเต้นสุดๆ ที่มีโอกาสได้สำรวจรถดับเพลิง และรถพยาบาลฉุกเฉินอย่างใกล้ชิดอีกด้วย
โรงเรียนขอขอบคุณทีมป้องกันและบรรเทาสาธารณภัยเทศบาลน้ำแพร่พัฒนาเป็นอย่างสูงที่สละเวลามาให้ความรู้กับพวกเราชาวปัญญาเด่น และขอขอบคุณคณะครู-บุคลากรทุกท่านที่ทำให้การซ้อมหนีไฟประจำปีนี้ผ่านพ้นไปด้วยดีค่ะ